---
DATA EAST / SEGA MAVERICK PINBALL 1994 at www.pinballrebel.com
---
I bought this game from an operator. I sold this game at the 2003 Texas Pinball Festival. The only thing needing repair was a switch matrix problem and the paddle wheel opto. The game has a nice layout and plays a "Good Run Of Bad Luck" by Clint Black when you turn it on. Not a bad effort for Data East/Sega.
Click Here for a step by step guide to fixing the paddle wheel opto problem.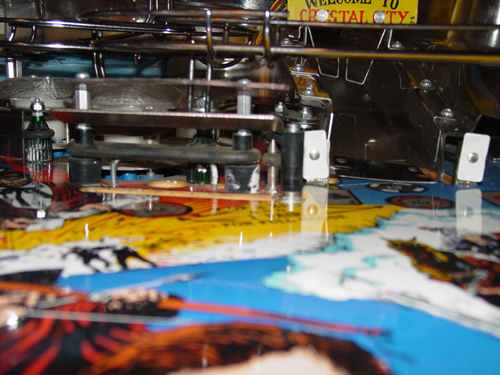 Ball's eyeview.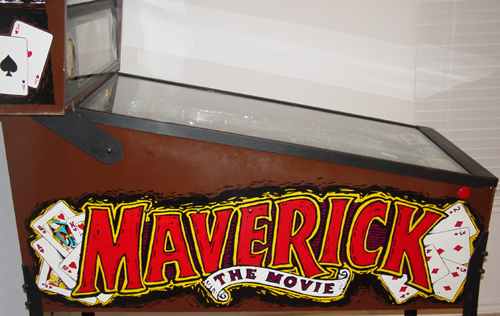 Side art is in great shape.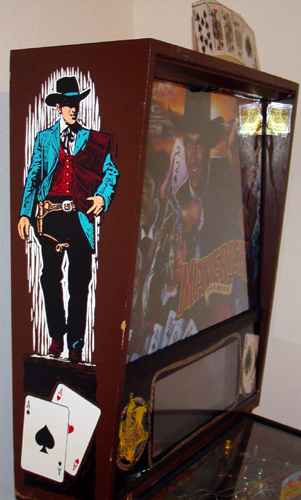 Awesome sideart.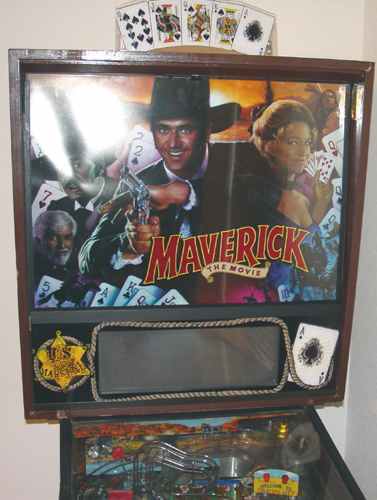 Awesome translite and topper.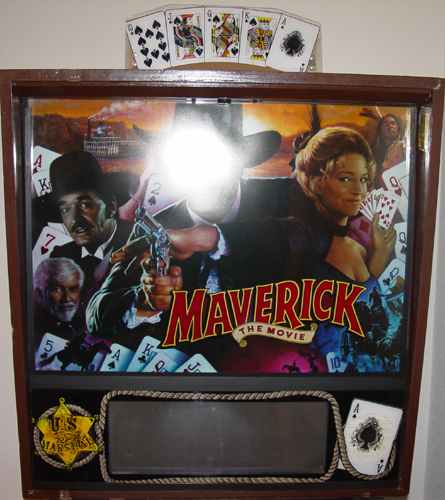 Awesome translite and topper.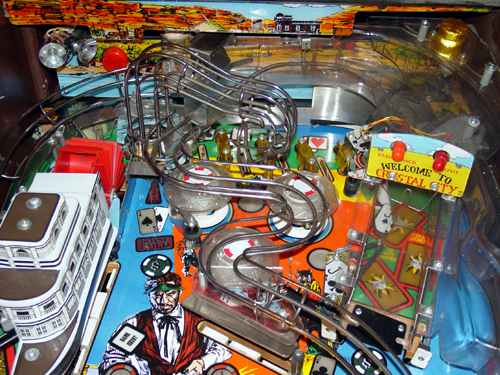 Upperplayfield shot.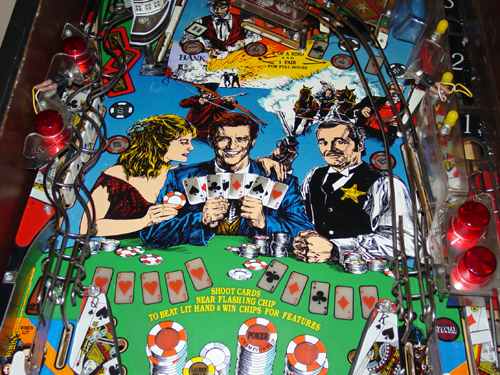 Middle playfield shot.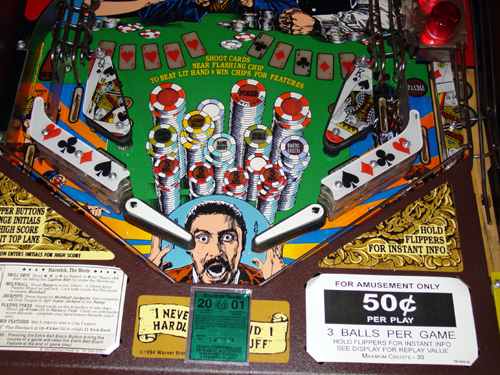 The lower playfield.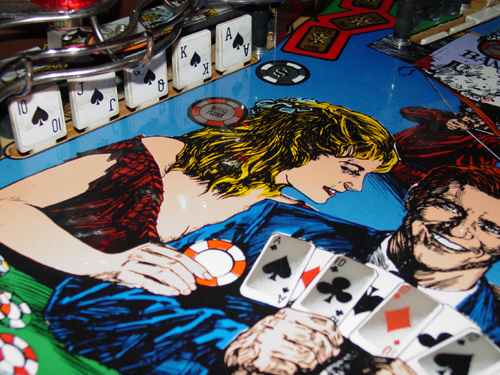 A shot of one of the three sets of drop targets.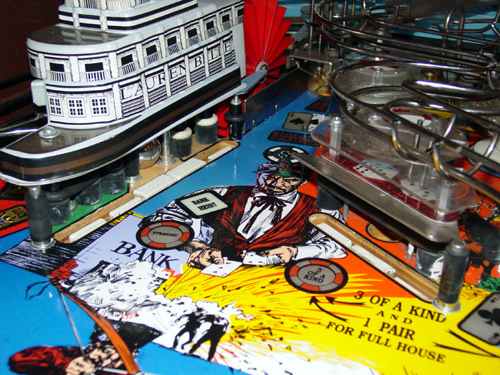 A closeup of the Lauen Belle
---
Current Maverick Pinball Machine Or Parts For Sale
---
Learn How to Play A Maverick Pinball Machine Here
See Discussion on The Maverick Pinball On rec.games.pinball
Learn How to Repair Your Maverick Pinball Machine
See Pages Of Other Maverick Pinball Machine Owners

---
FROM THE IPD

Maverick (MAV) / IPD No. 1561 / October, 1994 / 4 Players
Manufacturer: Data East USA, Inc. (1987-1994)
Model Number: 31 Type: Solid State Electronic (SS)
Theme: Celebrities - Fictional - Licensed Theme - Western
Toys: Paddlewheel Ball Lock similar to ferris wheel in Cyclone. Plunger handle shaped like poker chips with DE stamp.
Concept by: Tim Seckel, Joe Kaminkow, Lonnie D. Ropp, Lyman F. Sheats Jr., Orin Day, Neil Falconer Design by: Tim Seckel
Art by: Morgan Weistling
Dots/Graphics/Animation by: Jack Liddon, Kurt Andersen, Scott Melchionda, Mark Raneses
Mechanics by: Tim Seckel, Norm Wurz
Music by: Brian Schmidt Sound by: Brian Schmidt
Software by: Lonnie D. Ropp, Lyman F. Sheats Jr.
Notes: Last pinball produced by Data East, first pinball produced with the 192x64 dot matrix display and 16 bit (68000 driven) dot matrix controller.
Production of this game was continued under Sega Pinball, Inc.
Prototype game featured a widebody playfield and a "normal" 128x32 display. Among other features the widebody proto playfield had a hole under the boat
(replaced in production with captive ball) , a much wider riverboat paddlewheel, and different "main" characters at the poker table on the playfield.
Maverick was Morgan Weistling's first venture into pinball art. Marketing Slogans: "Ante Up!"
"Out of the Wild West comes a pinball machine folks are already calling a classic!"
"Maverick pinball brings you a winning streak sure to put some giddy-up in your pinball collections!"
CLICK HERE TO SEE THE FULL IPD ENTRY
---
---
---
Free Title Strips - Pinball Instruction Cards - Jukebox Archive - Your Nostalgia Stop! - Classic Soda Advertising Pinball Pages - Drive In Theaters - My Gameroom - Ken's Resume - Links - Fortune Tellers - The Cave - View Guestbook - Sign Guestbook - Wanted To Buy - Wanted To Sell - Gameroom Chat - Ken's Poll -

I could really use a small donation to keep this site running. If you care to help click the button below to send $5.
Back To Kens Homepage