---
Surf Champ Pinball By D. Gottlieb & Company of 1976 at www.pinballrebel.com
---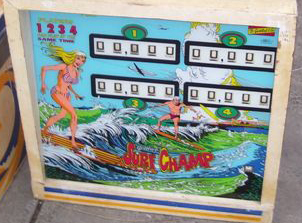 A classic Pinball with a surfer and beach theme. Note the cute girl in the front to lure players.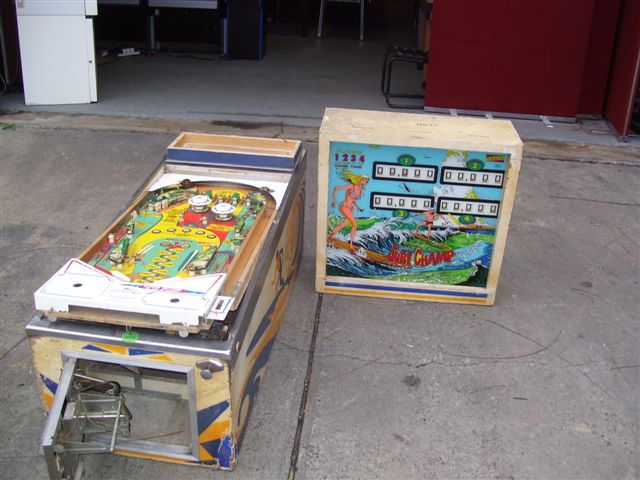 Like most games of the era the game comes apart into two sections for ease of transport.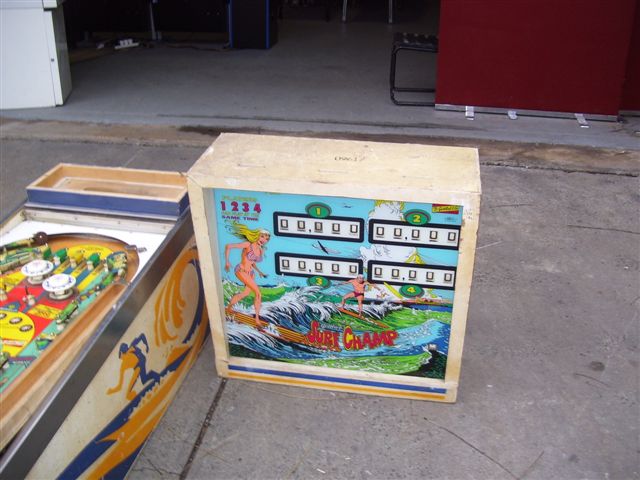 Close view of the pinball glass.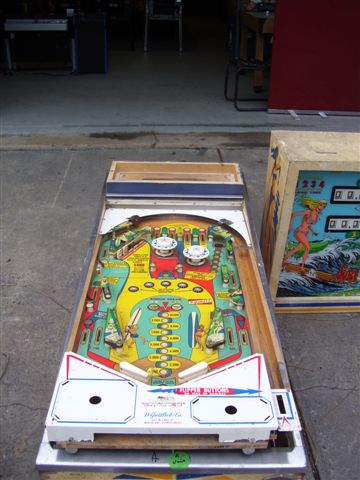 Here is a full view of the pinball playfield.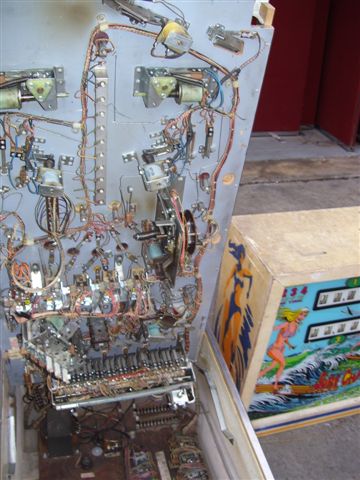 A look under the playfield on this Gottlieb pinball. This pinball game is 100% mechanical.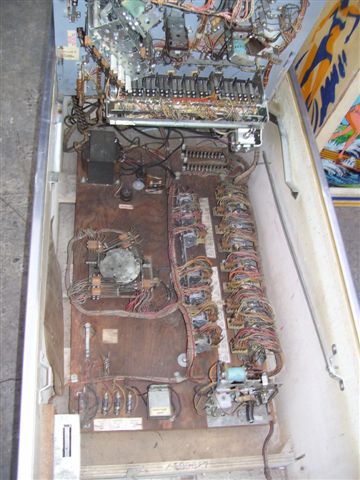 A view of the inside of the cabinet. Here you can see the relays and score motor.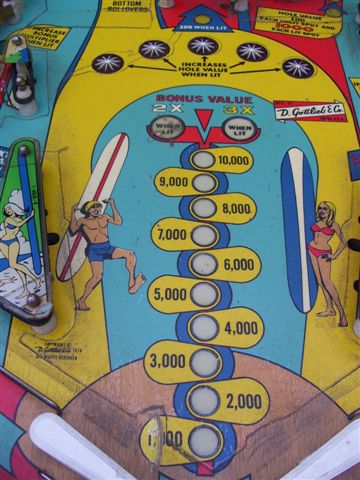 A larger view of the bonus count in the middle of the pinball playfield.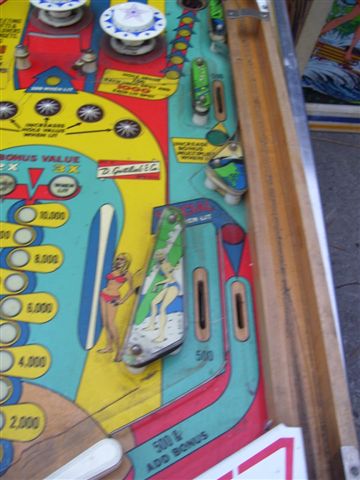 Left side of the playfield. By the mid 1970's showing girls in two piece swimwear was socially acceptable.



Right side of the playfield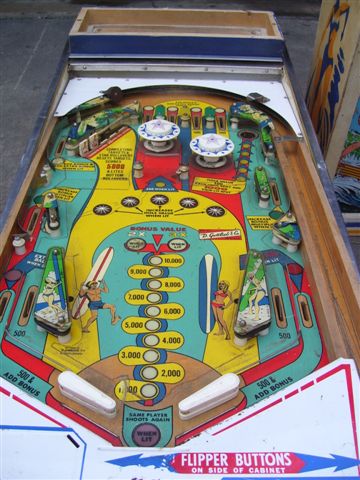 Full view of the playfield.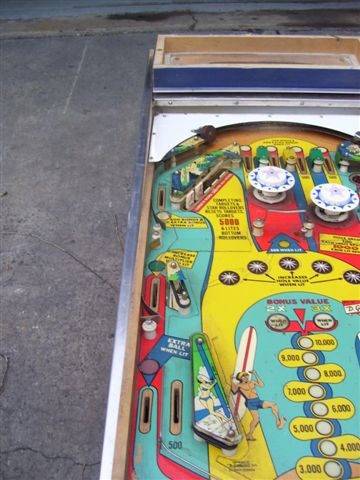 The upper left section has a bank of drop targets.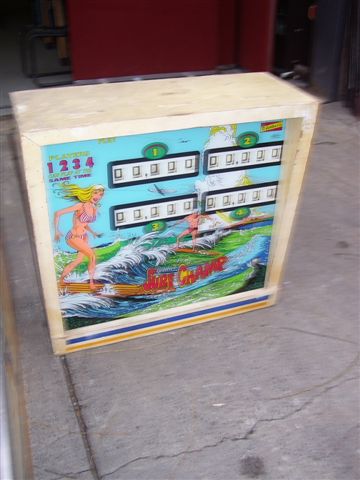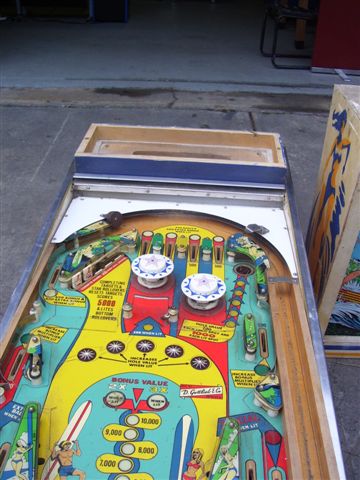 The center of the playfield has five rollover star targets.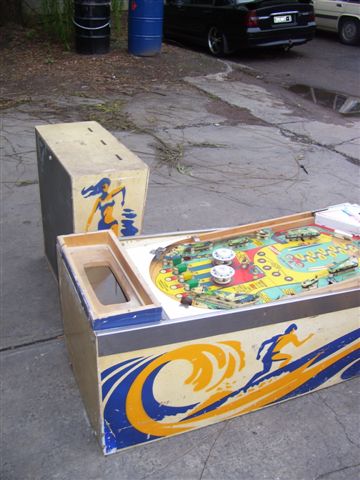 A view of the side artwork.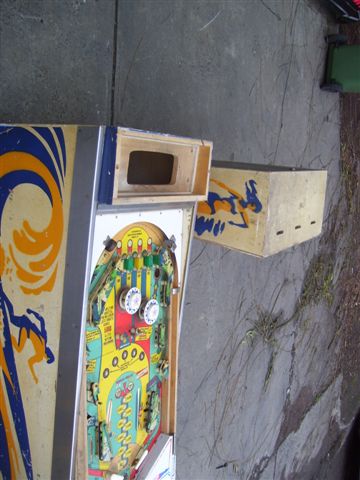 Overall a decent game that can be bought for not a lot of money.

Above Photos Courtesy of

www.pinballs-australia.com.au
---
Current Surf Champ Pinball Machine Or Parts For Sale
Learn How to Play A Surf Champ Pinball Machine Here
See Discussion on The Surf Champ Pinball On rec.games.pinball
Learn How to Repair Your Surf Champ Pinball Machine
See Other Pages Featuring A Surf Champ Pinball Machine

---
FROM THE INTERNET PINBALL DATABASE
Surf Champ
August, 1976 / 4 Players
Manufacturer: D. Gottlieb & Company
Model Number: 386
Type: Electro-mechanical
Production: 1,070 units
Theme: Sports - Water Sports
Notable Features: Flippers (2), Pop bumpers (2), 5-bank drop targets (1), Kick-out hole (1), Rollunder spinner (1).
Design by: Ed Krynski Art by: Gordon Morison
Notes: The 2-player version of this game is Gottlieb's 1976 'Surfer'.

---
---
Free Title Strips - Pinball Instruction Cards - Jukebox Archive - Your Nostalgia Stop! - Classic Soda Advertising Pinball Pages - Drive In Theaters - My Gameroom - Ken's Resume - Links - Fortune Tellers - The Cave - View Guestbook - Sign Guestbook - Wanted To Buy - Wanted To Sell - Gameroom Chat - Ken's Poll -

I could really use a small donation to keep this site running. If you care to help click the button below to send $5.
Back To Kens Homepage