---
Striker Extreme Pinball By Stern of 2000 at www.pinballrebel.com
---
These photos are before shopping the game. This is how I bought it from the operator.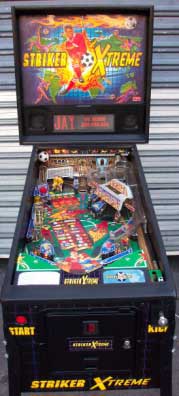 The 1st game made after Gary Stern took control of Sega pinball and renamed the company.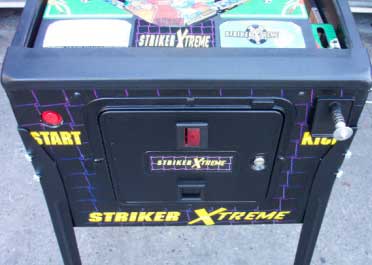 Front door and its artwork.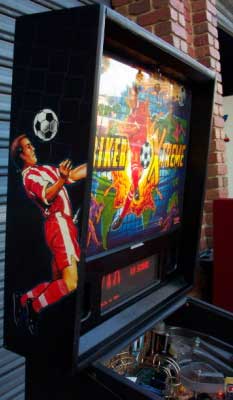 Head artwork.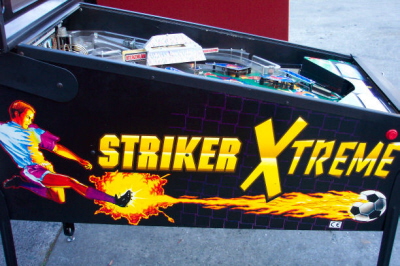 Side artwork carries on the soccer theme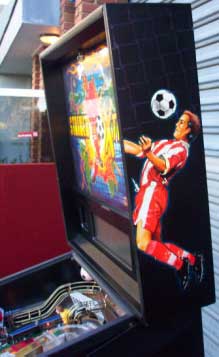 Another view of the pinball machine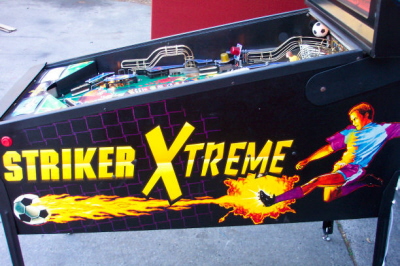 At the time the theme mamaged to carry the game in europe which was a big percentage of the market at the time.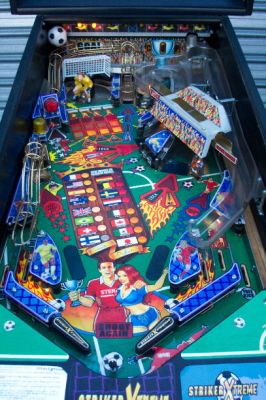 Full playfield view.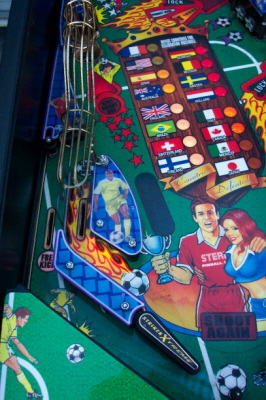 Lower left outhole, slinshot and flipper view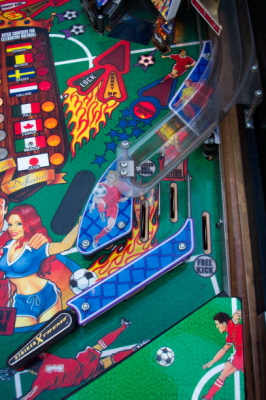 Right outhole, slinshot and flipper view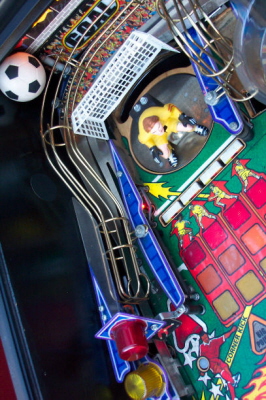 Try to kick the ball past the moving goalie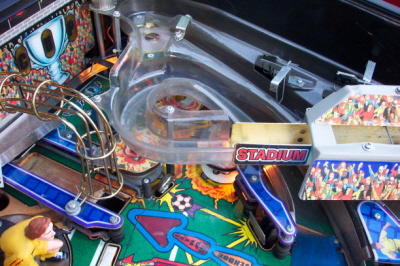 Cool ramp of the back right of the game.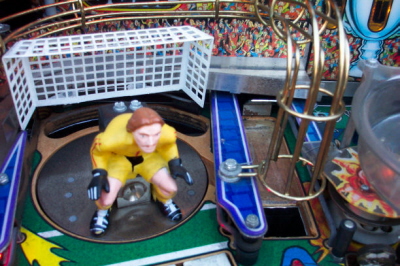 Goal closeup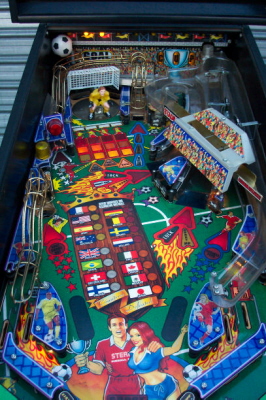 Beat team after team to advance. This game was also converted to NFL versions and different art was used for each team.

Above Photos Courtesy of www.childamusements.com.au
---
Buy This Machine Or Parts
---
Learn How to Play A Striker Extreme Pinball Machine Here
See Discussion on The Striker Extreme Pinball On rec.games.pinball
Learn How to Repair Your Striker Extreme Pinball Machine
See Other Pages Featuring A Striker Extreme Pinball Machine
See The Striker Extreme Pinball Machine Owners List

---
FROM THE INTERNET PINBALL DATABASE
Striker Xtreme
January, 2000 / 4 Players
Manufacturer: Stern Pinball, Incorporated, of Chicago, Illinois,
Model Number: 68
Common Abbreviations: SX
MPU: Sega/Stern Whitestar
Type: Solid State Electronic (SS)
Theme: Sports - Soccer
Toys: Rotating Goalie that can "catch" the ball
Art by: Kevin O'Connor
Dots/Animation by: Kurt Andersen
Mechanics by: Joe Balcer, John Borg, Ray Tanzer
Music by: Kyle Johnson
Sound by: Kyle Johnson
Software by: Lonnie D. Ropp, Orin Day, Keith P. Johnson

---
---
Free Title Strips - Pinball Instruction Cards - Jukebox Archive - Your Nostalgia Stop! - Classic Soda Advertising Pinball Pages - Drive In Theaters - My Gameroom - Ken's Resume - Links - Fortune Tellers - The Cave - View Guestbook - Sign Guestbook - Wanted To Buy - Wanted To Sell - Gameroom Chat - Ken's Poll -

I could really use a small donation to keep this site running. If you care to help click the button below to send $5.
Back To Kens Homepage