---
Spring Break Pinball By Gottlieb of 1987 at www.pinballrebel.com
---
It is pretty obvious that they were going after male pinball players with the theme. Note the Spuds Mckenzie who has stolen the girls top.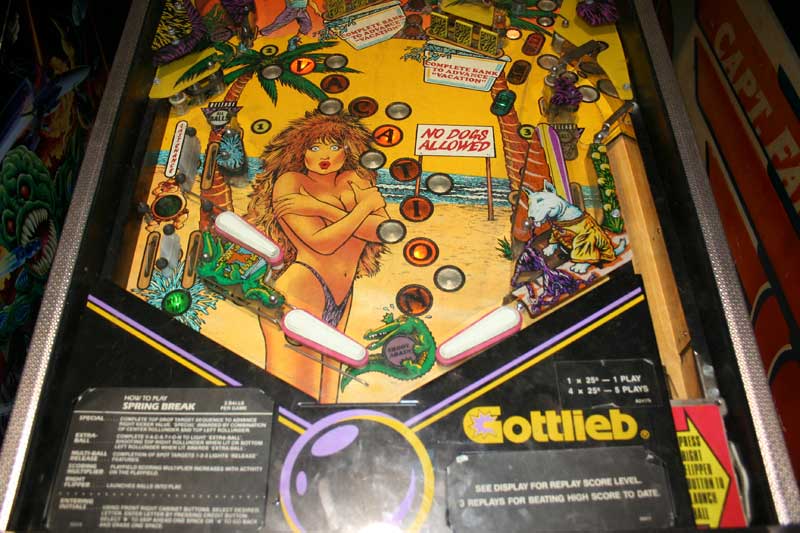 The game does feature an odd flipper layout.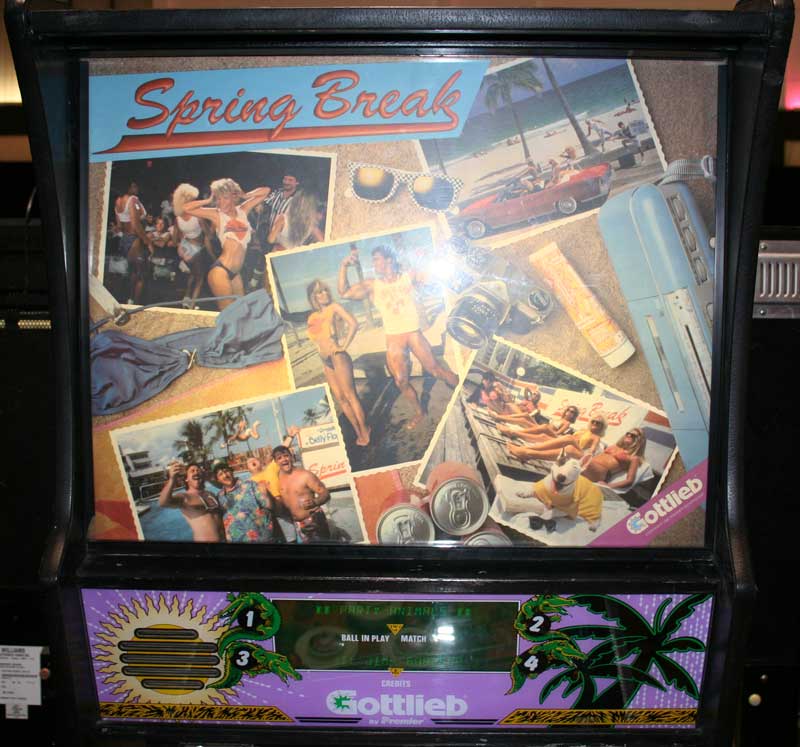 The backglass on this pinball is the photo type which did not last long. Most players found them ugly.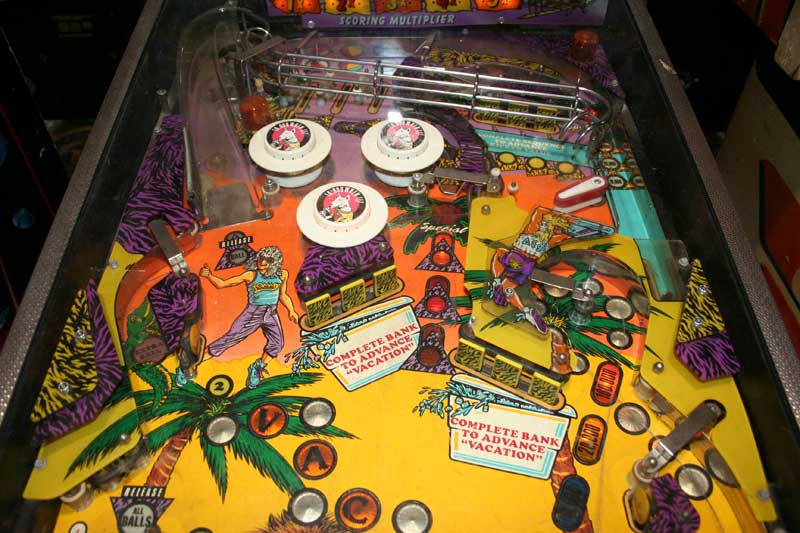 The upper playfield has a ramp, drops and a few jets.

---
Buy This Machine Or Parts Buy A Machine Like This Or Parts

---
Learn How to Play A Spring Break Pinball Machine Here
See Discussion on The Spring Break Pinball On rec.games.pinball
Learn How to Repair Your Spring Break Pinball Machine
See Other Pages Featuring A Spring Break Pinball Machine

---
FROM THE INTERNET PINBALL DATABASE
Spring Break
April, 1987 / 4 Players
Manufacturer: Premier Technology / Gottlieb
Model Number: 706
MPU: Gottlieb System 80B
Type: Solid State Electronic
Production: 3,550 units
Theme: Aquatic Fun - Happiness
Notable Features: Flippers (4), Pop bumpers (3), 3-bank drop targets (3), Rollunders (4).
No manual ball shooter assembly. Ball is launched into play by pressing right flipper button and starts an instant multiball mode.
Design by: John Trudeau
Art by: David Moore, Larry Day

---
---
Free Title Strips - Pinball Instruction Cards - Jukebox Archive - Your Nostalgia Stop! - Classic Soda Advertising Pinball Pages - Drive In Theaters - My Gameroom - Ken's Resume - Links - Fortune Tellers - The Cave - View Guestbook - Sign Guestbook - Wanted To Buy - Wanted To Sell - Gameroom Chat - Ken's Poll -

I could really use a small donation to keep this site running. If you care to help click the button below to send $5.
Back To Kens Homepage