---
Space Jam Pinball By Sega of 1996 at www.pinballrebel.com
---
Michael Jordan seemed to make good pinball sense to Sega.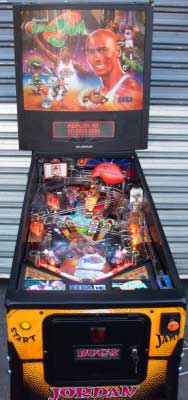 Pinball Glass featrues Michael Jordan & Bugs Bunny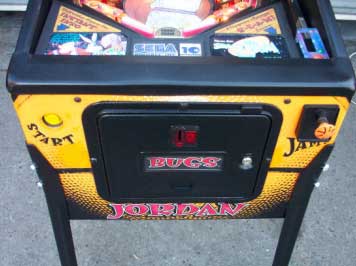 Coin door and front artwork




A view of the side artwork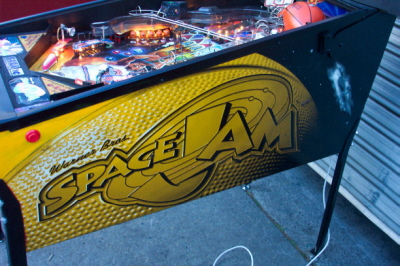 Other side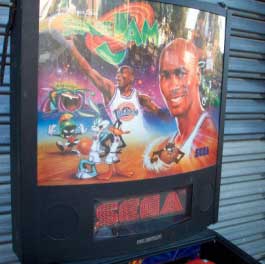 The glass is held by the Sega showcase backbox which was short lived.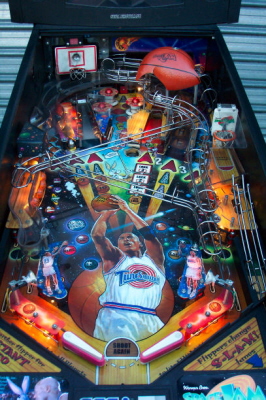 Full playfield view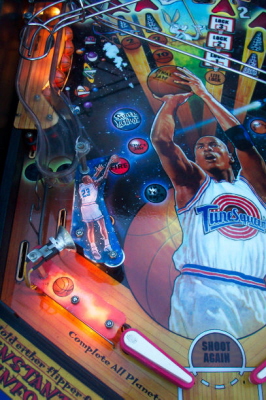 Left flipper and outlane view of the lower playfield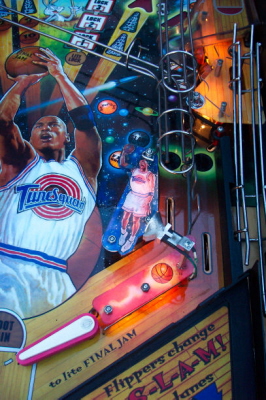 Right flipper and outlane view of the lower playfield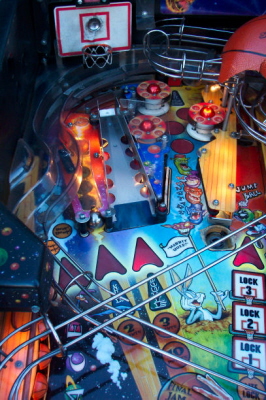 Upper left view of the playfield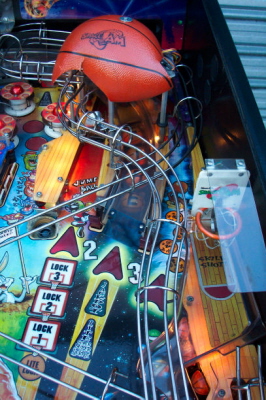 Upper right view of the playfield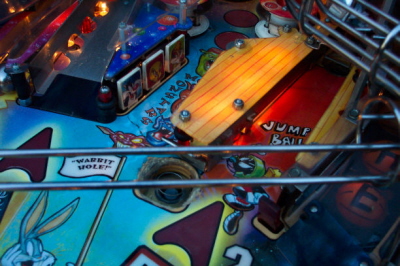 Drop targets and ramp entrance



Jump shot time.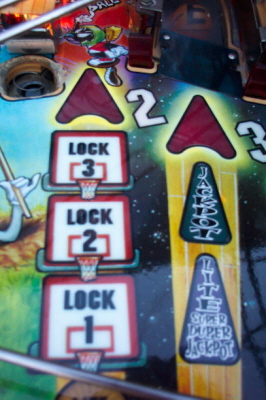 Lock lights and kickout saucer.

Above Photos Courtesy of www.childamusements.com.au
---
Buy This Machine Or Parts
---
Learn How to Play A Space Jam Pinball Machine Here
See Discussion on The Space Jam Pinball On rec.games.pinball
Learn How to Repair Your Space Jam Pinball Machine
See Other Pages Featuring A Space Jam Pinball Machine

---
FROM THE INTERNET PINBALL DATABASE
Space Jam
December 06, 1996 / 4 Players
Manufacturer: Sega Pinball, Incorporated, of Chicago, Illinois,
Model Number: 43
MPU: Sega/Stern Whitestar
Type: Solid State Electronic (SS)
Theme: Licensed - Sports - Celebrities
Design by: Joe Kaminkow, Orin Day, Lonnie D. Ropp
Art by: Morgan Weistling
Music by: Brian Schmidt
Sound by: Brian Schmidt
Software by: Lonnie D. Ropp, Orin Day

---
---
Free Title Strips - Pinball Instruction Cards - Jukebox Archive - Your Nostalgia Stop! - Classic Soda Advertising Pinball Pages - Drive In Theaters - My Gameroom - Ken's Resume - Links - Fortune Tellers - The Cave - View Guestbook - Sign Guestbook - Wanted To Buy - Wanted To Sell - Gameroom Chat - Ken's Poll -

I could really use a small donation to keep this site running. If you care to help click the button below to send $5.
Back To Kens Homepage