---
Rocky and Bullwinkle Pinball By Data East of 1993 at www.pinballrebel.com
---
A great pinball machine based on the classic animated series.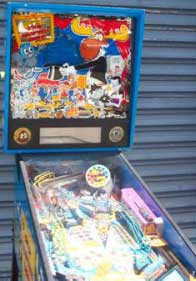 A classic Pinball Glass with Rocky & Bullwinkle which has an animation of the famous hat trick the moose never got right.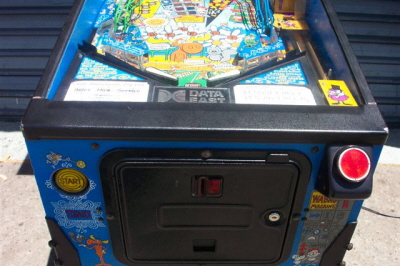 Coin door view.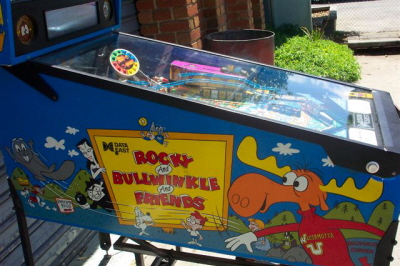 Side art was also done in black and some of those show up in the US from time to time.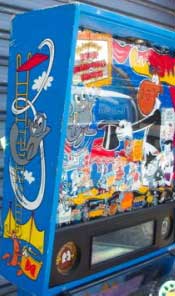 Head artwork of the diving rocky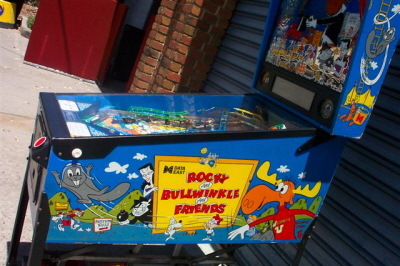 Another view of the art.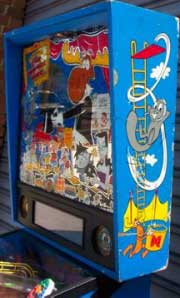 Another view of the art.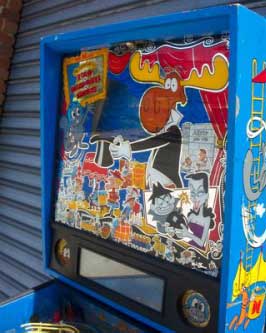 The glass on this game is real glass not a translight.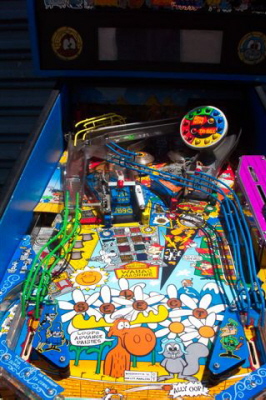 Full playfield view.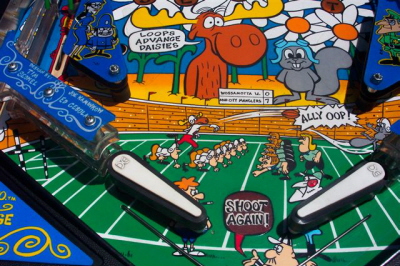 Flipper and outhole area.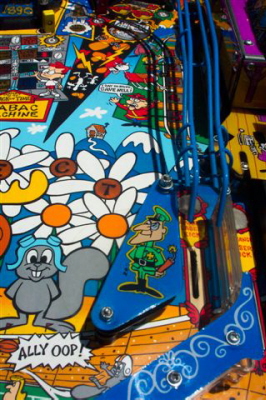 Right drain and slinshot.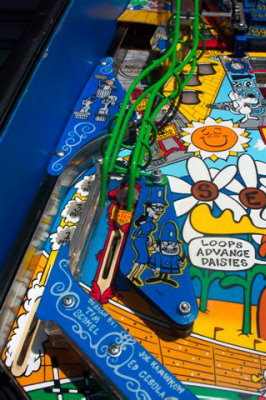 Left drain and slinshot.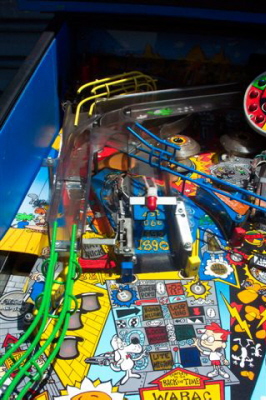 Lots of great ramps and wireforms.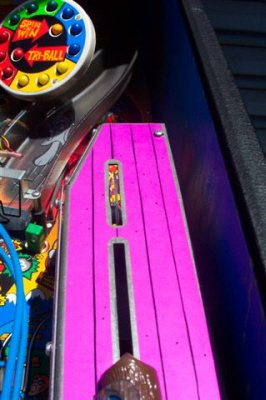 This damsel on the sawing log is often broken.

Above Photos Courtesy of www.childamusements.com.au
---
Buy This Machine Or Parts
---
Learn How to Play A Rocky and Bullwinkle Pinball Machine Here
See Discussion on The Rocky and Bullwinkle Pinball On rec.games.pinball
Learn How to Repair Your Rocky and Bullwinkle Pinball Machine
See Other Pages Featuring A Rocky and Bullwinkle Pinball Machine

---
FROM THE INTERNET PINBALL DATABASE
Adventures of Rocky and Bullwinkle and Friends
February, 1993 / 4 Players
Manufacturer: Data East Pinball, Incorporated
Model Number: 22
MPU: DataEast/Sega Version 3
Type: Solid State Electronic (SS)
Theme: Cartoon
Specialty: Mechanical Backbox Animation
Design by: Tim Seckel
Art by: Kevin O'Connor
Dots/Animation by: Kurt Andersen, Jack Liddon
Mechanics by: Norm Wurz
Music by: Brian Schmidt
Sound by: Brian Schmidt
Software by: Kristina Donofrio, John Carpenter

---
---
Free Title Strips - Pinball Instruction Cards - Jukebox Archive - Your Nostalgia Stop! - Classic Soda Advertising Pinball Pages - Drive In Theaters - My Gameroom - Ken's Resume - Links - Fortune Tellers - The Cave - View Guestbook - Sign Guestbook - Wanted To Buy - Wanted To Sell - Gameroom Chat - Ken's Poll -

I could really use a small donation to keep this site running. If you care to help click the button below to send $5.
Back To Kens Homepage