---
---
Ripley's Believe It Or Not Pinball By Stern 2004 at www.pinballrebel.com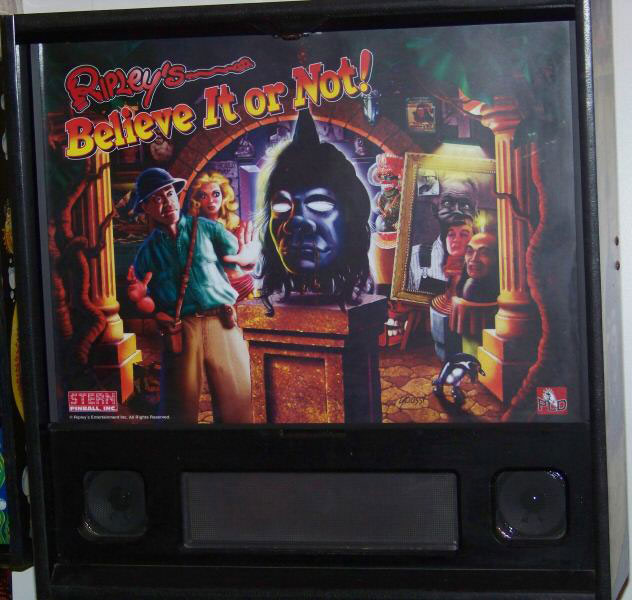 Another classic pinball from Pat Lawlor but not as popular as some of his other titles.
This could be seen as a Stern version of Twilight Zone as it too is full of different items.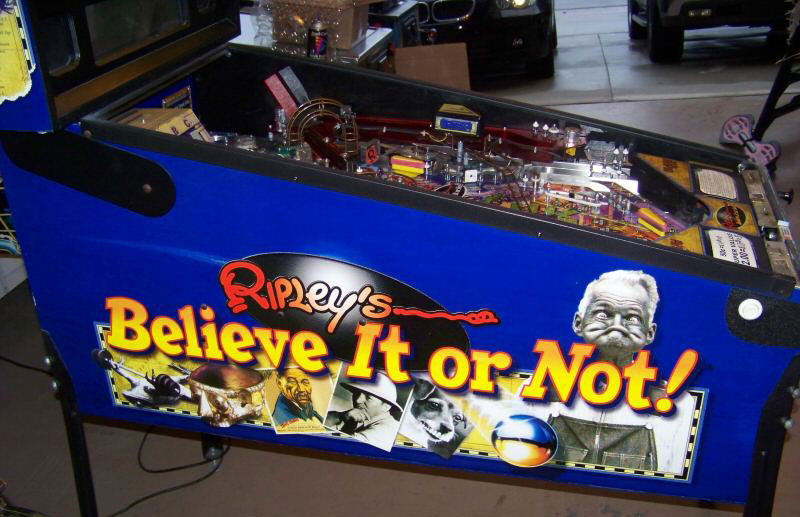 This side artwork features a pinball on top of various photos from the Ripley collection with a deep blue background.




The side artwork features a shruken head. This is a feature that is aslo on the playfield.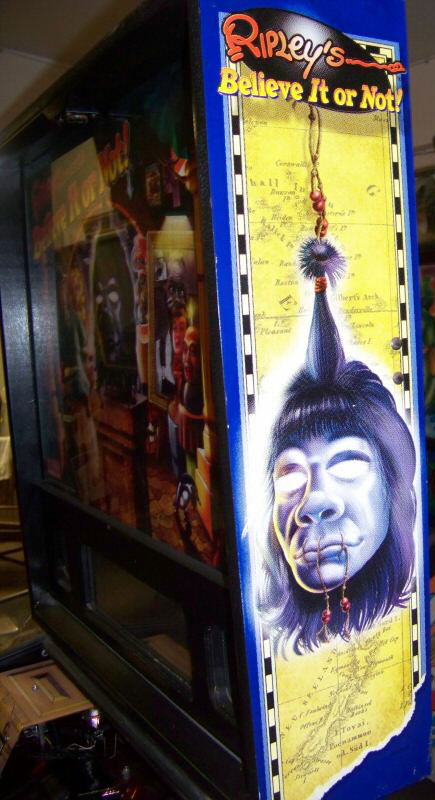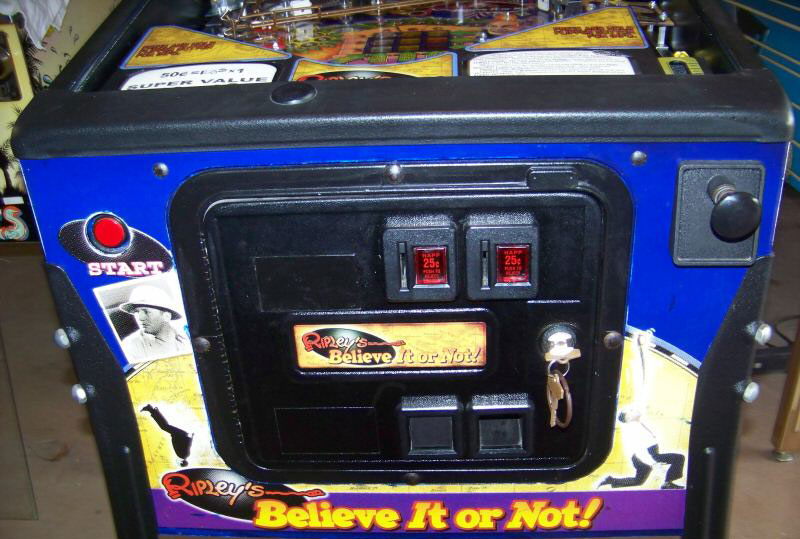 The front door has a sticker and the front art carries a photo of Mr. Ripley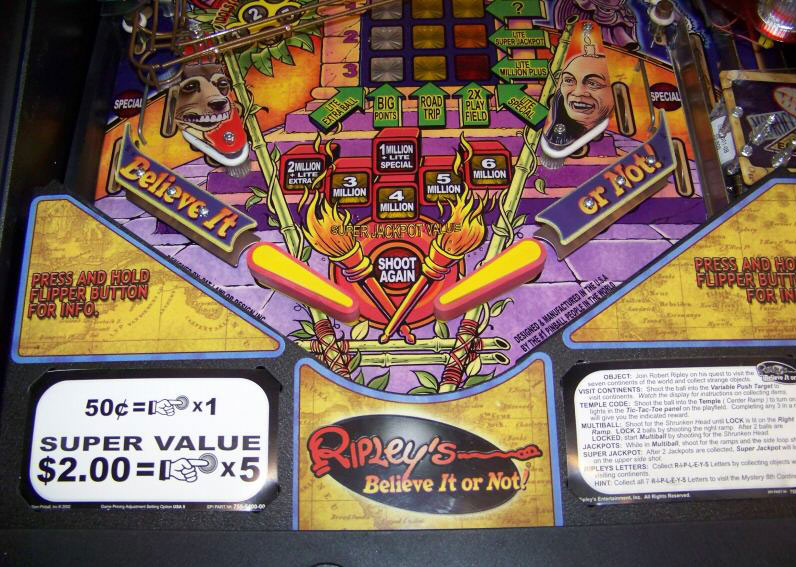 Here is the lower playfield view. Note the dog with the false teeth on the left slingshot plastic.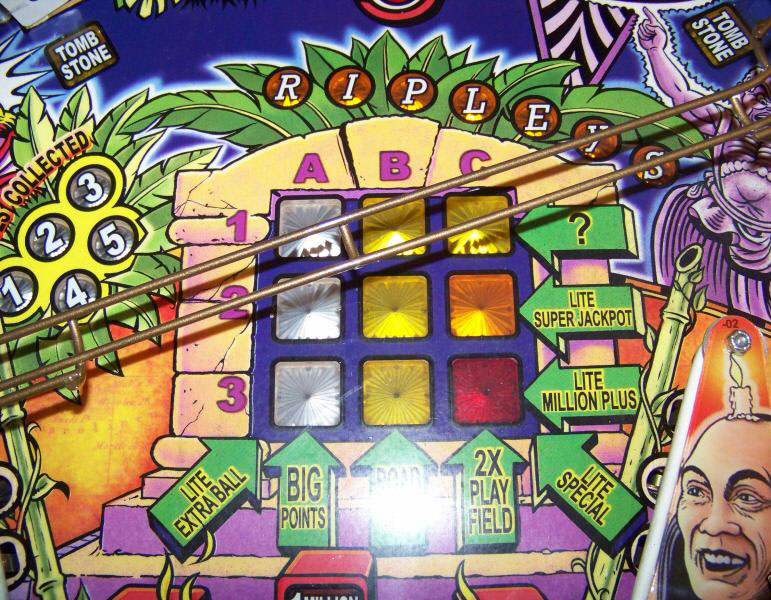 In the lower center of the playfield is a matrix which must be completed by the player.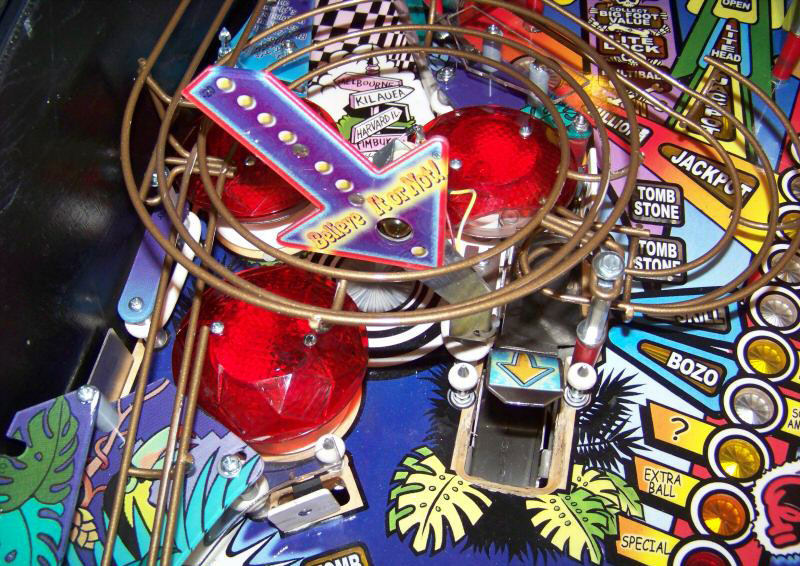 The left side of the playfield has a kickout scoop in about the same spot as Addams Family and Whirlwind.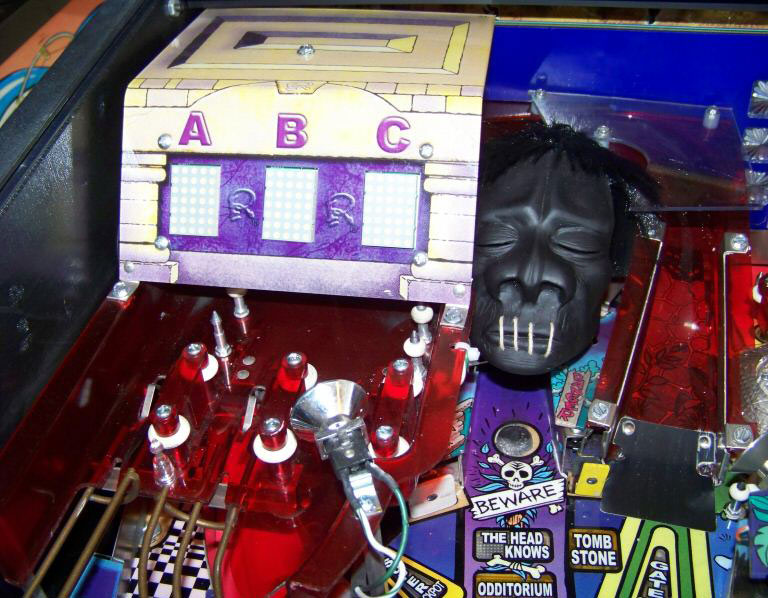 Here is a closeup of the shruken head which talks to the player during the game. This is a recurring theme in Lawlor pinball games with heads also
being present in Funhouse and Roadshow. However, due to shrinking budgets today the head on this modern Stern pinball machine has no animation or electronics.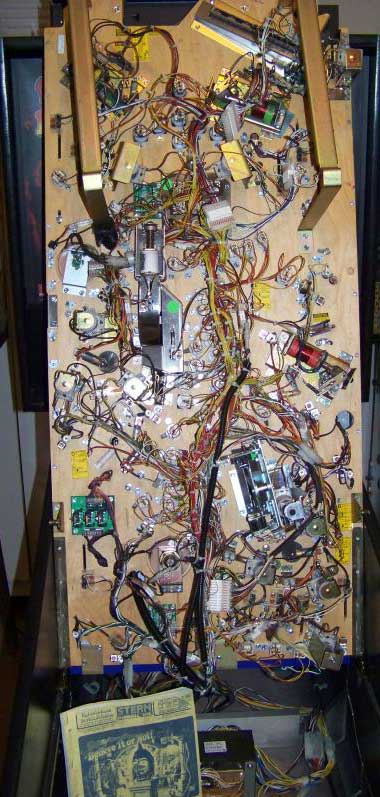 Here is a view of the bottom of the playfield.

Above Photos Courtesy Of Brian
---
FROM THE IPD
Ripley's Believe It or Not!
Manufacturer: Stern Pinball
Date: March 18, 2004
Model Number: 81
Abbreviations: RBION
MPU: Stern Whitestar (modified)
Type: Solid State Electronic
Theme: Licensed Theme
Notable Features: 'Believe it or Not.'® feature: This multi-level rule enables the beginning
player to achieve some of the game's goals early on, while it allows the more advanced player
to extend their opportunities through better play.
A very strong magnet under the shrunken head catches the ball, holds it for a second,
then shoots it to the rear. In another mode, the magnet stops the ball and immediately
gives it back to the lower playfield.
Concept by: Pat Lawlor
Design by: Pat Lawlor, Louis Koziarz
Art by: John Youssi
Dots/Animation by: Adam Rhine
Mechanics by: John Krutsch
Music by: Chris Granner
Sound by: Chris Granner
Software by: Louis Koziarz, Greg Dunlap
Click Here For Full IPD Entry

---
Current Ripleys Believe It Or Not Pinball Machine And Parts For Sale
---
Learn How to Play A Ripleys Believe It Or Not Pinball Machine Here
See Discussion on The Ripleys Believe It Or Not Pinball On rec.games.pinball
Learn How to Repair Your Ripleys Believe It Or Not Pinball Machine
See Pages Of Other Ripleys Believe It Or Not Pinball Machine Owners

---
---
Free Title Strips - Pinball Instruction Cards - Jukebox Archive - Your Nostalgia Stop! - Classic Soda Advertising Pinball Pages - Drive In Theaters - My Gameroom - Ken's Resume - Links - Fortune Tellers - The Cave - View Guestbook - Sign Guestbook - Wanted To Buy - Wanted To Sell - Gameroom Chat - Ken's Poll -
I could really use a small donation to keep this site running. If you care to help click the button below to send $5.
Back To Kens Homepage

---