---
Family Guy Pinball Machine By Stern of 2007 at www.pinballrebel.com Page 1
---
Page 2
Page 3
Owners List
Video Of Prototype 15 MB File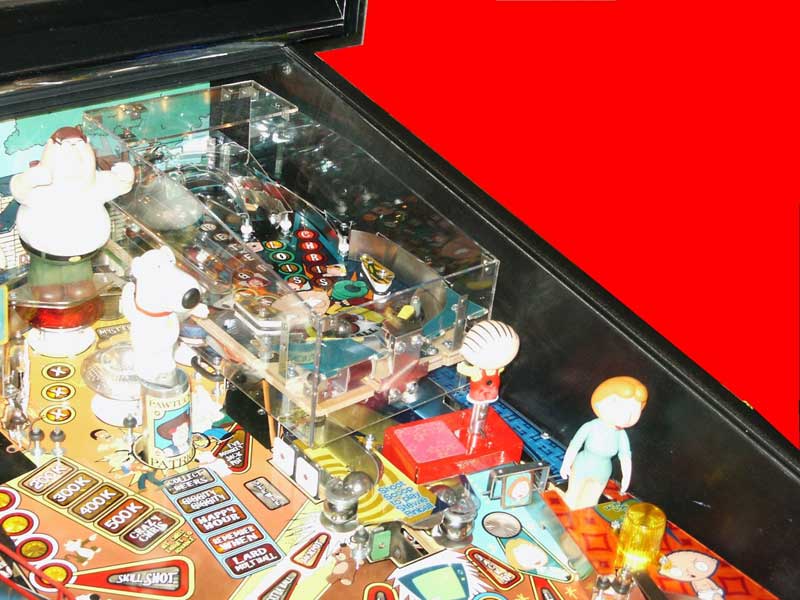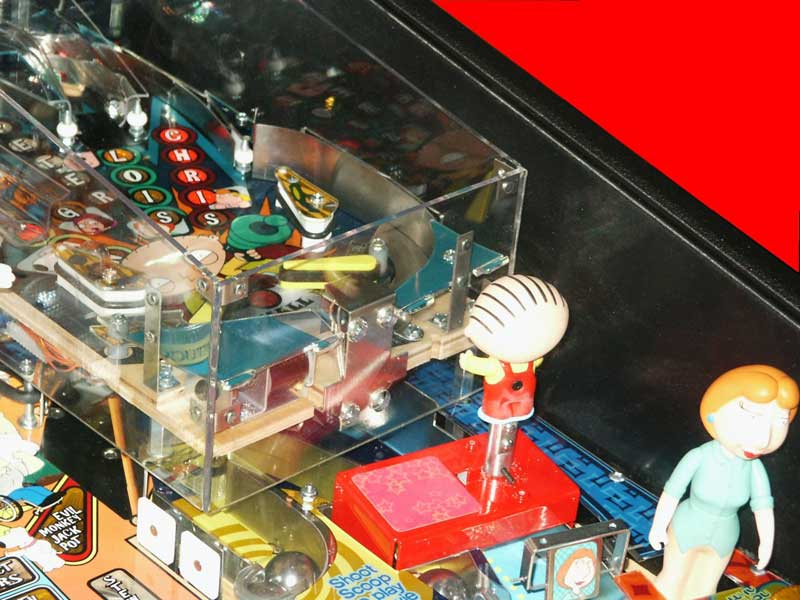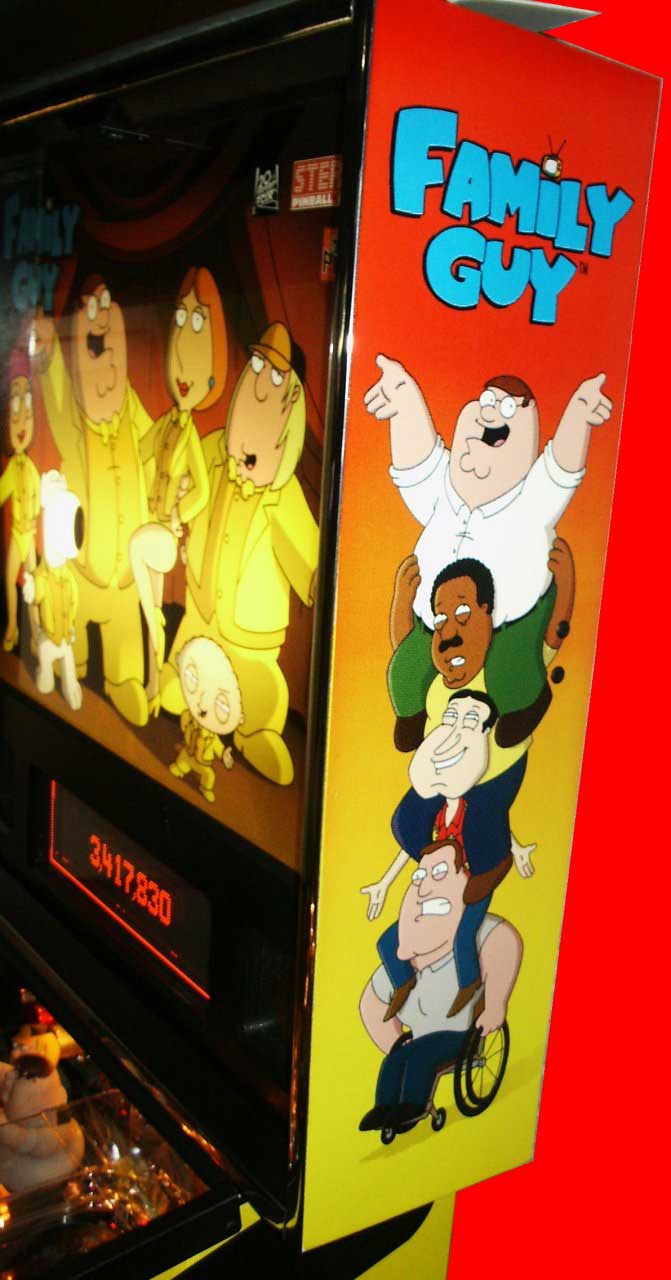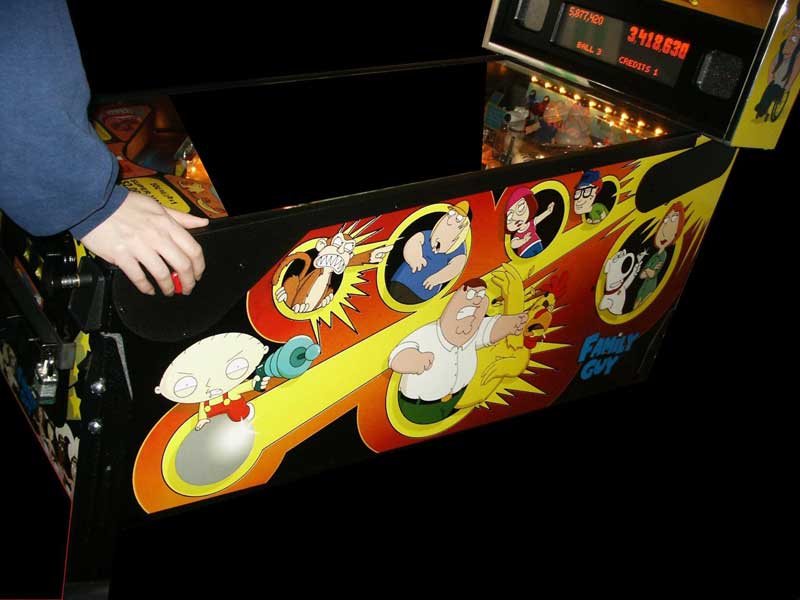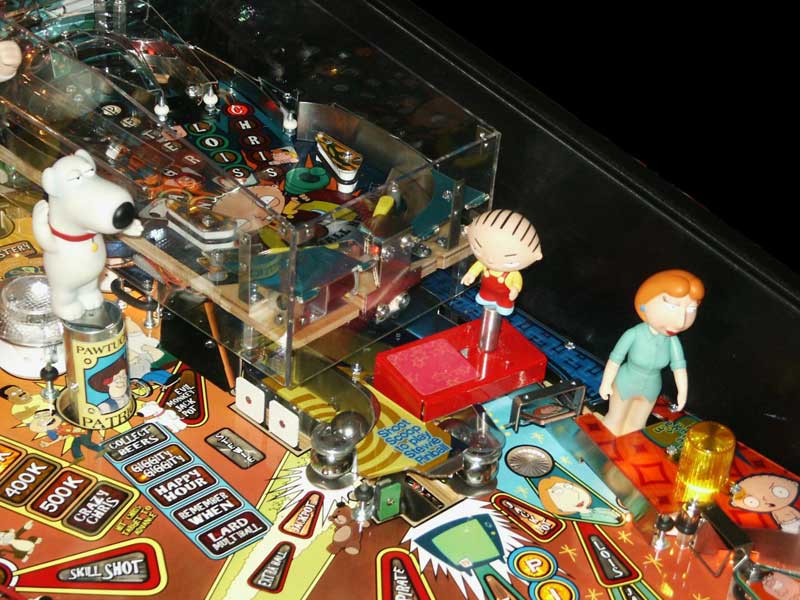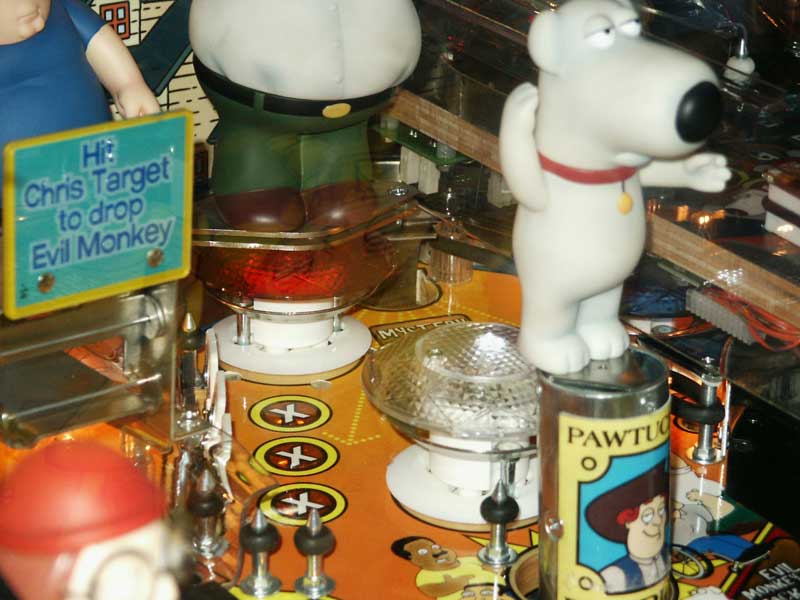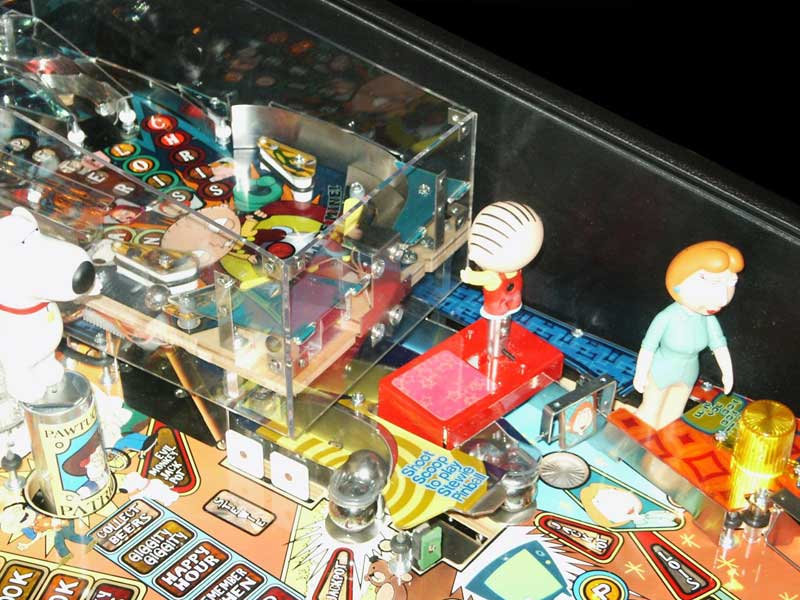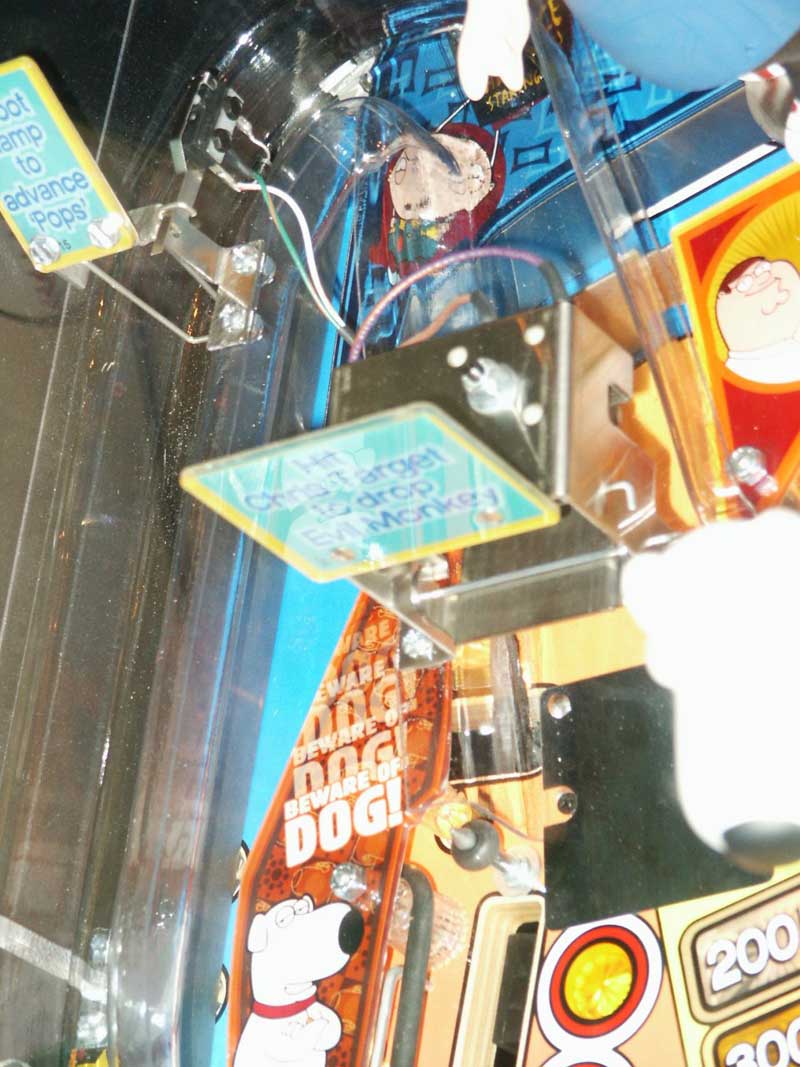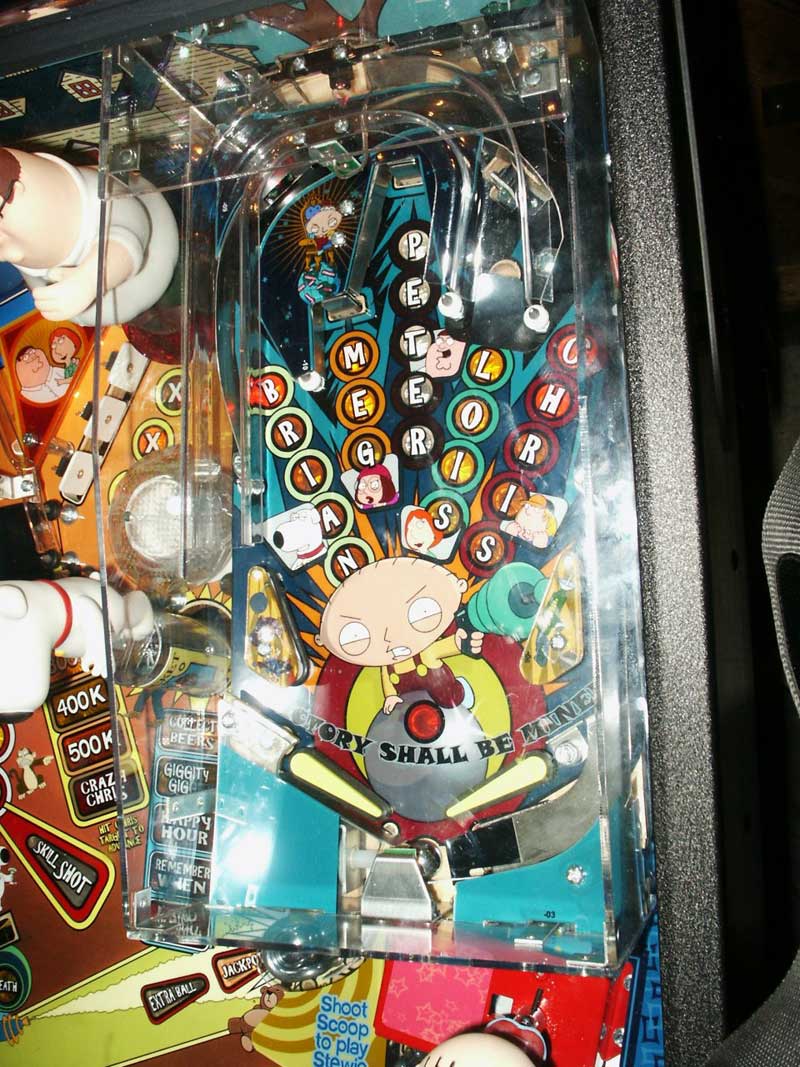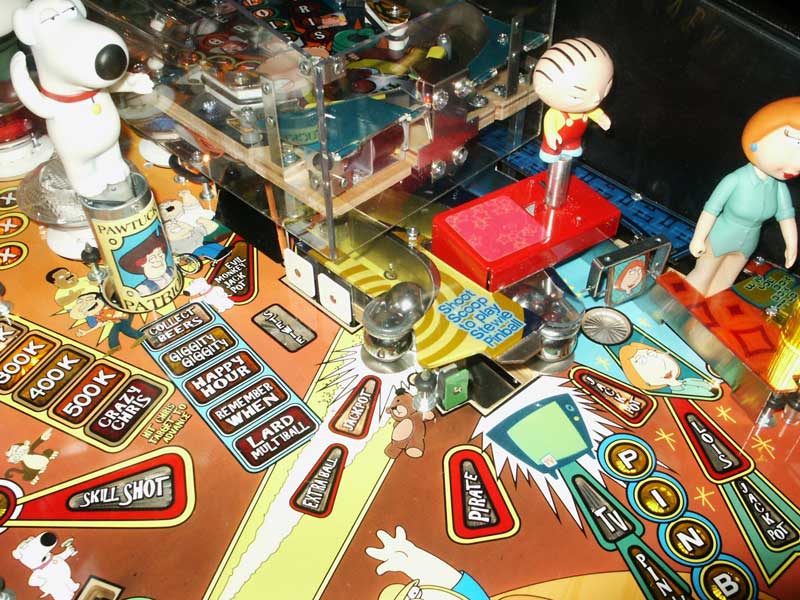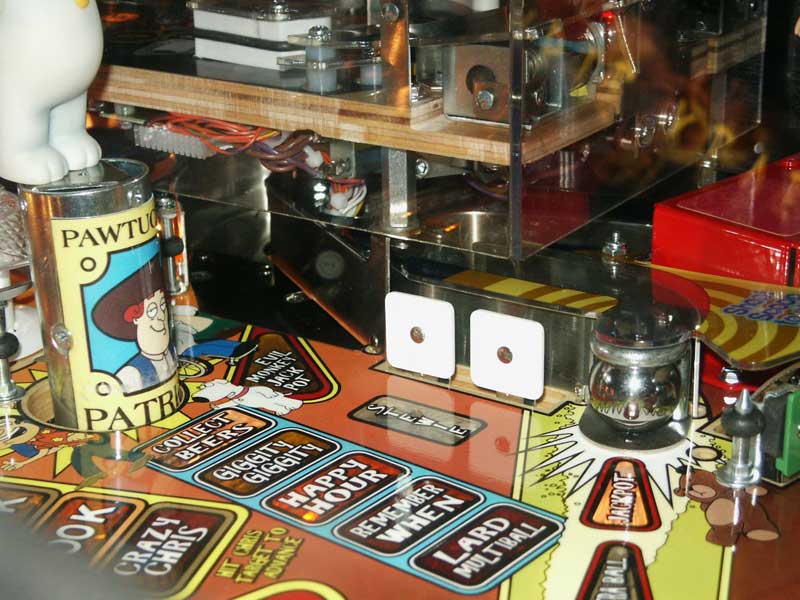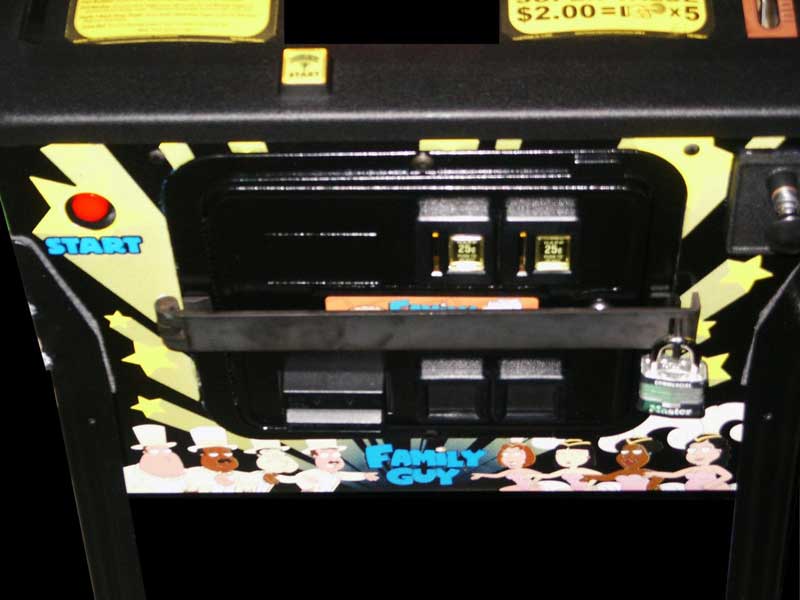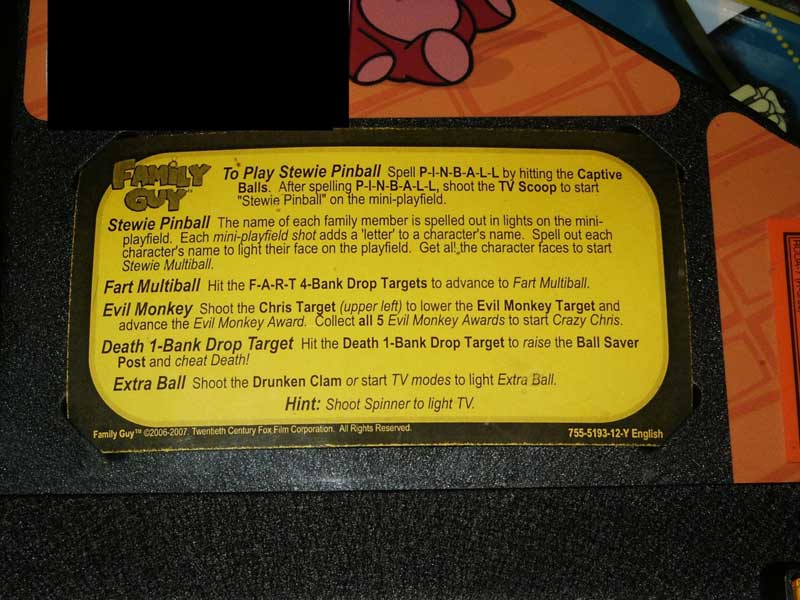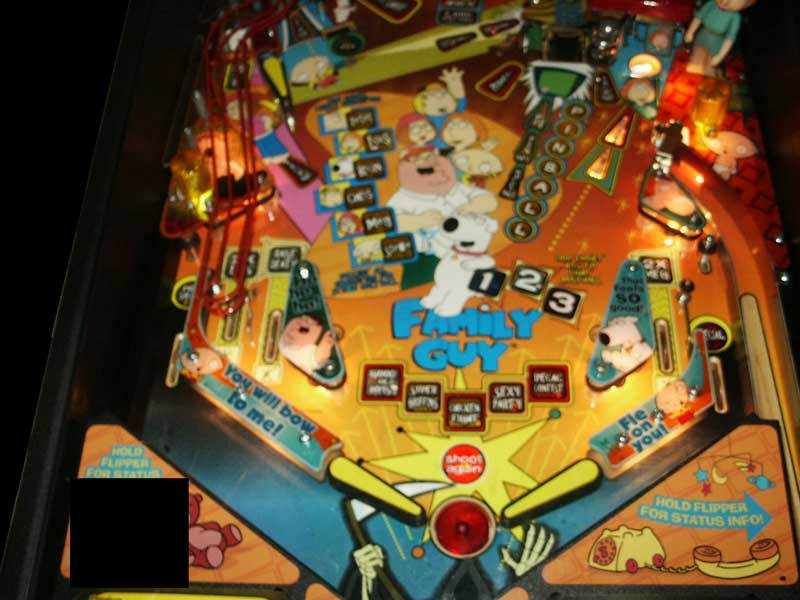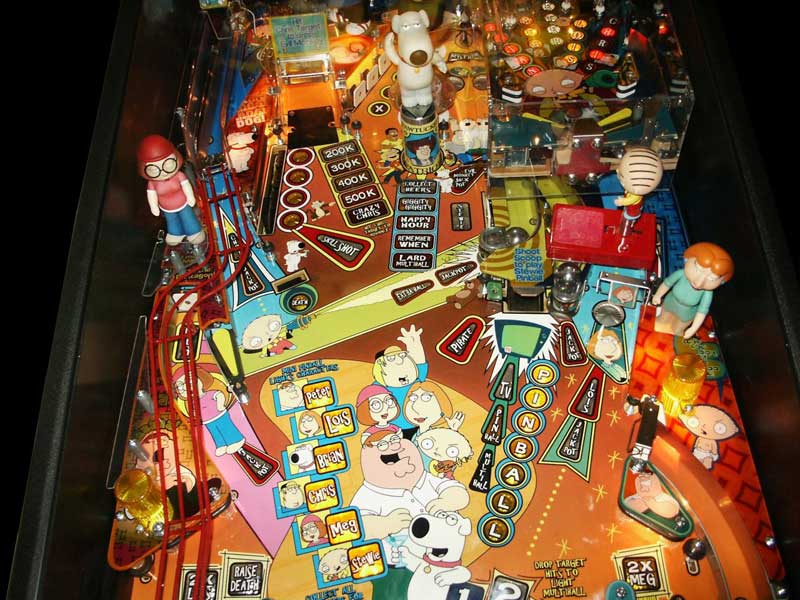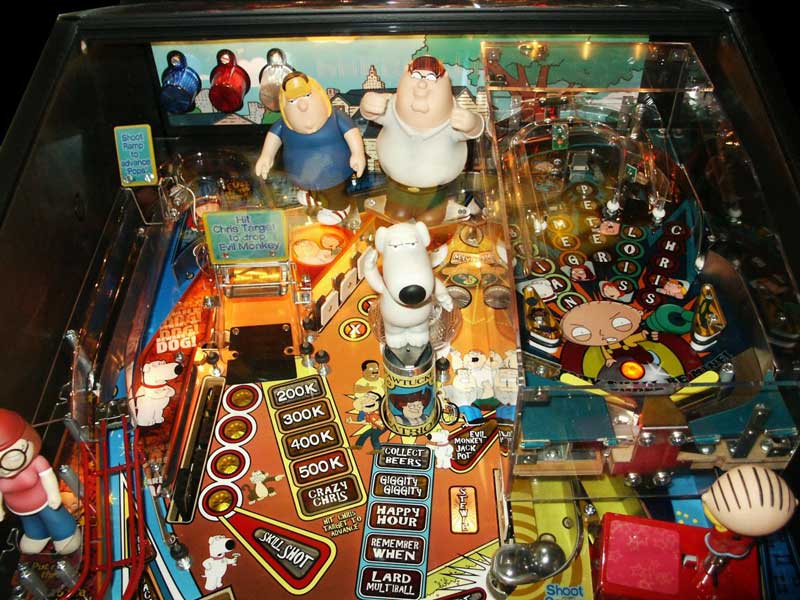 Page 2
Page 3
Owners List
---

Buy A Family Guy Pinball Or Parts Here

---
Learn How to Play A Family Guy Pinball Machine Here
See Discussion on The Family Guy Pinball On rec.games.pinball
Learn How to Repair Your Family Guy Pinball Machine
See Other Pages Featuring A Family Guy Pinball Machine
---
FROM THE INTERNET PINBALL DATABASE
Family Guy
Manufacturer: Stern Pinball
Date Of Manufacture: 2007
Model Number: I-0093
MPU: Stern S.A.M. Board System
Type: Solid State Electronic
Theme: Licensed - Comics - Animation - Family
Notable Features: Mini-playfield designed like an entire playfield. Up-post.
Toys: Character figures of the six Family Guy characters, Peter,
Lois, Meg, Chris, Stewie and Brian. The Stewie character rotates to
face his little pinball machine, while the Meg character bobs up and down.
Design by: Pat Lawlor
Art by: John Youssi, Margaret Hudson
Music by: David Thiel
Sound by: David Thiel

---
A Review Of The Prototype Family Guy Pinball Machine
By The Korn. Note This game is still Going Through Revision
Notes:
* Rom version 0.41, then 0.44.
* Sounds are a REALLY base mix right now
* Upper playfield screening wasn't ready for test, so upper playfield is art printed on mylar
* Images Changed To Mask All Location References


Based on version 0.41 and 0.44 software:

Pops rotate lit mode on beer can. Hit beer can X times to start.
(Beer can does not raise or lower; it just exists where it is.)

Mystery hole (Drunken Clam) is, surprise, a random award. Can award a full family member
(upper playfield), 1M, 2M, and... I forget the last award, maybe light EB?

Hit Stewie target to build *time* on UPF.

Evil Monkey flows around to exit via Lois lane.
(Not an eject like the chest on POTC; actual flow.) Lois flows and is an orbit.
Chris and Meg are target dead ends.

Pops are very lively. Possible to hit the clam on a clear shot from the left flipper.

Stewie normally faces sort-of left and down. Rotates to face small machine when playing Stewie Pinball.

Hit spinner 25x to light TV modes. Something rotates which mode is lit, but didn't work out what it was.
Not all TV modes exist yet.

A hit to either newton ball adds PINBALL letter. Collect all, hit TV, play Stewie pinball (UPF).

Ball auto-launches from UPF outhole to the right while you still have time,
kind of similarly to TTT and usually winds up near Peter target. Hitting shots on UPF doesn't add time currently;
only Stewie on LPF does. UPF is optos, except for stand up targets. Only powered items are slings.
Flipper bats are all new; smaller than 2" and very thin. UPF Brian and Chris are orbits; scored depending on direction
of ball flow. UPF Lois is ramp, Meg and Peter are standups.

To start fart multiball, drop the entire bank of drop targets three times. Lather, rinse, repeat.

Skill shot is 100k, 200k, 300k progression on lowest drop target.
Currently no super skill shot for shooting directly to either left inlane (I tried!).

Shoot lois, evil monkey combo will also lower evil monkey target and collect evil monkey JP.
Collect for 100k, 200k, 300k progression.

Hitting shots on LPF does NOT spot letters on UPF. Collect all members on UPF to start Stewie multiball.

Stewie target is currently most lucrative in the game; 150k, 250k, 350k progression,
not always lit but near always lit. Had it cranked up to 950K/shot so far.

UPF scores no points. Ever.

Ten monkey ramp shots lights EB on second newton ball.

Right now, it's a fairly low scoring affair. Then again, the entire UPF doesn't score any points, so that probably will change.

Can stack. Have stacked fart multiball, lard multiball, and crazy chris so far.

While in multiball, stewie multiball deactivated. (duuuuh)

NO DEFAULT BALL SAVE. Death post up instead at ball start; if you mess it up, too bad.

Left inner inlane brings up death DT. Hit death DT to bring up center post.

Not an outlane monster at all. Rubber above and below outlanes on both sides.
---
Free Title Strips - Pinball Instruction Cards - Jukebox Archive - Your Nostalgia Stop! - Classic Soda Advertising Pinball Pages - Drive In Theaters - My Gameroom - Ken's Resume - Links - Fortune Tellers - The Cave - View Guestbook - Sign Guestbook - Wanted To Buy - Wanted To Sell - Gameroom Chat - Ken's Poll -

I could really use a small donation to keep this site running. If you care to help click the button below to send $5.
Back To Kens Homepage