---
Clown Pinball By Zaccaria of 1985 at www.pinballrebel.com
---
A cool pinball game with unique features and one very scary looking clown.



A classic Pinball Glass with a circus theme.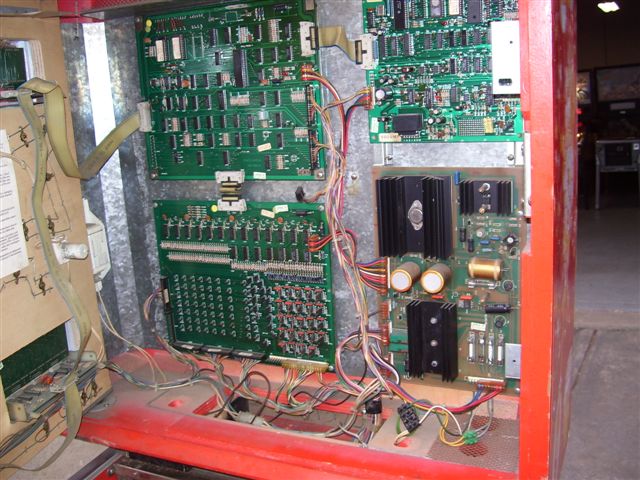 A view of the electronics in the backbox.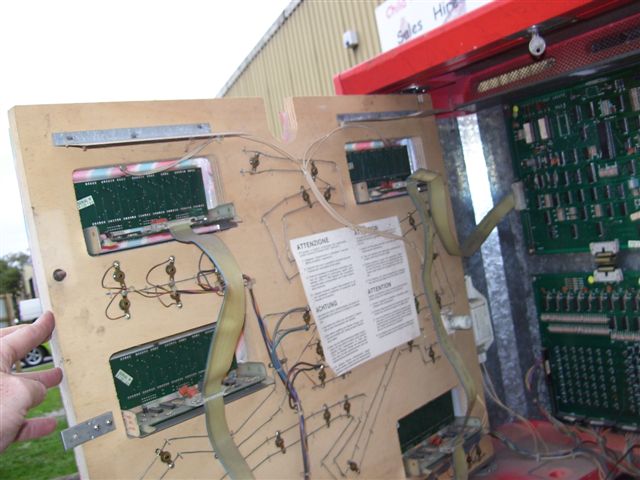 Display boards.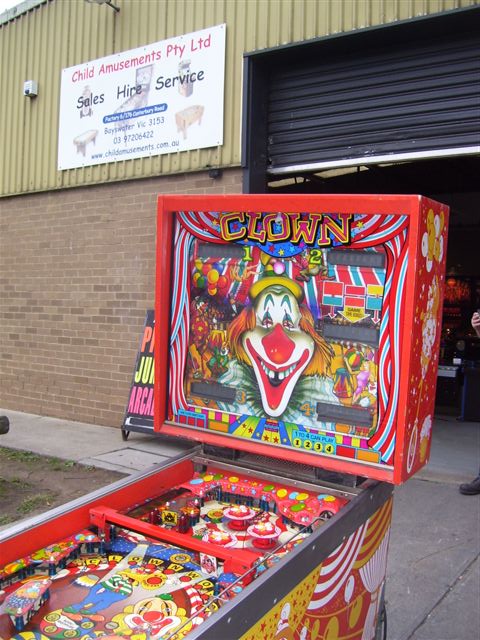 The game is very colorful and has bright artwork.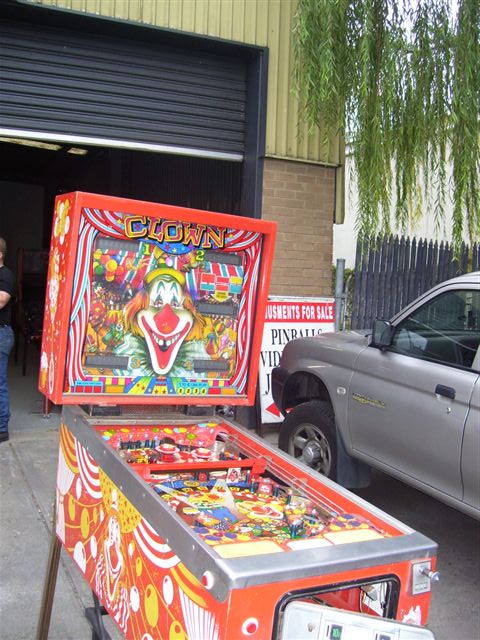 Like most Zaccaria pinballs this one has stellar clearcoat on the playfield.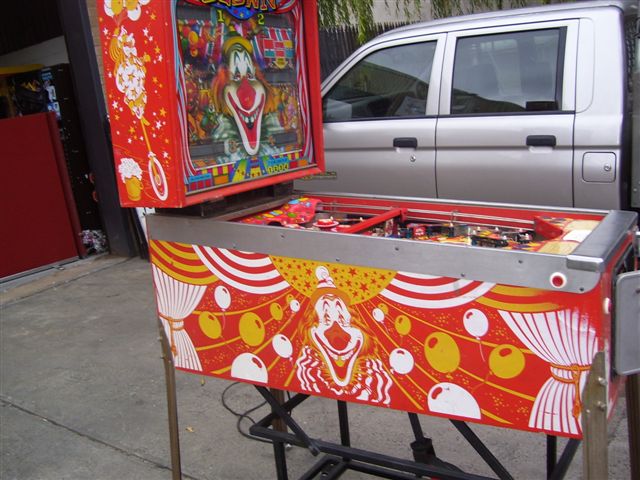 Side artwork.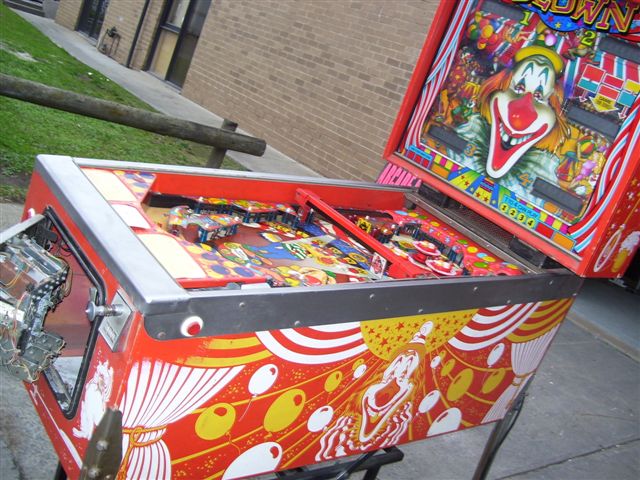 Side artwork on the opposite side of the pinball machine.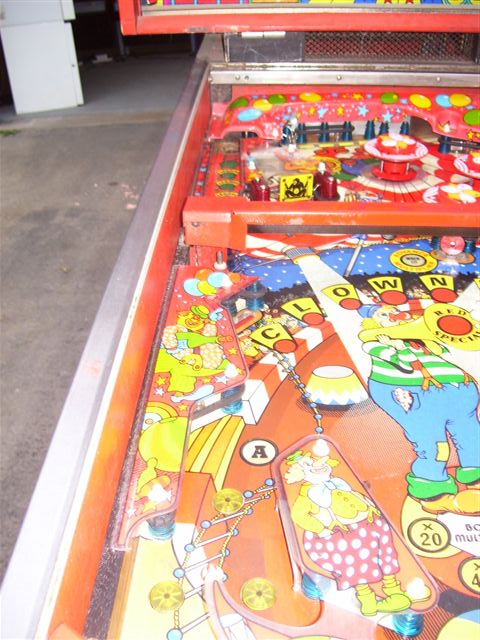 The little bar at the top features a moving target.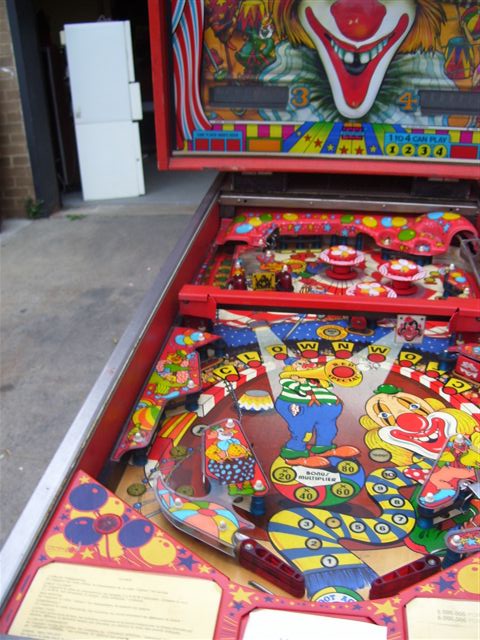 Flipper bats are unique to Zaccaria pinballs and are not easy to find.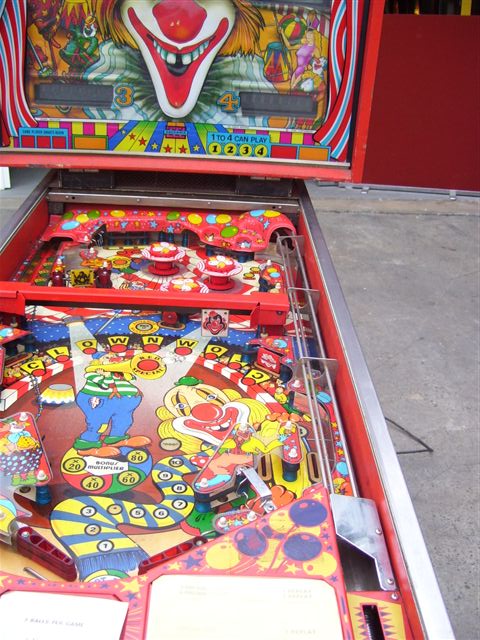 A wireform lifts the ball to the top of the playfield.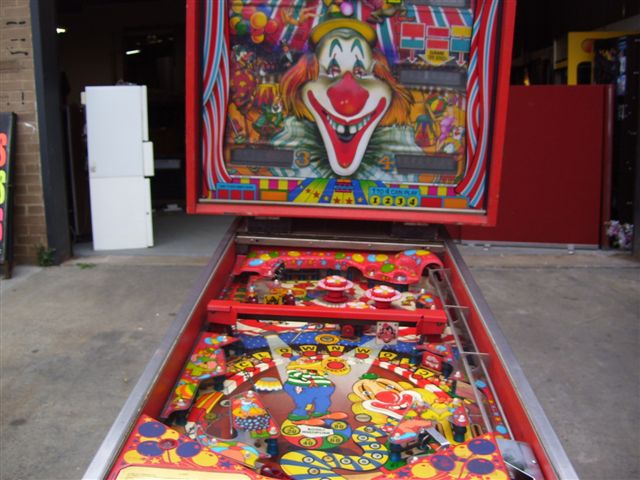 Full playfield view.



Upper playfield view.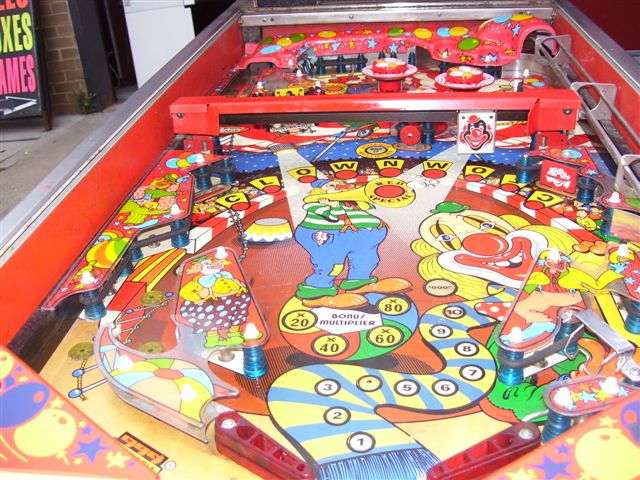 Lowe playfield view.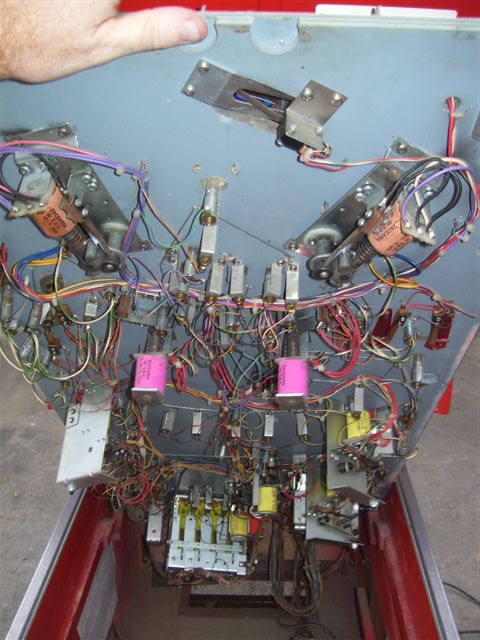 A peek under the playfield.

Above Photos Courtesy of

www.pinballs-australia.com.au
---
Current Clown Pinball Machine Or Parts For Sale
Learn How to Play A Clown Pinball Machine Here
See Discussion on The Clown Pinball On rec.games.pinball
Learn How to Repair Your Clown Pinball Machine
See Other Pages Featuring A Clown Pinball Machine
See The Clown Pinball Machine Owners List

---
FROM THE INTERNET PINBALL DATABASE
Clown
July, 1985 / 4 Players
Manufacturer: Zaccaria, of Bologna, Italy
MPU: Zaccaria Generation 2
Type: Solid State Electronic
Theme: Circus/Carnival
Notable Features: Flippers (2), Pop bumpers (3), 4-bank drop targets (1), Single drop targets (3), Kick-out hole (1), Rollunder spinner (1).
A hanging target moves back and forth across center of playfield. Large bonus multipliers, up to 80x.
Notes: 1B1165/2 MPU, five 1B11150/0 (8 Digit) Display boards, a 1B11178 Sound board, a 1B1166 driver board, and a 1B11167/0 Power Supply board.

---
---
Free Title Strips - Pinball Instruction Cards - Jukebox Archive - Your Nostalgia Stop! - Classic Soda Advertising Pinball Pages - Drive In Theaters - My Gameroom - Ken's Resume - Links - Fortune Tellers - The Cave - View Guestbook - Sign Guestbook - Wanted To Buy - Wanted To Sell - Gameroom Chat - Ken's Poll -

I could really use a small donation to keep this site running. If you care to help click the button below to send $5.
Back To Kens Homepage