---
---
CheckPoint Pinball By Data East 1991 at www.pinballrebel.com


A very cool pinball that was the first to use a dot matrix display. This display is only 1/2 the size of those used in new games and is very hard to find.
If your display is not working your best option is to replace them with a LED type.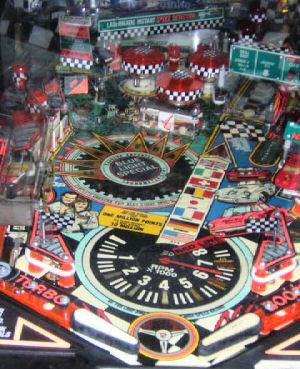 Really neat playfield with a radar gun that tracks ball speed. We used to play the heck out of this one in the student union.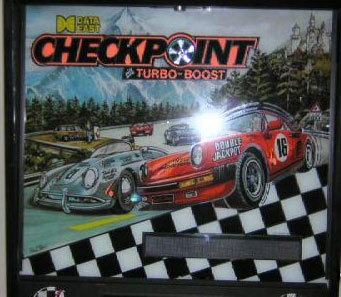 Good backglass that shows what appears to be a pair of import cars doing a road rally.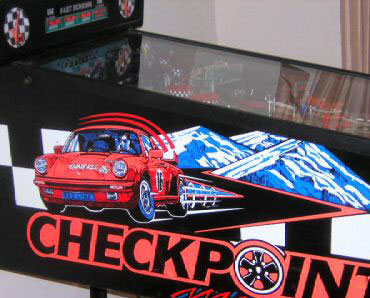 Side artwork is prone to fade due to the red ink on the pinball cabinet.

Photos Courtesy Of Mike

---
Checkpoint
February, 1991 4 Players
Manufacturer: Data East Pinball
Model Number: 10
Common Abbreviations: CP
MPU: DataEast/Sega Version 3
Type: Solid State Electronic
Theme: Sports - Auto Racing
Notable Features: Auto Shooter, Shaker Motor, Ignition Key used as start button.
Toys: Porsche Carrera above the Nitro target.
Design by: Joe Kaminkow, Ed Cebula
Art by: Paul Faris
Dots/Animation by: Todd Farris, Kristina Donofrio
Music by: Brian Schmidt
Sound by: Brian Schmidt
Software by: Rehman Merchant
Click Here For Full IPD Entry

---
Current Check Point Pinball Machine And Parts For Sale
---
Point Pinball Machine Here
See Discussion on The Check Point Pinball On rec.games.pinball
Learn How to Repair Your Check Point Pinball Machine
See Pages Of Other Check Point Pinball Machine Owners

---
---
Free Title Strips - Pinball Instruction Cards - Jukebox Archive - Your Nostalgia Stop! - Classic Soda Advertising Pinball Pages - Drive In Theaters - My Gameroom - Ken's Resume - Links - Fortune Tellers - The Cave - View Guestbook - Sign Guestbook - Wanted To Buy - Wanted To Sell - Gameroom Chat - Ken's Poll -
I could really use a small donation to keep this site running. If you care to help click the button below to send $5.
Back To Kens Homepage

---