---
Banzai Run Pinball By Williams of 1988 at www.pinballrebel.com
---
A one of a kind design that is not easy to find.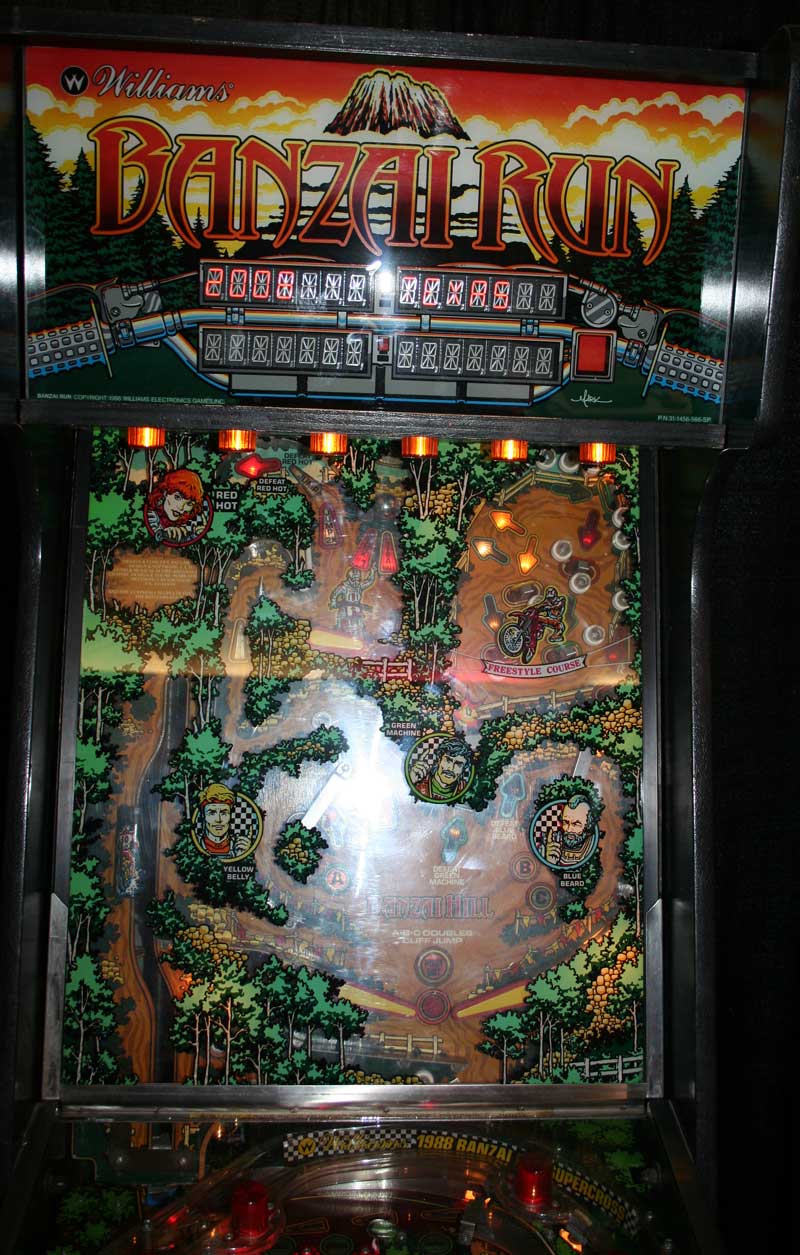 The area where the traditional backbox would be houses a vertical playfield!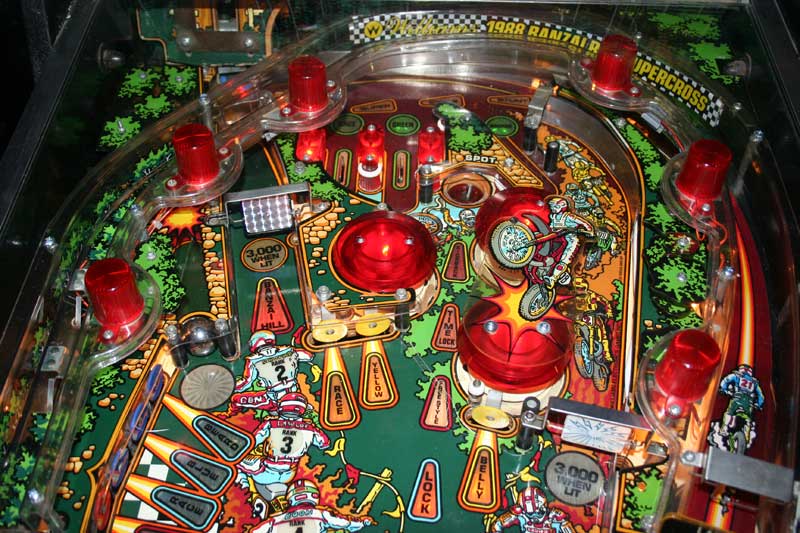 Upper playfield view.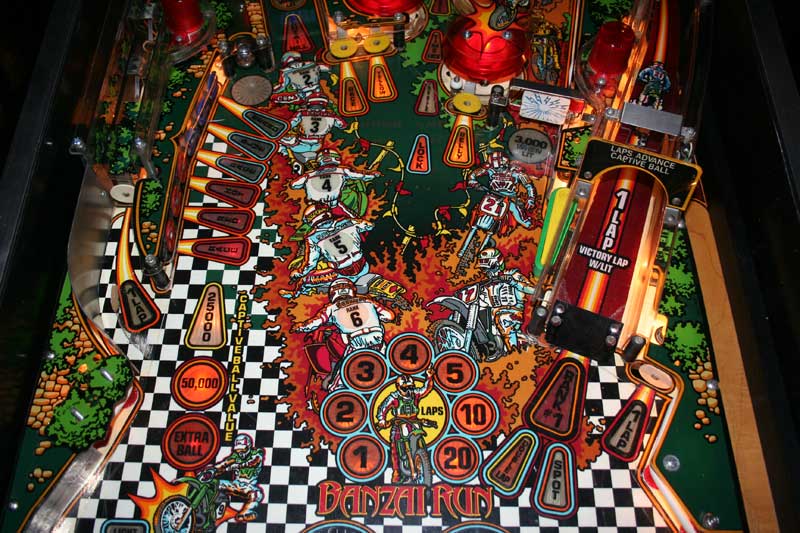 Middle playfield view.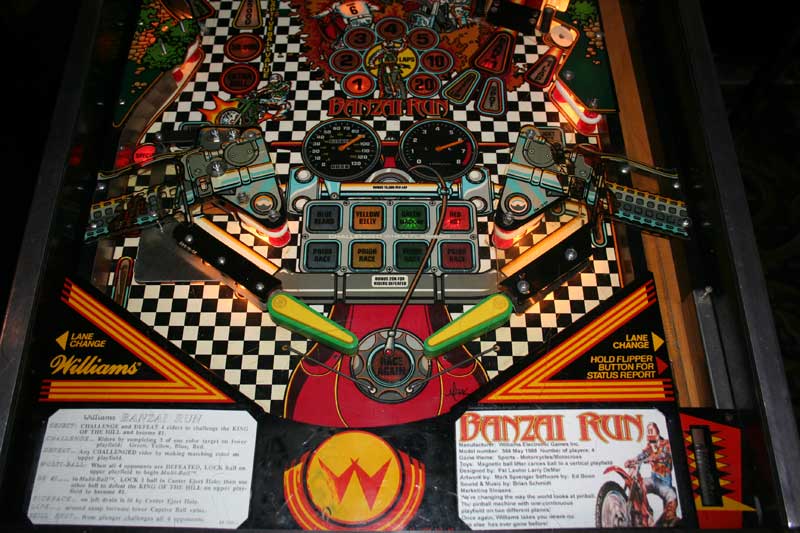 Flipper and outhole view.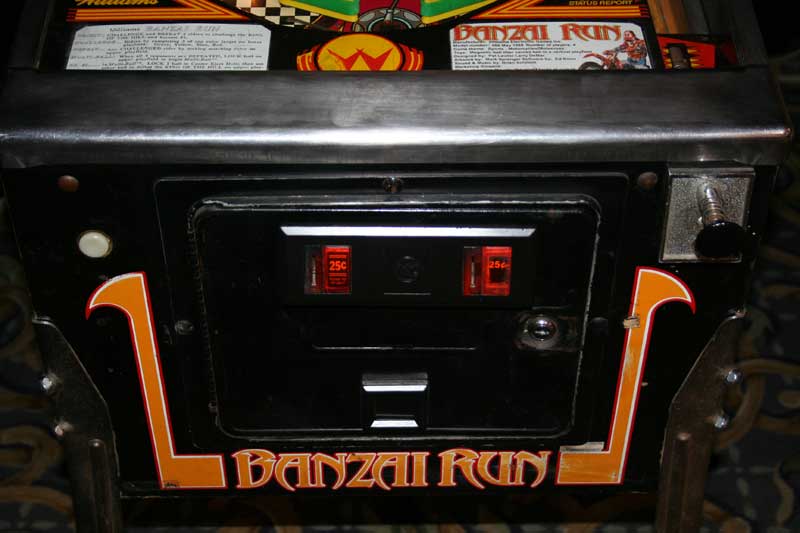 Coind door view.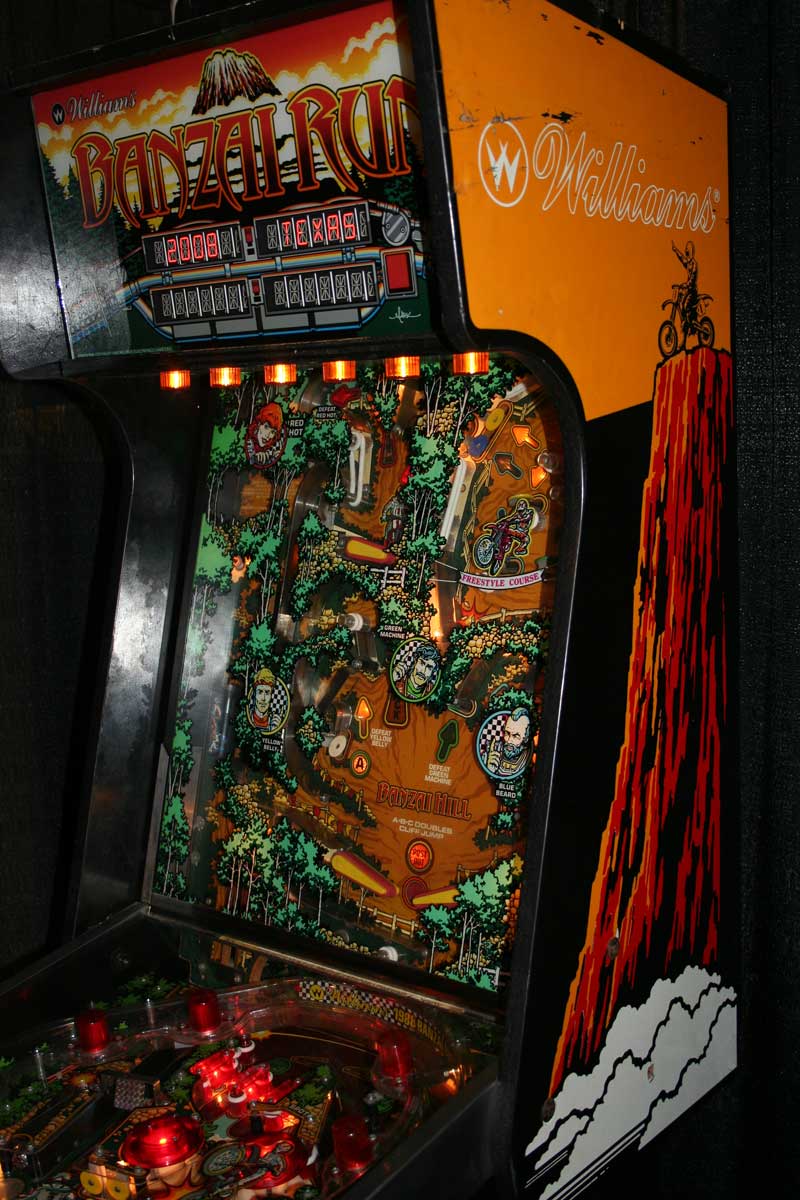 The score displays are in the very top of the game. As you can see here this game is using LCD replacements and not the original gas displays.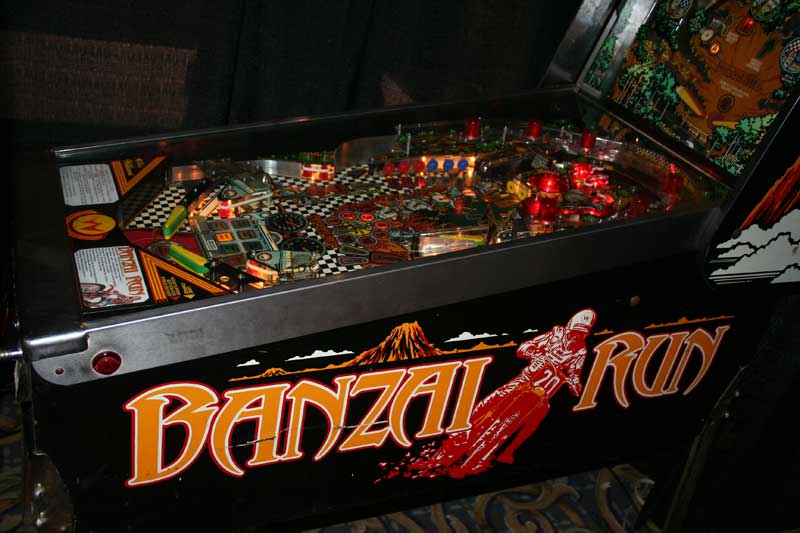 Full view of the Banzai Run pinball.

---
Current Banzai Run Pinball Machine Or Parts For Sale
Learn How to Play A Banzai Run Pinball Machine Here
See Discussion on The Banzai Run Pinball On rec.games.pinball
Learn How to Repair Your Banzai Run Pinball Machine
See Other Pages Featuring A Banzai Run Pinball Machine
See The Banzai Run Pinball Machine Owners List

---
FROM THE INTERNET PINBALL DATABASE
Banzai Run
May, 1988 / 4 Players
Manufacturer: Williams Electronic Games
Model Number: 566
MPU: Williams System 11B
Type: Solid State Electronic
Production: 1,750 units
Theme: Sports - Motorcycles/Motocross
Specialty: Mechanical Backbox Animation
Notable Features: Flippers (3 horizontal, 3 vertical), Pop bumpers (3), Ramp (1), Kick-out hole (1),
Rollunder spinners (2), Left outlane kickback, Captive balls (1 horizontal, 2 vertical),
Up-post (between bottom flippers on the vertical playfield), Ball kicker next to the left slingshot, 2-ball Multiball.
The first (and only) game to feature a second complete playfield in the backglass.
Toys: A magnetic ball lifter carrying the ball to a second playfield (vertical) behind the backglass.
Concept by: Pat Lawlor Design by: Pat Lawlor, Larry DeMar
Art by: Mark Sprenger Mechanics by: John Krutsch
Music by: Brian Schmidt Sound by:Brian Schmidt
Software by: Larry DeMar, Ed Boon

---
---
Free Title Strips - Pinball Instruction Cards - Jukebox Archive - Your Nostalgia Stop! - Classic Soda Advertising Pinball Pages - Drive In Theaters - My Gameroom - Ken's Resume - Links - Fortune Tellers - The Cave - View Guestbook - Sign Guestbook - Wanted To Buy - Wanted To Sell - Gameroom Chat - Ken's Poll -

I could really use a small donation to keep this site running. If you care to help click the button below to send $5.
Back To Kens Homepage