---
---
Star Trek Pinball By Bally 1978 at www.pinballrebel.com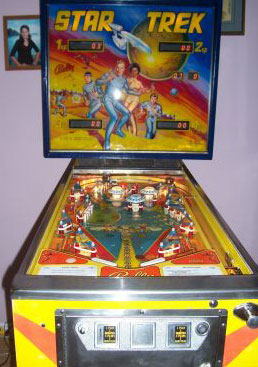 A cool game with a great theme. The glass had to be redone to use uniforms from the first Star Trek Movie.
The original pinball glass had the crew of the Enterprise in the old series attire from the 1960's.
Another change that was made is in the background a crewmember was shooting a person and that was changed to a ball of energy.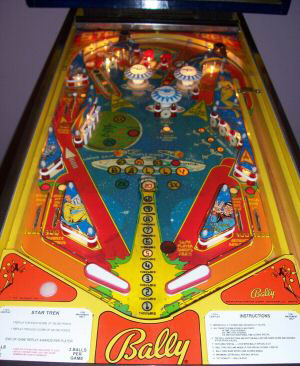 Playfiled is well laid out and has multiple features.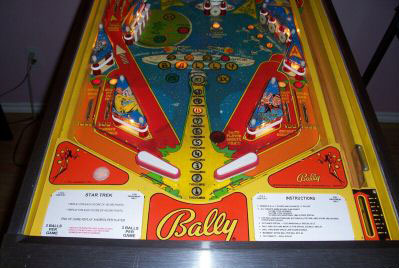 The lower part of the playfield with the bonus count is usually worn to the wood due to very heavy play on most of the pinball games.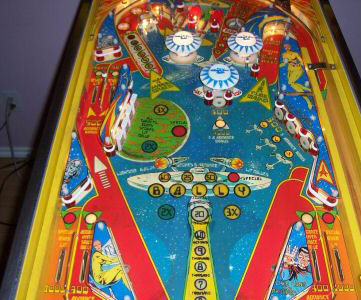 Middle playfield art features the USS Enterprise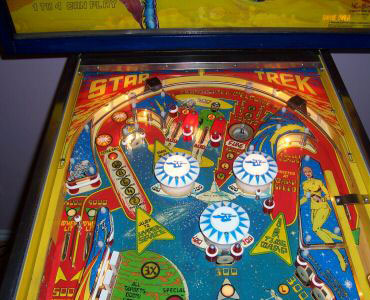 Upper playfield has pop bumpers and rollovers.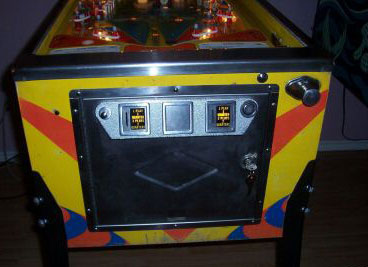 Coin door view.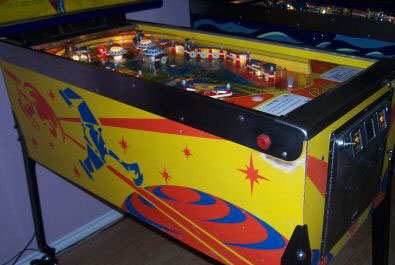 Cabinet art is three color and very bright and lively.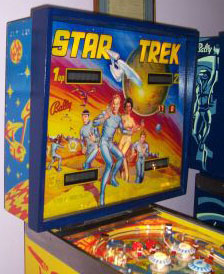 Head artwork is also very cool and fits the theme.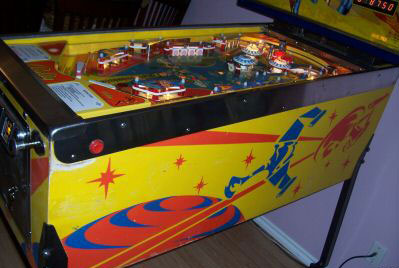 Another view of the pinball cabinet art.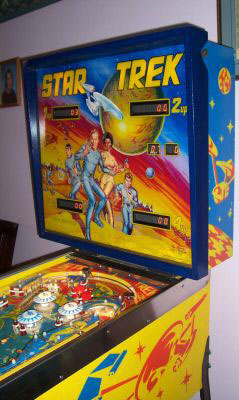 Alternative view of this pinball machine.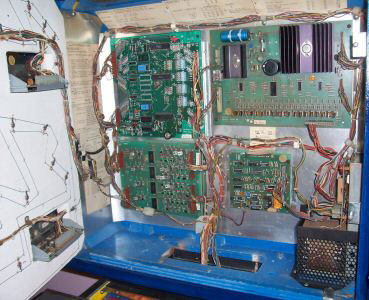 Electronics on this machine are standard Bally issue. Note the most troublesome area
are leaking battey issues on the CPU board and fried connectors on the power supply board.

Photos Above Courtesy Of www.linkpete.com
---
FROM THE IPD
Star Trek
January 24, 1978 / 4 Players
Manufacturer: Bally Manufacturing Corporation
Model Number: 1148-E
MPU: Bally MPU AS-2518-35
Type: Solid State Electronic
Production: 16,842 units
Theme: Licensed Theme - Outer Space
Notable Features: Flippers (2) Pop bumpers (3), Kick-out hole (1),
4-bank drop targets (1). Free ball return lane.
Design by: Gary Gayton
Art by: Kevin O'Connor
Click Here For Full IPD Entry

---
Current Star Trek Pinball Machine And Parts For Sale
---
---
Learn How to Play A Star Trek Pinball Machine Here
See Discussion on The Star Trek Pinball On rec.games.pinball
Learn How to Repair Your Star Trek Pinball Machine
See Pages Of Other Star Trek Pinball Machine Owners
---
---
Free Title Strips - Pinball Instruction Cards - Jukebox Archive - Your Nostalgia Stop! - Classic Soda Advertising Pinball Pages - Drive In Theaters - My Gameroom - Ken's Resume - Links - Fortune Tellers - The Cave - View Guestbook - Sign Guestbook - Wanted To Buy - Wanted To Sell - Gameroom Chat - Ken's Poll -
I could really use a small donation to keep this site running. If you care to help click the button below to send $5.
Back To Kens Homepage

---