---
---
Merchantman Novelty Crane Digger By Exhibit Supply
---


This has to be my hardest find. About five years ago I decided I had to have a skill crane. I did not want a new one but the old type seen here that had a crank wheel.
What I was actually looking for was the old carnival type that came in a small rectangular enclosure but instead I found these. If you have more detailed information on these please email me.
They were made in Chicago and are called Merchantman Novelty Cranes. These were made by Exhibit Supply Company in Chicago Illinois. The best date I can get is late 1920's to early 1940's. They appear to be oak or perhaps walnut. They are in excellent condition and work 100%. I bought the pair from a small arcade where the kids had apparently lost interest in them after all these years. They are not for sale at any price.
The owner even threw in a large box of prizes that came in the small plastic eggs. I am so pleased to be able to add these to my collection and now if I could just find that fortune teller machine.
Exhibit Supply diggers were marketed by the company to be for upscale type locations like hotels. That is why these types of cranes were often called hotel or floor models. Much of the advertising put out by Exhibit Supply featured photos of their cranes and diggers in famous hotels.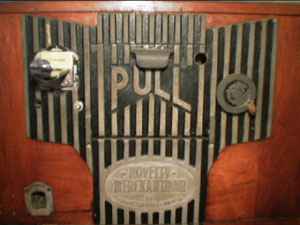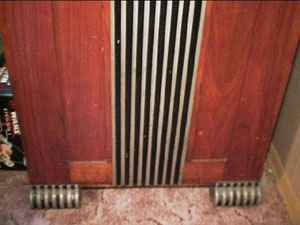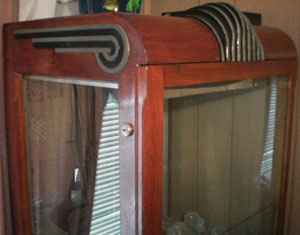 Here you can see the art deco metal work on the top, door and feet.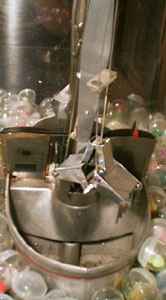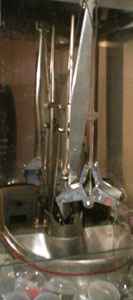 Here you can see the actual claw mech and the boat stern that acts as the prize drop.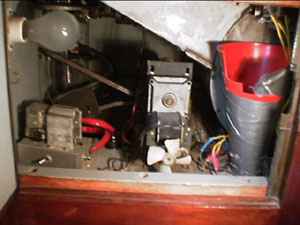 The inside mechanism. This motor would probably eat fingers if given a chance.
Exhibit Supply Co. put out several models of diggers and among these were the Novelty MerchantMan, the Model G Iron Claw, The Iron Claw Junior, and the 20th Century Digger.
Often you may hear people also refer to them as steamship cranes or steamboat diggers due to the fact that a boat is featured inside the crane. Others referred to them as a miniature steam shovel.
---
Free Title Strips - Pinball Instruction Cards - Jukebox Archive - Your Nostalgia Stop! - Classic Soda Advertising Pinball Pages - Drive In Theaters - My Gameroom - Ken's Resume - Links - Fortune Tellers - The Cave - View Guestbook - Sign Guestbook - Wanted To Buy - Wanted To Sell - Gameroom Chat - Ken's Poll -

I could really use a small donation to keep this site running. If you care to help click the button below to send $5.
Back To Kens Homepage

| | | | | |
| --- | --- | --- | --- | --- |
| Exhibit Supply Literature Page 1 | Exhibit Supply Literature Page 2 | Exhibit Supply Literature Page 3 | Exhibit Supply Literature Page 4 | Exhibit Supply Literature Page 5 |