---
WFF Royal Rumble Pinball By Data East of 1994 at www.pinballrebel.com
---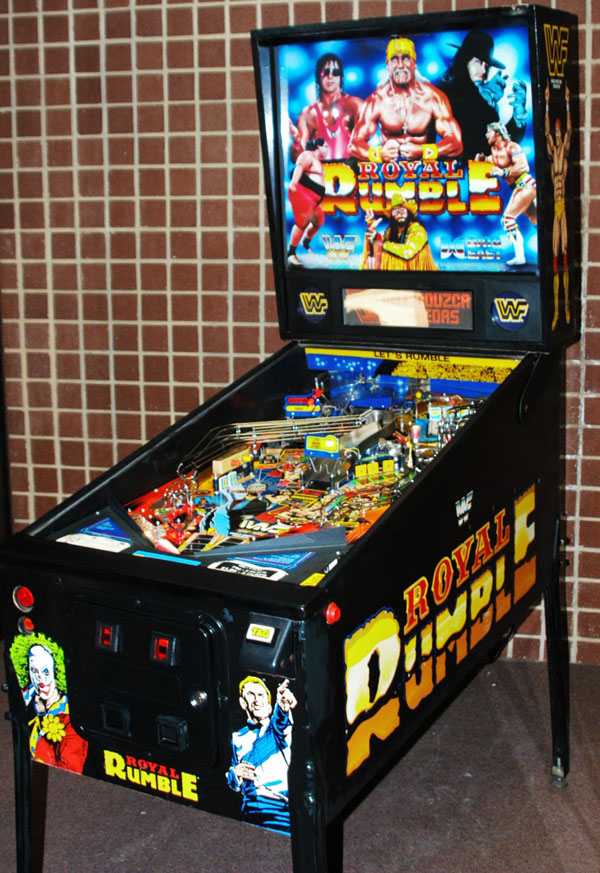 A neat Data East Pinball featuring everyones favorite white trash sport.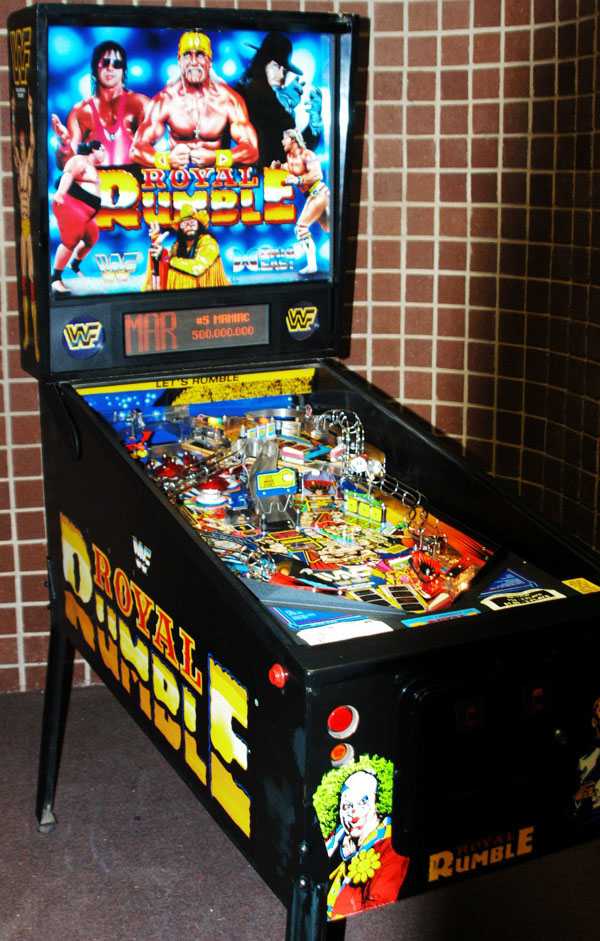 Side artwork is not bad and really stands out with the balck and gold.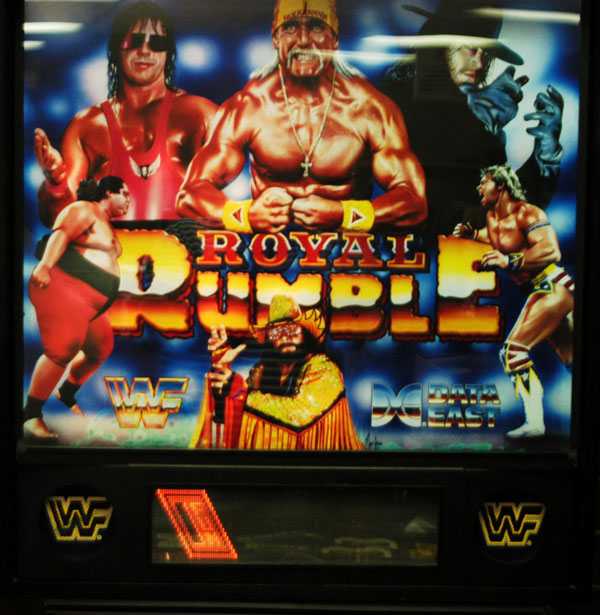 The backglass features Hulk Hogan and other well known WWF wrestlers.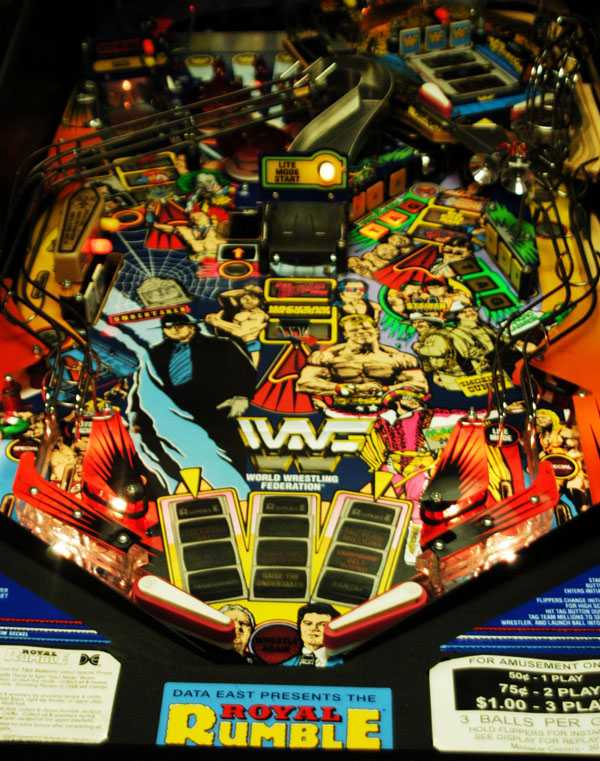 A full view of the playfield.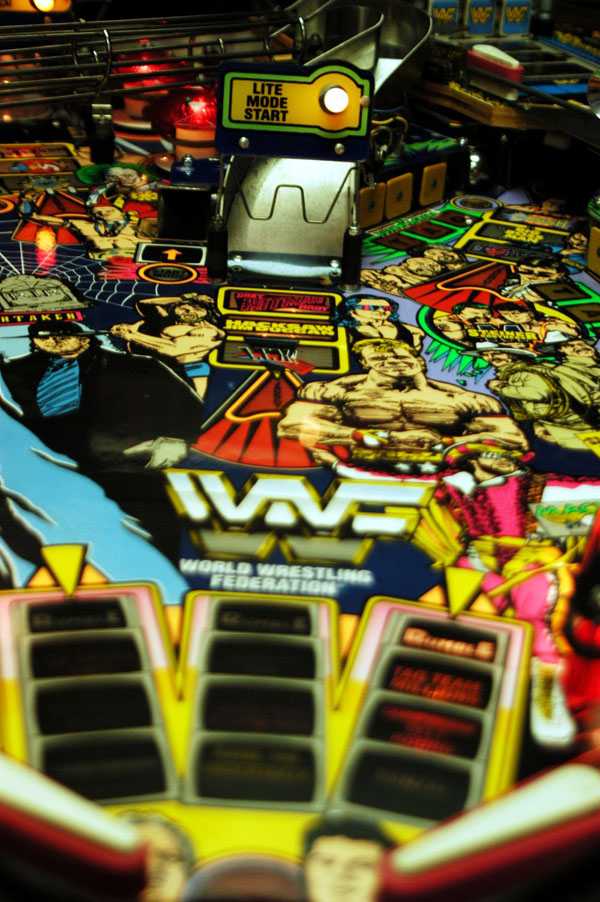 Playfield Detail

Photos Courtesy Of Skip Wall of http://www.pinball-arcade.com/
---
Current WWF Royal Rumble Pinball Machine And Parts For Sale
---
Learn How to Play A WWF Royal Rumble Pinball Machine Here
See Discussion on The WWF Royal Rumble Pinball On rec.games.pinball
Learn How to Repair Your WWF Royal Rumble Pinball Machine
See Other Pages Featuring A WWF Royal Rumble Pinball Machine

---
FROM THE INTERNET PINBALL DATABASE
WWF Royal Rumble (WWF)
May, 1994 / 4 Players
Manufacturer: Data East
Model Number: 23
MPU: DataEast/Sega Version 3
Type: Solid State Electronic
Theme: Licensed - Sports - Wrestling - Comedy
Specialty: Widebody
Toys: Machine shakes when hitting targets.
Design by: Tim Seckel, Joe Kaminkow
Art by: Paul Faris, Markus Rothkranz
Dots/Animation by: Jack Liddon, Kurt Andersen, Scott Melchionda
Mechanics by: Tim Seckel
Music by: Brian Schmidt
Sound by: Brian Schmidt
Software by:Neil Falconer, Orin Day, Lyman F. Sheats Jr.

---
---
Free Title Strips - Pinball Instruction Cards - Jukebox Archive - Your Nostalgia Stop! - Classic Soda Advertising Pinball Pages - Drive In Theaters - My Gameroom - Ken's Resume - Links - Fortune Tellers - The Cave - View Guestbook - Sign Guestbook - Wanted To Buy - Wanted To Sell - Gameroom Chat - Ken's Poll -

I could really use a small donation to keep this site running. If you care to help click the button below to send $5.
Back To Kens Homepage