---
---
White Water Pinball By Williams of 1993 at www.pinballrebel.com
---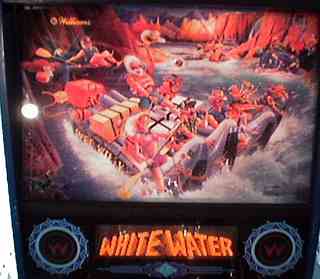 Classic art on the glass. It is odd that the only person without a life vest is the hot chick in a bikini top.

The Marquee is often gone and not easy to find if missing. I had to find a replacement for this one and I did so from a couple of other pinball collectors. The lightboard that shines on it makes it look like flowing water. It is hard to explain but the effect is really cool. You can watch it below.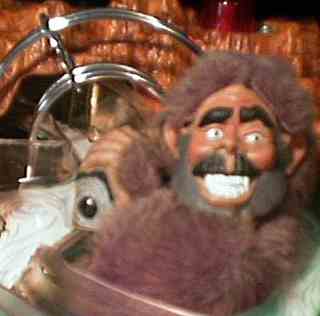 The elusive BIGFOOT! He spins around and deflects your ball at times.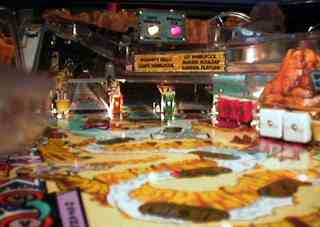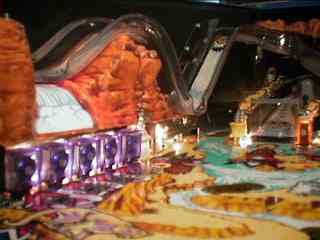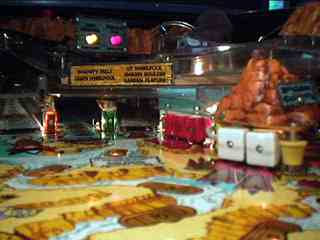 A few views from the balls level.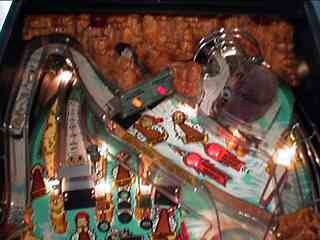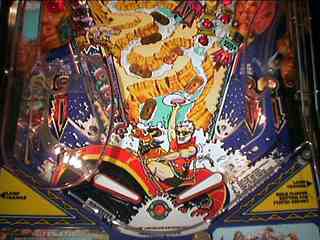 Upper and lower playfield shots.
From the IPD
White Water (WW) /No. 2768/ Williams Electronic Games, Inc., a subsidiary of WMS Industries, Inc.,
January 1993, 4 players
Model number: 50018
Design: Dennis Nordman
Art: John Youssi
Graphics: Scott Slomiany
Software: Mike Boon
Sound: Chris Granner
Music: Chris Granner
Slogans: Go with the Flow
White Water is a ball is a ball is a ball...

Click Here For The Full IPD Entry
---
WATCH VIDEO OF THE WHITEWATER PINBALL WITH REAL PLAYER
Bigfoot
Waterfall Marquee
Whirlpool
Whitewater Match Animation
---
Current Whitewater Pinball Machine And Parts For Sale
---
Learn How to Play A Whitewater Pinball Machine Here
See Discussion on The Whitewater Pinball On rec.games.pinball
Learn How to Repair Your Whitewater Pub Pinball Machine
See Pages Of Other Whitewater Pinball Machine Owners
See The Whitewater Pinball Machine Owners List

---
---
Free Title Strips - Pinball Instruction Cards - Jukebox Archive - Your Nostalgia Stop! - Classic Soda Advertising Pinball Pages - Drive In Theaters - My Gameroom - Ken's Resume - Links - Fortune Tellers - The Cave - View Guestbook - Sign Guestbook - Wanted To Buy - Wanted To Sell - Gameroom Chat - Ken's Poll -

I could really use a small donation to keep this site running. If you care to help click the button below to send $5.
Back To Kens Homepage

---