---
Volcano Pinball By D. Gottlieb & Co of 1981 at www.pinballrebel.com
---
This game has a cameo in the movie "The Toy" with Richard Pryor.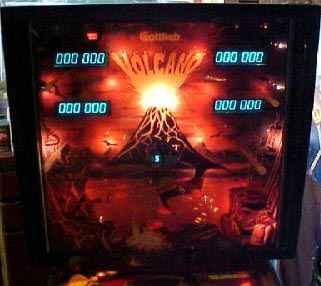 A classic Gottlieb Pinball Glass witha cool looking volcano. The blue displays due look
a little out of place but they were kind of a trademark of that company at the time.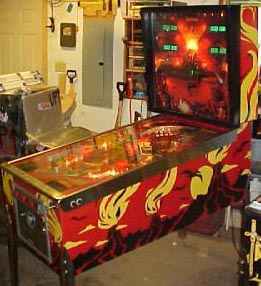 Painted side artwork really goes for the fire and lava theme.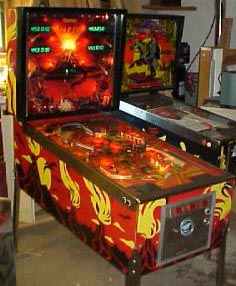 Coin door view.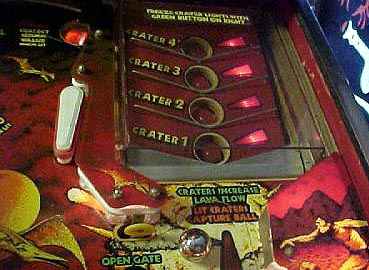 Crater holes in the top right corner.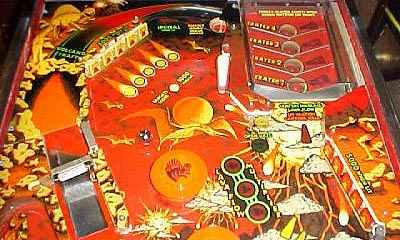 Upper playfield flipper and drop targets.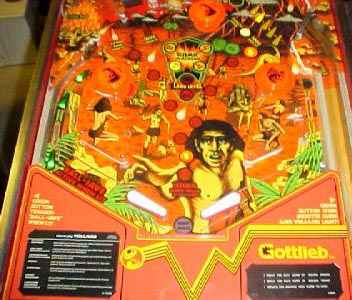 Lower playfield view.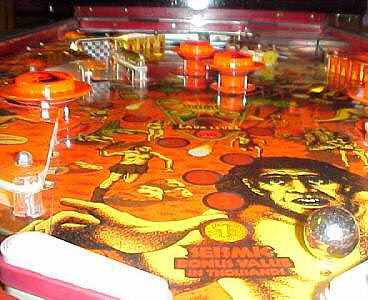 Outhole and flipper balls perspective.


Above Photos Courtesy of Tim H. of

Forest Lake, Minnesota
---
Current Volcano Pinball Machine And Parts For Sale
---
Learn How to Play A Volcano Pinball Machine Here
See Discussion on The Volcano Pinball On rec.games.pinball
Learn How to Repair Your Volcano Pinball Machine
See Other Pages Featuring A Volcano Pinball Machine
See The Volcano Pinball Machine Owners List

---
FROM THE INTERNET PINBALL DATABASE
Volcano
September, 1981
4 Players
Manufacturer: D. Gottlieb & Co.
Model Number: 667
MPU: Gottlieb System 80
Type: Solid State Electronic (SS)
Production: 3,655 units
Theme: Fantasy
Specialty: Widebody
Notable Features: Flippers (3), Pop bumpers (4), Kick-out holes (2), 5-bank drop targets (2). Shooter lane has moving
guide to vary direction of propelled ball. 4-hole skee-ball in upper right playfield. Multiball.
Design by: Tom Szafransky
Art by: David Moore

---
---
Free Title Strips - Pinball Instruction Cards - Jukebox Archive - Your Nostalgia Stop! - Classic Soda Advertising Pinball Pages - Drive In Theaters - My Gameroom - Ken's Resume - Links - Fortune Tellers - The Cave - View Guestbook - Sign Guestbook - Wanted To Buy - Wanted To Sell - Gameroom Chat - Ken's Poll -

I could really use a small donation to keep this site running. If you care to help click the button below to send $5.
Back To Kens Homepage