---
---
TOMMY Pinball By Data East 1994 at www.pinballrebel.com
TOMMY CAN YOU HEAR ME!
I Traded This Game For Another Machine.
See The New Tommy I Bought Here
---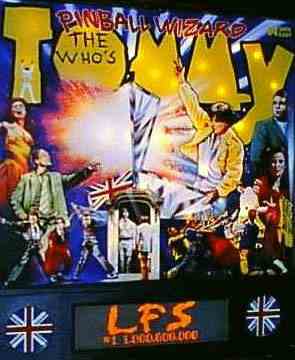 The glass has images from the musical. Note Tommy standing in front of the mirror. To stat the multiball sequence you must break the mirror by making the T-O-M-M-Y shots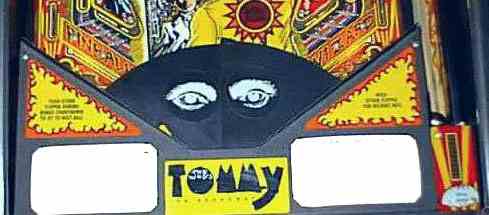 The best known toy from TOMMY is the blinders. During certain times during the game these blinders will cover your flippers allowing you to play blind just like TOMMY. If you want you can play an entire game that way by holding down the extra ball button when you start a game.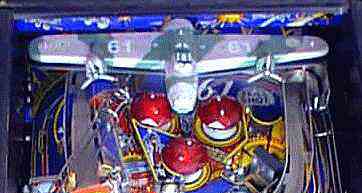 Captain Walker's Bomber is on the back wall of the playfield complete with spinning props and a lady painted on the side of the nose.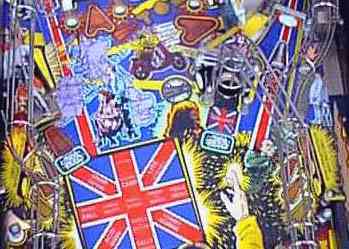 In the middle of the playfield is the Union Jack (British Flag) which has all the modes in it. You must complete them all to start the 6 ball multiball wizard mode.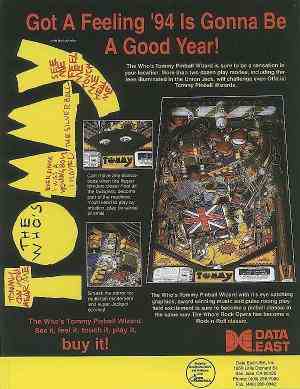 The flyer was pretty standard Data East issue.
FROM THE IPD
Tommy Pinball Wizard (TOM) /No. 2579/ Data East USA, Inc., February 1994, 4 players
Production run: 3500
Theme: Celebrities - Fictional - Licensed Theme
Features: Flippers(3), Multiball(6), Bumpers(6)
Toys: Flipper Blinders
Design: Joe Kaminkow, Ed Cebula, Lonnie Rupp, Lyman Sheats
Art: Markus Rothkranz, Kurt Anderson
Graphics: Lyman Sheats Jr., John Carpenter
Software: Lonnie Ropp, Lyman F. Sheats Jr., John Carpenter
Sound: Brian Schmidt
Slogans: See it, feel it, touch it, play it, BUY IT!
Tommy, a name that means pinball.
Notes: 9 prototypes were made before production began.

Click Here For The Full IPD Entry
---
WATCH TOMMY VIDEOS WITH REAL PLAYER
Flipper Blinders
Tommy Mirror
Bomber Props
Tommy Match Animation
---
Current TOMMY Pinball Machine And Parts For Sale
---
Learn How to Play A TOMMY Pinball Machine Here
See Discussion on The TOMMY Pinball On rec.games.pinball
Learn How to Repair Your TOMMY Pinball Machine
See Pages Of Other TOMMY Pinball Machine Owners

---
Free Title Strips - Pinball Instruction Cards - Jukebox Archive - Your Nostalgia Stop! - Classic Soda Advertising Pinball Pages - Drive In Theaters - My Gameroom - Ken's Resume - Links - Fortune Tellers - The Cave - View Guestbook - Sign Guestbook - Wanted To Buy - Wanted To Sell - Gameroom Chat - Ken's Poll -

I could really use a small donation to keep this site running. If you care to help click the button below to send $5.
Back To Kens Homepage

---