---
---
Theatre Of Magic Pinball By Bally 1995 at www.pinballrebel.com
Go For The Magic Trunk!
The artwork on the glass is really cool and some of the best artwork Linda Deal did while she was at Williams. My other favorite work of hers has to be Cirqus Voltaire.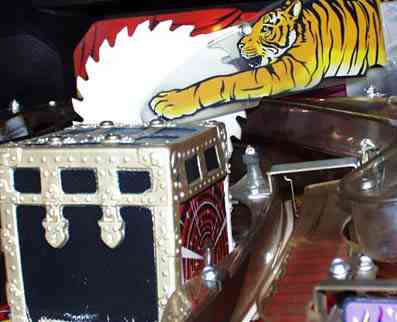 This is the famous magic trunk and tiger saw. Early games had a working saw and now kits are available to make the saw on your Theatre come to lfe as well.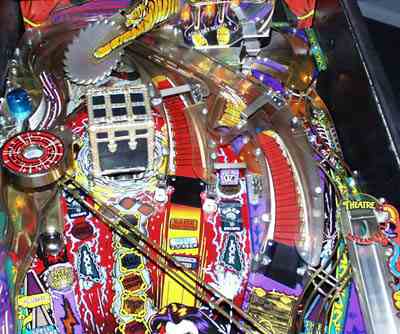 In this shot the magnet that levitates the ball can be seen on the left and the trap door that leads to the basement on the right.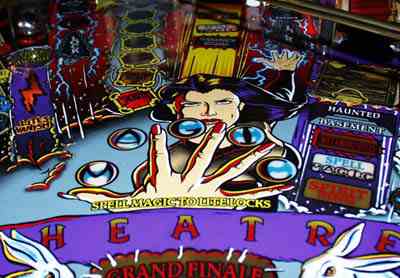 Here you can make out the Theater lights and the MAGIC lights. The Wizard mode on this pin is not the best as WMS pins go but its okay. Most people never make it that far anyway. You can also see the captive ball on the top left.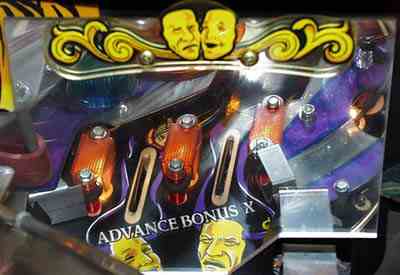 The rollover lanes at the top are equipped with a mirror to make them visible to the player.

The side artwork is also awesome and it continues on with the magic trunk theme. I have a set of gold legs ordered for my pin and will be putting them on when they come in. I think they will tie in nicely with the artwork colors.
---
Current Theatre of Magic Pinball Machine And Parts For Sale
---
Learn How to Play A Theatre of Magic Pinball Machine Here
See Discussion on The Theatre of Magic Pinball On rec.games.pinball
Learn How to Repair Your Theatre of Magic Pinball Machine
See Pages Of Other Theatre of Magic Pinball Machine Owners
See The Theatre of Magic Pinball Machine Owners List

---
FROM THE IPD
Theatre of Magic (ToM) /No. 2845/ Midway Mfg. Co., a subsidiary of WMS Industries, Inc.,
March 28, 1995, 4 players
Trade name: Bally
Model number: 50039
Theme: Show Business / Magic / Fantasy
Design: John Popadiuk
Art: Linda Deal
Graphics: Brian Morris, Adam Rhine
Software: Jeff Johnson
Sound: Dave Zabriskie
Music: Dave Zabriskie
Slogans: Stupendous displays of spellbinding power!

Amazing acts of enchantment!
Theres More...Than Meets the Eye.
Its Got that Magic Touch.
It can even make money appear out of thin air.
Enter Into a New Age of Pinball
Click Here For The Full IPD Entry
---
WATCH VIDEO OF THEATRE OF MAGIC WITH REAL PLAYER
Theatre of Magic Match Animation
Theatre Of Magic Multiball Start & Trunk Capture
Working Tiger Saw!
Theatre of Magic Trunk
---
Notes: I bought this game from an arcade where it did not see much action.


The cabinet, playfield, and backglass are all mint.
I put on a new trunk and now the machine looks brand new.
I really enjoy this game and the theme seems to attract lots of players.

---
Click Here For Flyer Scan 1
Click Here For Flyer Scan 2
Click Here For Flyer Scan 3 Click Here For Flyer Scan 4
Click Here For A Wav File (Welcome)
---
---
Free Title Strips - Pinball Instruction Cards - Jukebox Archive - Your Nostalgia Stop! - Classic Soda Advertising Pinball Pages - Drive In Theaters - My Gameroom - Ken's Resume - Links - Fortune Tellers - The Cave - View Guestbook - Sign Guestbook - Wanted To Buy - Wanted To Sell - Gameroom Chat - Ken's Poll -

I could really use a small donation to keep this site running. If you care to help click the button below to send $5.
Back To Kens Homepage

---