---
Terminator 3 Pinball By Stern of 2003 at www.pinballrebel.com
---
Based on the movie Termintor 3 Rise Of The Machines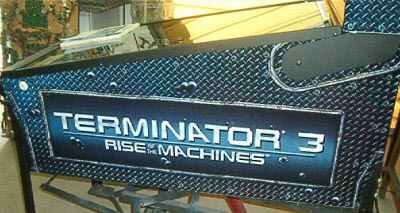 Cool pinball cabinet with metal and steel motiff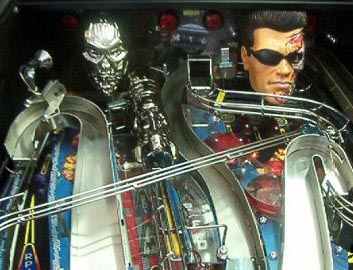 On the back of the playfield we have Arnold and the TX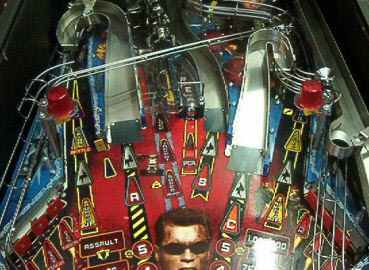 Middle playfield view. All steel ramps.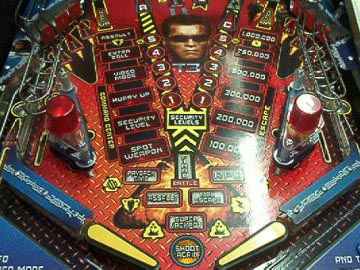 Lower playfield outhole and flipper view. Note the big and easy to read exerpts.



back of playfield view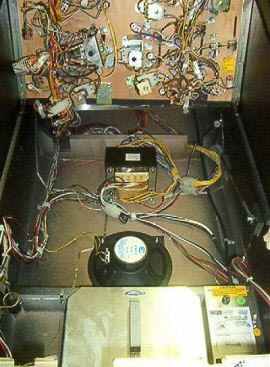 inside cabinet shot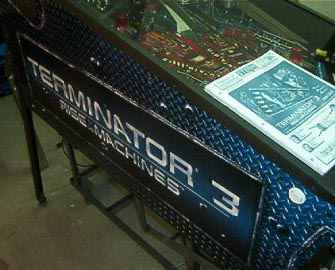 another look at the side artwork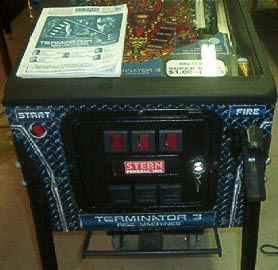 coin door view. note the gun handle for the auto plunger




backbox art has the TX terminator on one side



Arnold as the T-100 is on the other

Above Photos Courtesy of LITTLE SHOP OF GAMES FRUITLAND PARK FL
---
Current Terminator 3 Pinball Machine And Parts For Sale
---
Learn How to Play A Terminator 3 Pinball Machine Here
See Discussion on The Terminator 3 Pinball On rec.games.pinball
Learn How to Repair Your Terminator 3 Pinball Machine
See Other Pages Featuring A Terminator 3 Pinball Machine
See The Terminator 3 Pinball Machine Owners List

---
FROM THE INTERNET PINBALL DATABASE
Terminator 3: Rise of the Machines (T3)
June, 2003 / 4 Players
Manufacturer: Stern Pinball, Inc.
MPU: Sega/Stern Whitestar
Type: Solid State Electronic (SS)
Theme: Fictional - Licensed
Notable Features: Back Box reciprocating cannon shoots Delrin Ball horizontally at 5 targets.
Three all-steel ramps. Entire playfield lights up red in mode called "RED".
Toys: R(ocket) P(ropelled) G(renade) cannon in backbox.
Design by: Steve Ritchie
Art by: Kevin O'Connor
Dots/Animation by: Mark Galvez
Mechanics by: John Rotharmel, Ray Tanzer, Steve Ritchie
Music by: Chris Granner, Steve Ritchie
Sound by: Chris Granner
Software by: Dwight Sullivan

---
---
Free Title Strips - Pinball Instruction Cards - Jukebox Archive - Your Nostalgia Stop! - Classic Soda Advertising Pinball Pages - Drive In Theaters - My Gameroom - Ken's Resume - Links - Fortune Tellers - The Cave - View Guestbook - Sign Guestbook - Wanted To Buy - Wanted To Sell - Gameroom Chat - Ken's Poll -

I could really use a small donation to keep this site running. If you care to help click the button below to send $5.
Back To Kens Homepage