---
Swing Along Pinball By Gottlieb of 1963 at www.pinballrebel.com
---
A great Gottlieb two player pinball machine.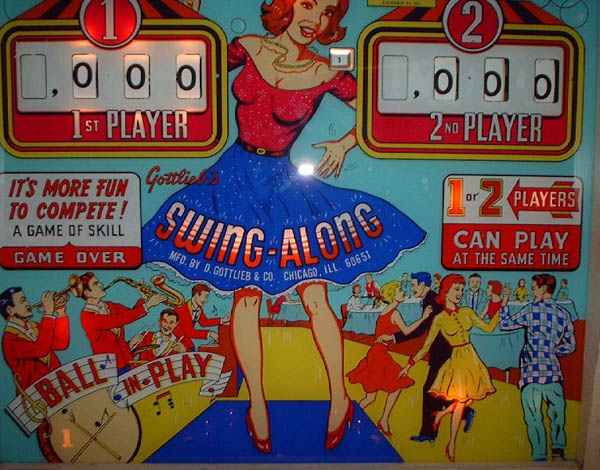 A classic Pinball Glass with a bunch of folks dancing the night away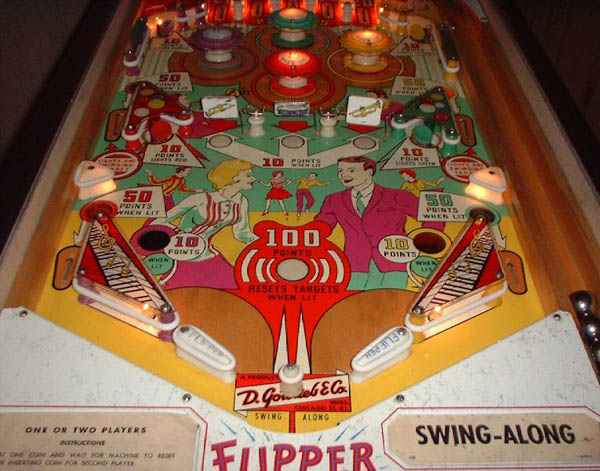 Playfiled shot with small flippers and spinners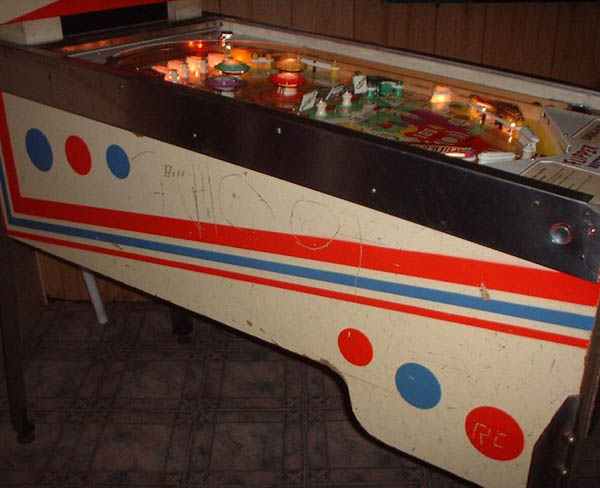 Side artwork during this era was painted on.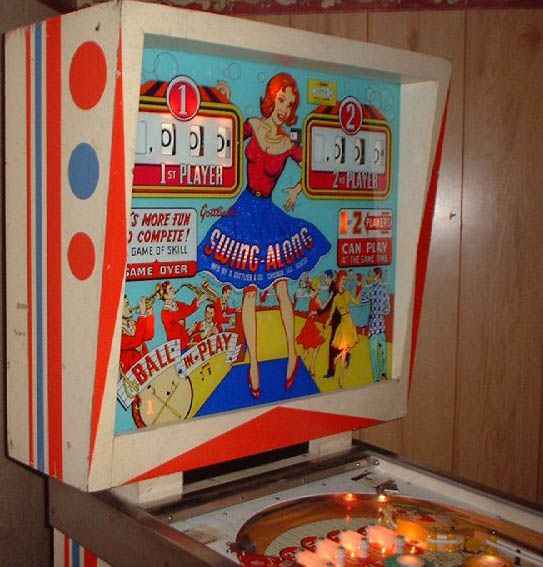 A view of the head and backglass artwork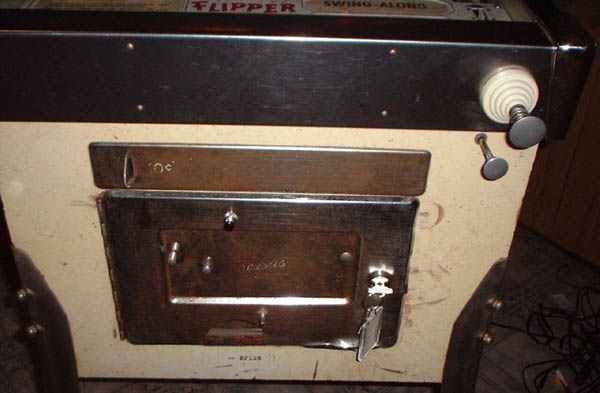 The ball shooter, coin door, and mechanical ball lift to put the ball up into the shooter lane.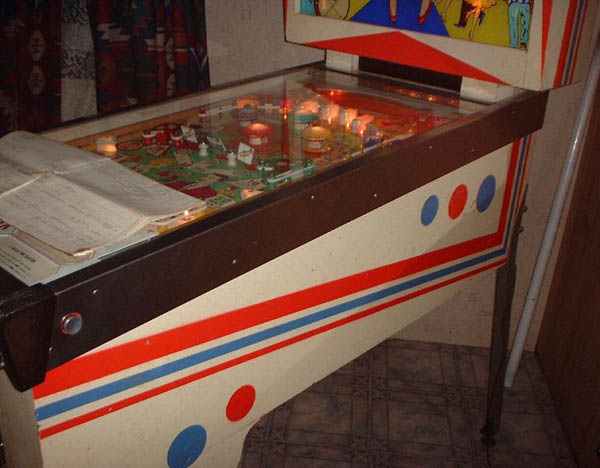 Another view of the artwork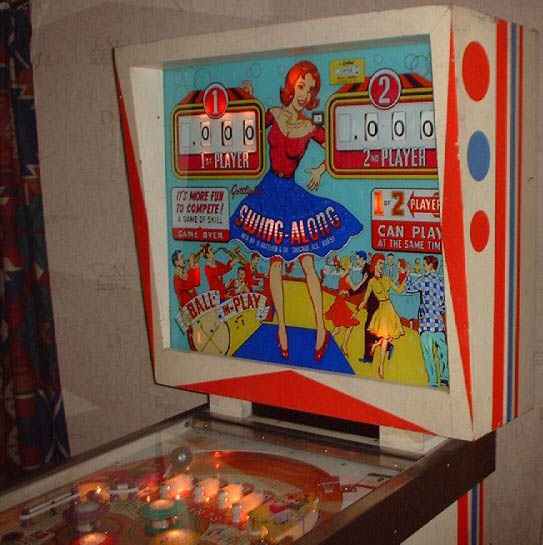 Notice the skirt on the girl is still pretty long. The 60's hadn't taken off yet by this time.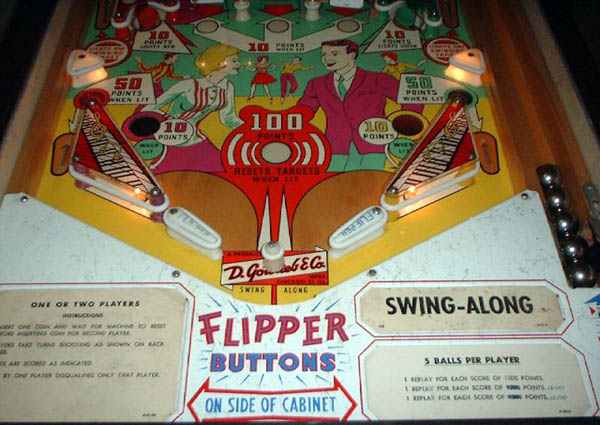 A closeup of the apron and instruction cards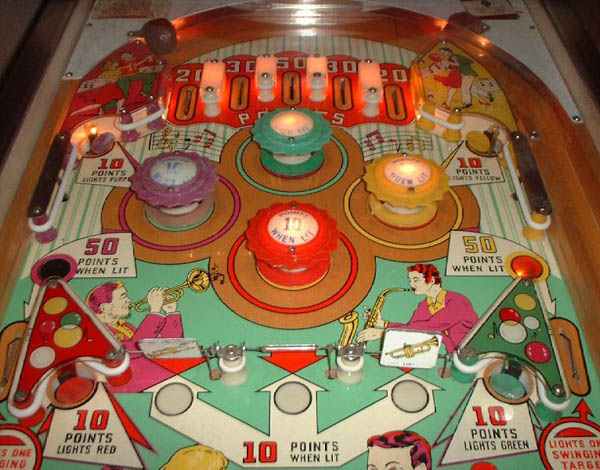 A view of the upper playfield with pop bumpers and rollover lanes.

Above Photos Courtesy of CHUCK P. in New Kensington, Pennsylvania
---
Current Swing Along Pinball Machine And Parts For Sale
---
Learn How to Play A Swing Along Pinball Machine Here
See Discussion on The Swing Along Pinball On rec.games.pinball
Learn How to Repair Your Swing Along Pinball Machine
See Other Pages Featuring A Swing Along Pinball Machine

---
FROM THE INTERNET PINBALL DATABASE
Swing Along
July, 1963 / 2 Players
Manufacturer: D. Gottlieb & Co.
Model Number: 195
Type: Electro-mechanical (EM)
Production: 4,710 units
Notable Features: 3 Spinners
Design by: Wayne Neyens
Art by: Roy Parker

---
---
Free Title Strips - Pinball Instruction Cards - Jukebox Archive - Your Nostalgia Stop! - Classic Soda Advertising Pinball Pages - Drive In Theaters - My Gameroom - Ken's Resume - Links - Fortune Tellers - The Cave - View Guestbook - Sign Guestbook - Wanted To Buy - Wanted To Sell - Gameroom Chat - Ken's Poll -

I could really use a small donation to keep this site running. If you care to help click the button below to send $5.
Back To Kens Homepage