---
---

Sega Star Wars Trilogy Special Edition Pinball of 1997 at www.pinballrebel.com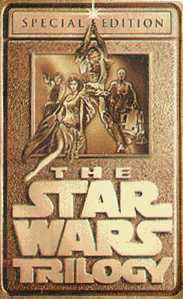 This was my first Stern/Sega pinball machine. I must say I was very impressed with it for the most part. If Stern is the future of pinball then pinball players are in good hands. They may not be hands that they are use to but I think they are good hands regardless.

If Stern can hold on long enough to refine a few items then I think they will be around for a long time. I no longer have qualms of any kind about buying a Stern/Sega pinball. In fact, I am no longer going to just pass them by as I had previously done.

Many Stern and Sega games are sleepers. Now that Williams/Bally is out of business I have a feeling these games will start to rise in price and stature.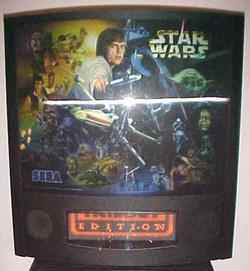 3-D Backglass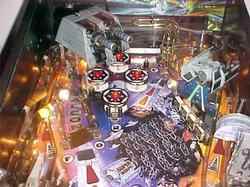 Upper Playfield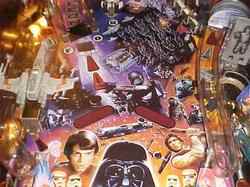 Middle Playfield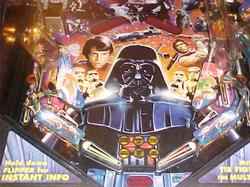 Lower Playfield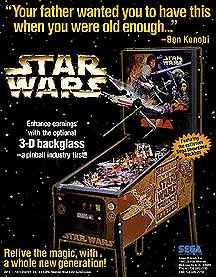 Flyer
---
Current Star Wars Pinball Machine And Parts For Sale
---
Learn How to Play A Star Wars Trilogy Pinball Machine Here
See Discussion on The Star Wars Trilogy Pinball On rec.games.pinball
Learn How to Repair Your Star Wars Trilogy Pinball Machine
See Pages Of Other Star Wars Trilogy Pinball Machine Owners

---
Star Wars Trilogy (SWT, SWT:SE) / IPD No. 4054 / March 03, 1997 / 6 Players
Manufacturer: Sega Pinball, Inc. (Chicago, Illinois) (1994-1999)
Model Number: 56
MPU: Sega/Stern Whitestar
Type: Solid State Electronic (SS)
Theme: Licensed - Outer Space
Notable Features: X-wing fires ball across playfield to "shoot" down tie fighter and start 3-ball multiball.
Heroic specialty shot sequences.
Trivia questions when Han Solo is thawed.
Millenium Falcon 4-ball Multiball.
Hurry-up timed challenges.
Toys: Death Star Guns Tie Fighter X-Wing Fighter Han Solo Frozen
Design by: Joe Kaminkow, Joe Balcer
Art by: Morgan Weistling
Software by: Lonnie D. Ropp, Orin Day
Marketing Slogans: "Relive the magic, with a whole new generation!"
CLICK HERE FOR THE FULL IPD ENTRY
---
WATCH VIDEO OF STAR WARS TRILOGY IN REAL PLAYER
Star Wars Trilogy Match Animation
---
---
Free Title Strips - Pinball Instruction Cards - Jukebox Archive - Your Nostalgia Stop! - Classic Soda Advertising Pinball Pages - Drive In Theaters - My Gameroom - Ken's Resume - Links - Fortune Tellers - The Cave - View Guestbook - Sign Guestbook - Wanted To Buy - Wanted To Sell - Gameroom Chat - Ken's Poll -

I could really use a small donation to keep this site running. If you care to help click the button below to send $5.
Back To Kens Homepage

---