---
---
Star Trek The Next Generation Pinball By Williams 1993
See The First Star Trek I Owned Here
---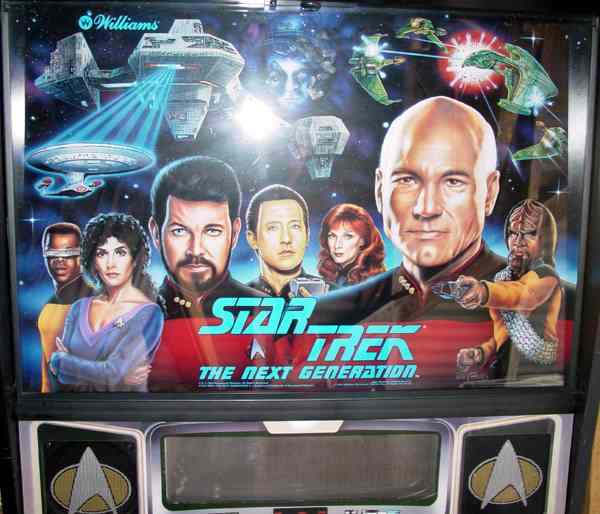 Great backglass art with all the major Star Trek Actors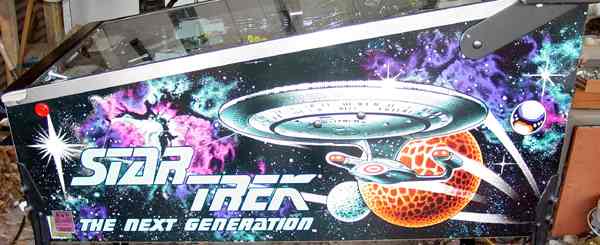 Side Art features a great view of the Enterprise D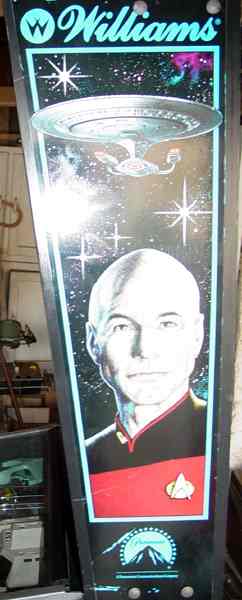 The head artwork is often scratched. This pinball has excellent art on the side.
The ball shooter is a phaser handle and replaced the traditional plunger and spring.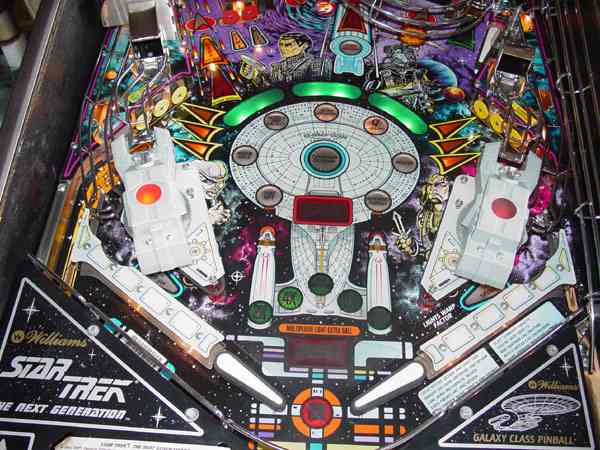 Here you can see the phaser cannon which launch pinball when you pull the phaser trigger.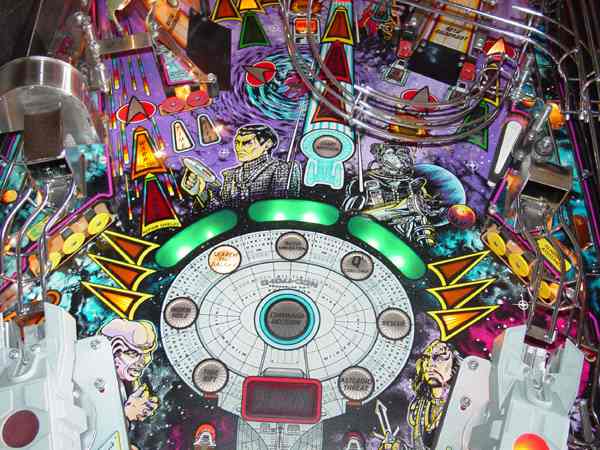 Around the Enterprise are seven modes which must be played in order to start Final Frontier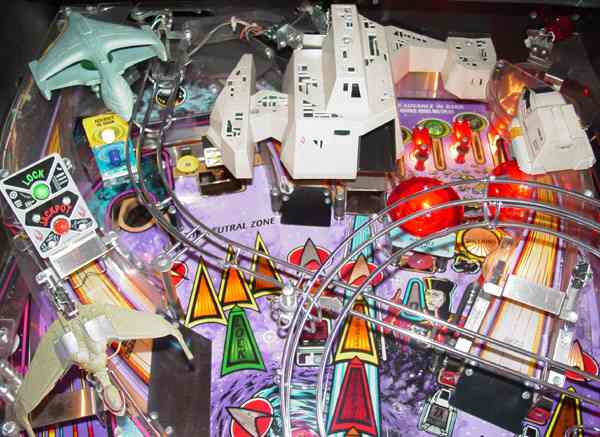 Here you can see the Borg ship that fires balls at you during multi-ball.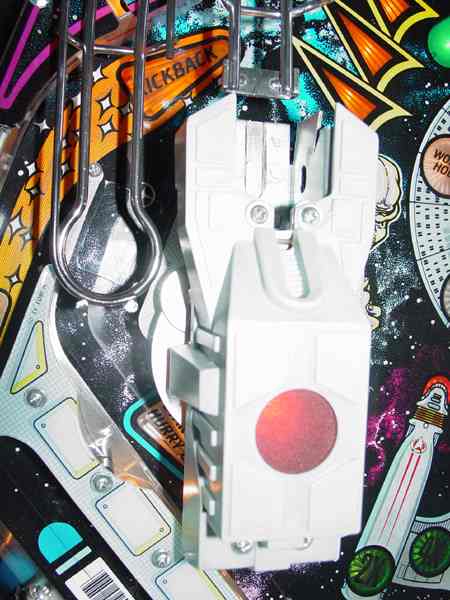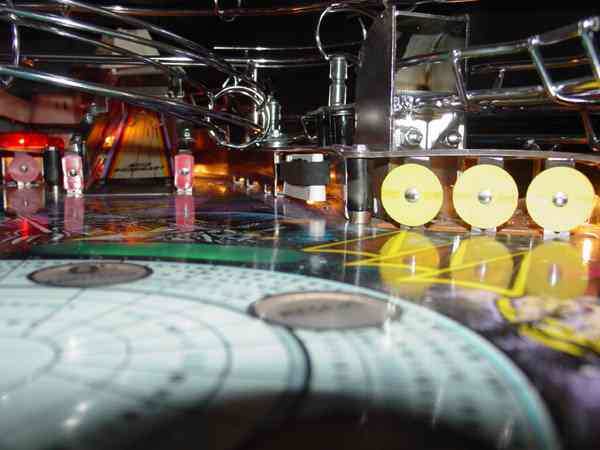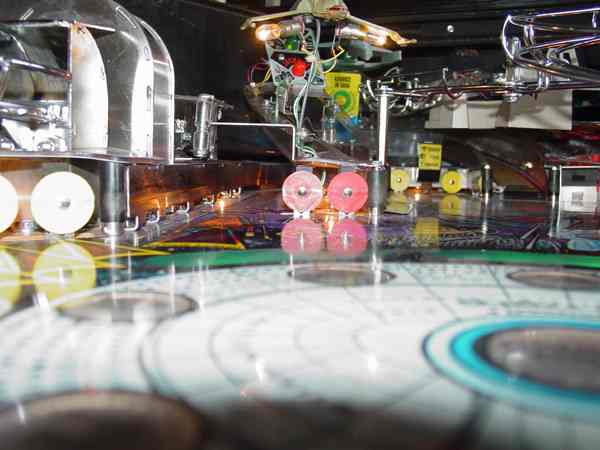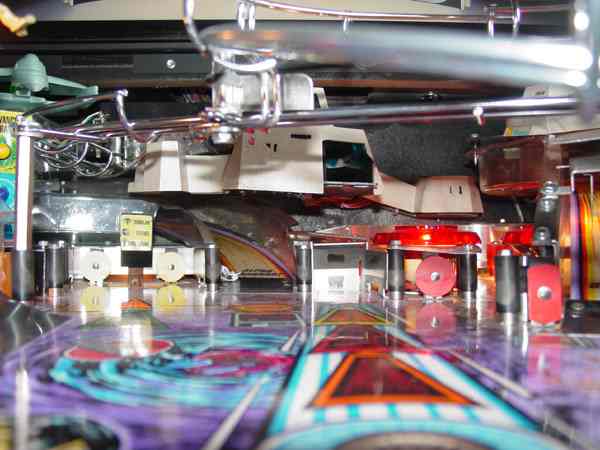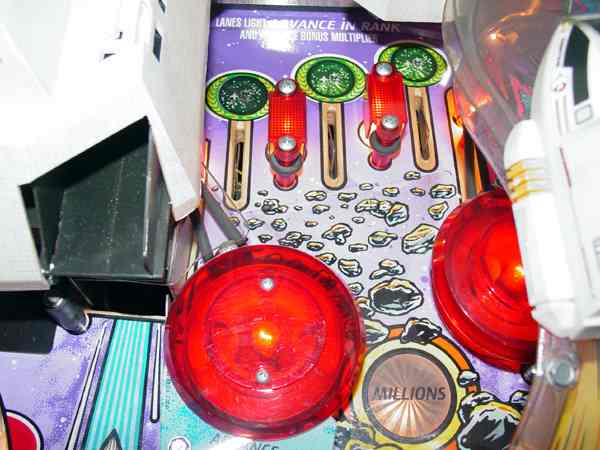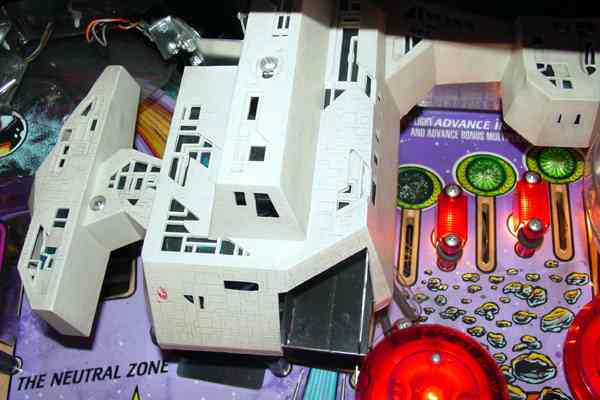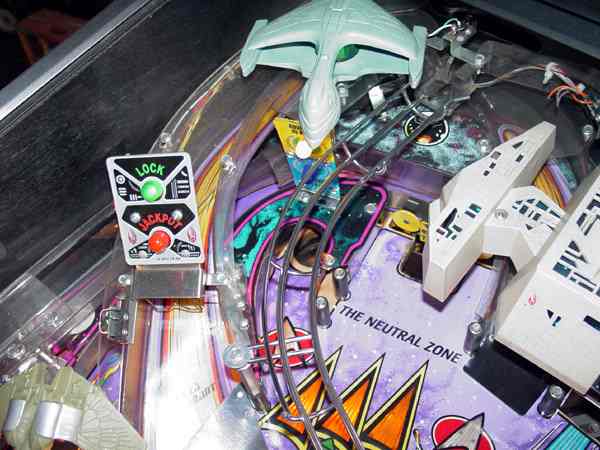 A closeup of the neutral zone and rank advance holes. Often plastics here are broken.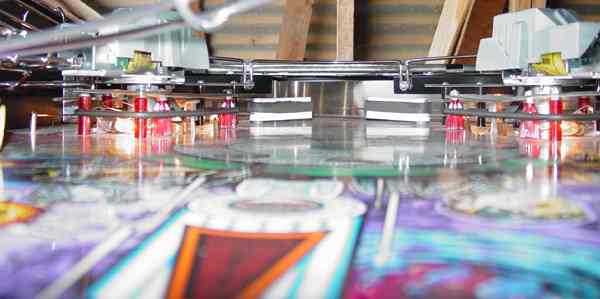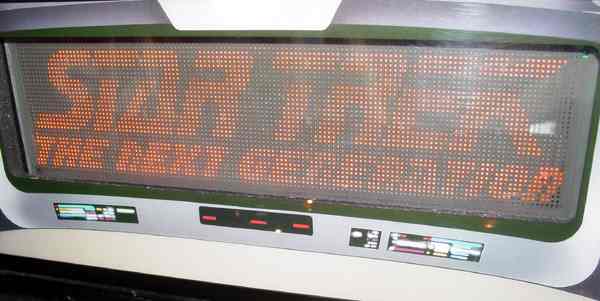 This pinball has a DMD display with artwork to make it look like the viewer on the Enterprise bridge.
---
Current Star Trek Pinball Machine And Parts For Sale
---
Learn How to Play A Star Trek Pinball Machine Here
See Discussion on The Star Trek The Next Generation Pinball On rec.games.pinball
Learn How to Repair Your Star Trek The Next Generation Pinball Machine
See Pages Of Other Star Trek The Next Generation Pinball Machine Owners
See The Star Trek The Next Generation Pinball Machine Owners List

---
FROM THE IPD
Star Trek: The Next Generation (STTNG) /No. 2357/ Williams Electronic Games, Inc., a subsidiary of
WMS Industries, Inc., November 1993, 4 players
Model number: 50023
Theme: Outer Space
Design: Steve Ritchie
Art: Greg Freres
Graphics: Scott Slomiany, Eugene Geer
Software: Dwight Sullivan, Matt Coriale
Mechanics: Carl Biagi
Sound: Dan Forden
Music: Dan Forden


Slogans: Galaxy Class Pinball from Williams
It's Pinball at Warp Factor 9


Click Here For The Full IPD Entry
---
WATCH VIDEO OF STAR TREK THE NEXT GENERATION WITH REAL PLAYER
Star Trek The Next Generation Gun Launcher
---
---
Free Title Strips - Pinball Instruction Cards - Jukebox Archive - Your Nostalgia Stop! - Classic Soda Advertising Pinball Pages - Drive In Theaters - My Gameroom - Ken's Resume - Links - Fortune Tellers - The Cave - View Guestbook - Sign Guestbook - Wanted To Buy - Wanted To Sell - Gameroom Chat - Ken's Poll -

I could really use a small donation to keep this site running. If you care to help click the button below to send $5.
Back To Kens Homepage

---