---
Star Trek 25th Anniversary Edition Pinball By Data East of 1991 at www.pinballrebel.com
---
A great Data East pinball with a theme from the original Star Trek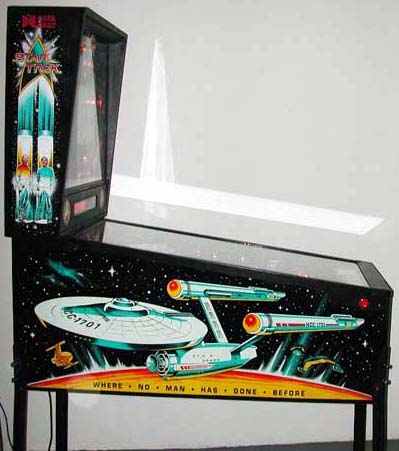 Side art features the original Enterprise NCC-1701.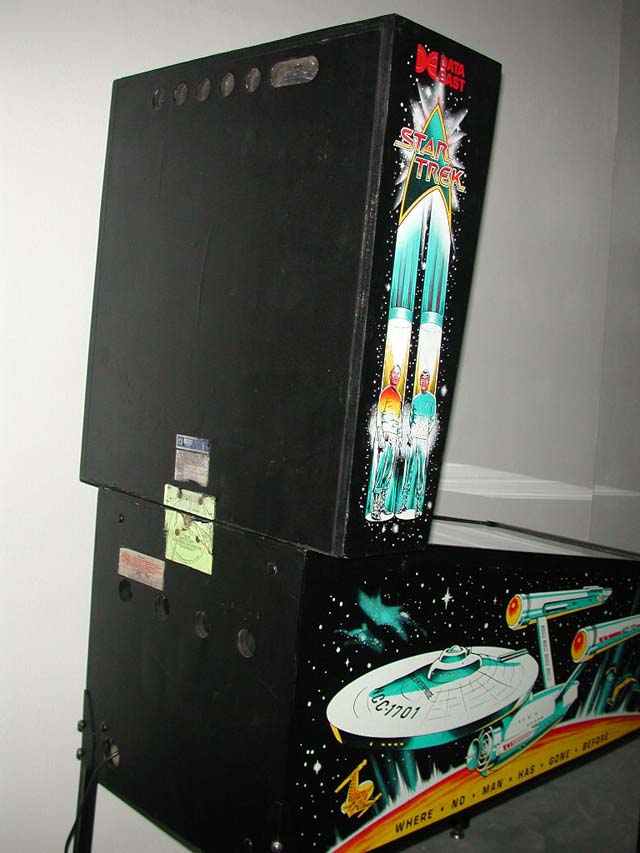 Head Artwork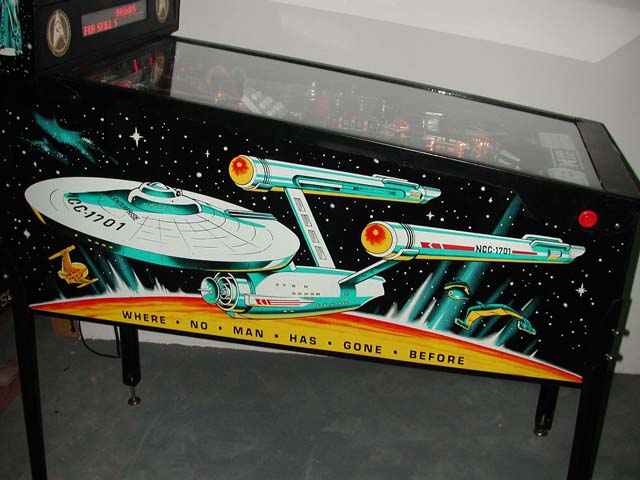 To boldy go where no man has gone before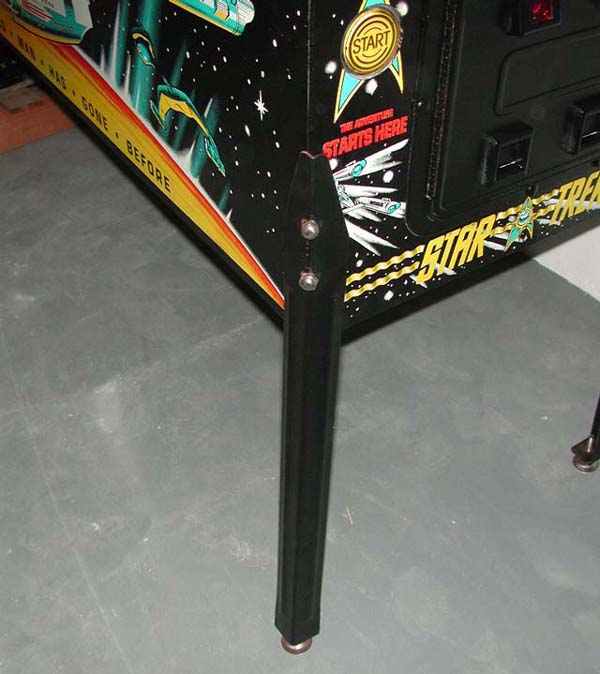 A closeup shot of the start button and front leg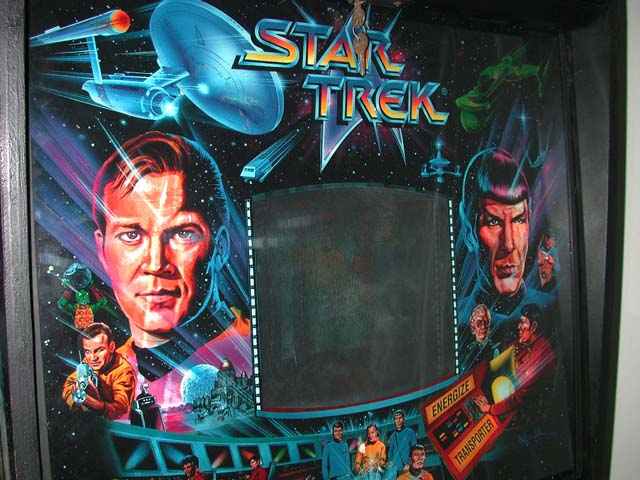 A classic Pinball Glass with Captain Kirk, Spock and others.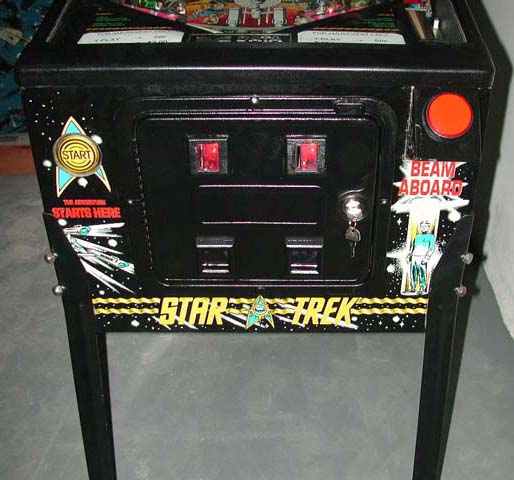 Coin Door and front artwork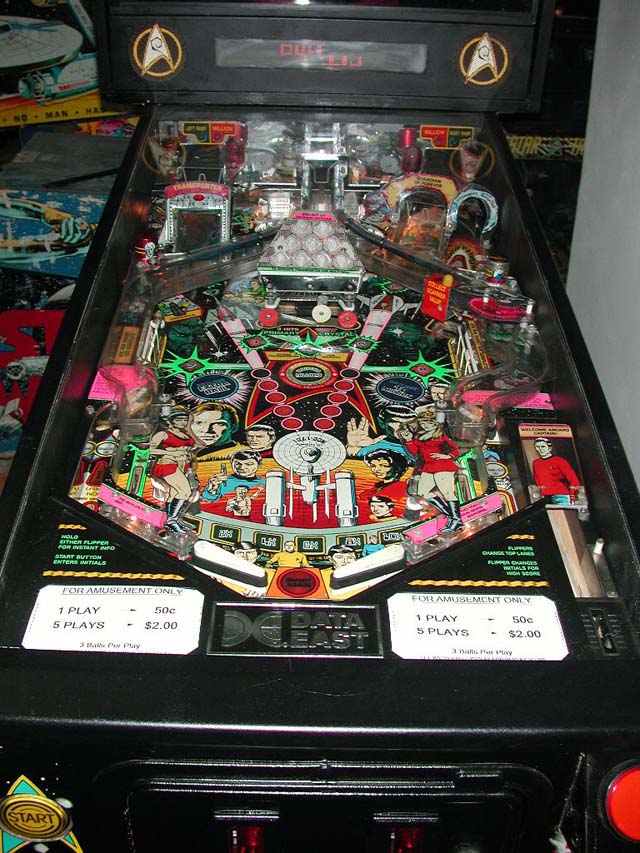 Full playfield view.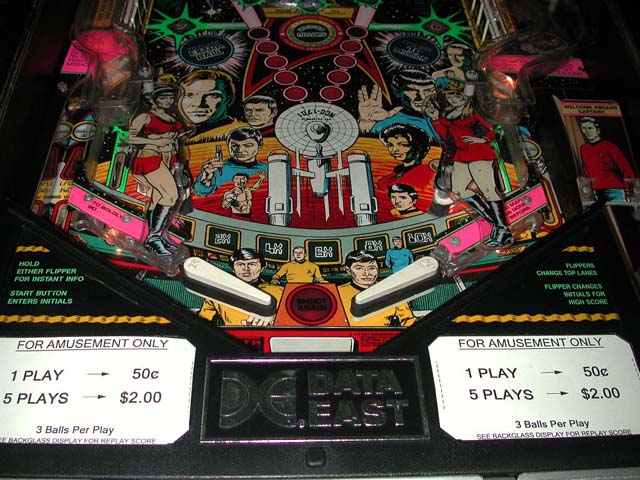 Lower playfield with flippers and Bonus X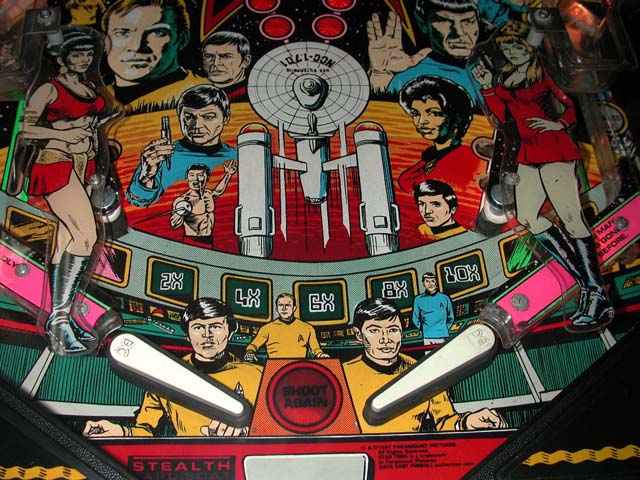 Close up of the outhole area.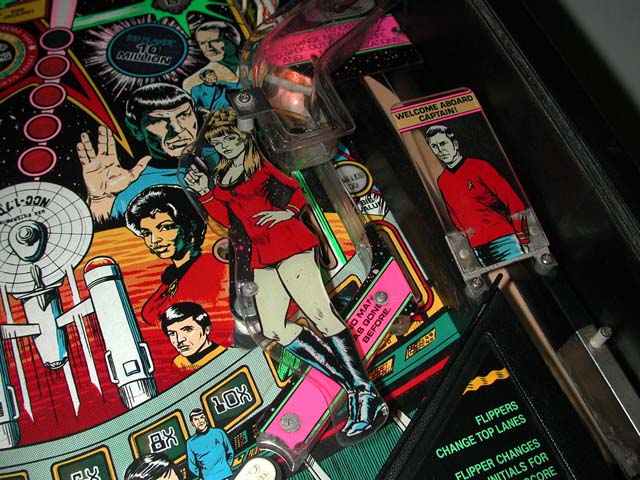 Even for Star Trek that skirt is a little short.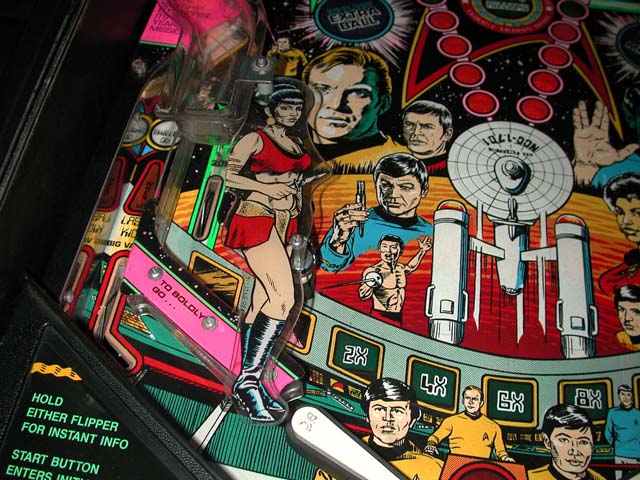 Uhura's outfit from In A Mirror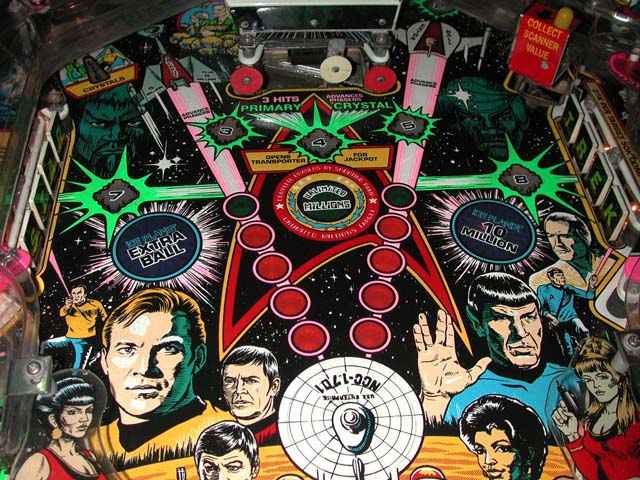 Middle playfield view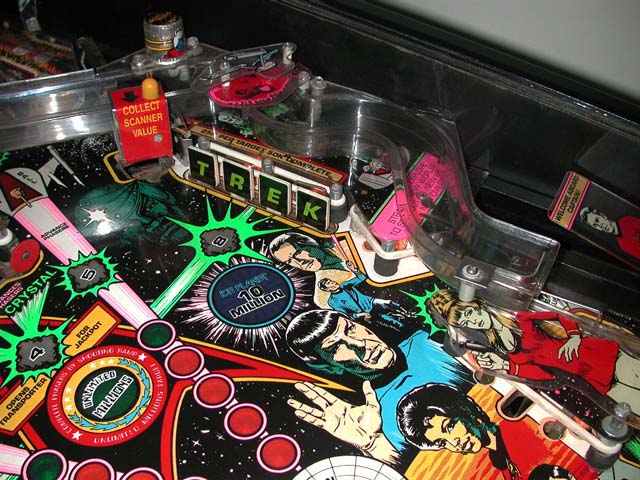 Drop targets and ramps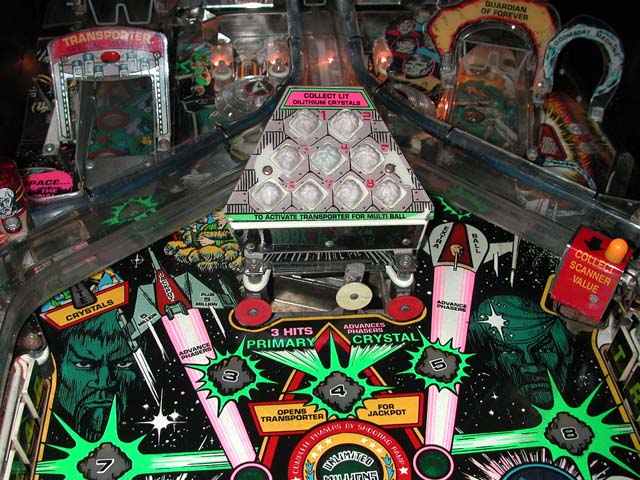 A swinging target and dylithiam crystals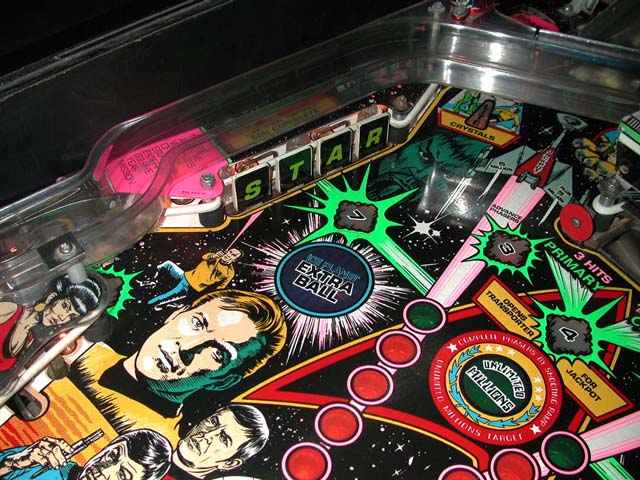 Another bank of drop targets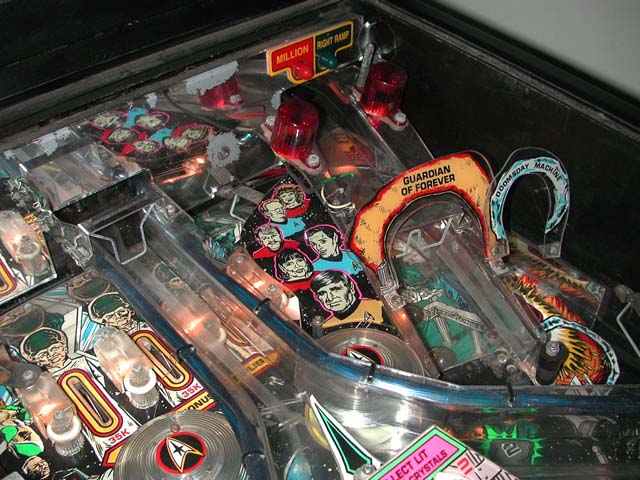 Top right of the playfield detail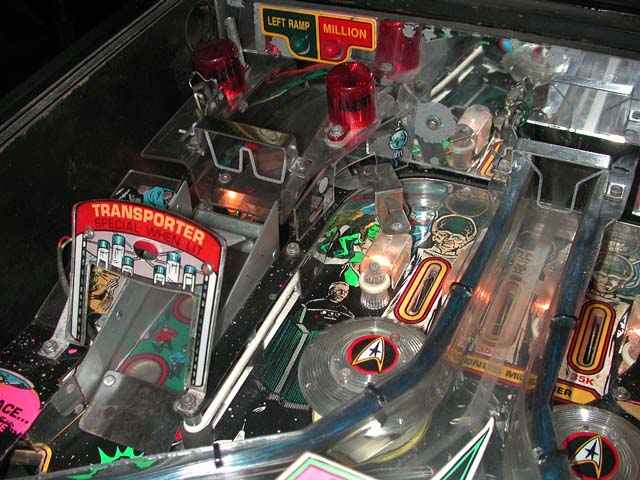 Top left of the playfield detail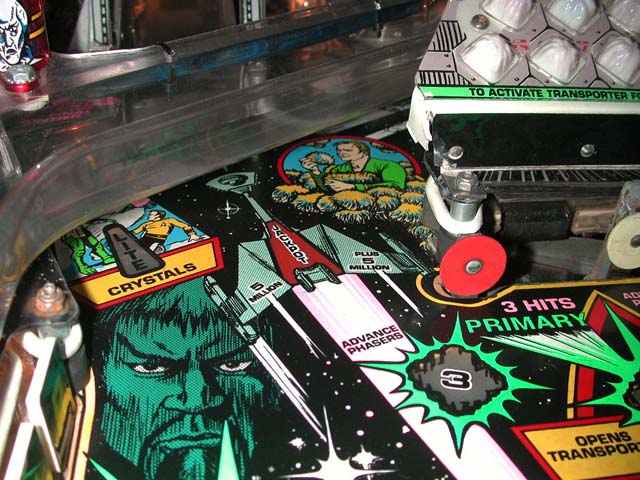 Closeup of the jackpot shot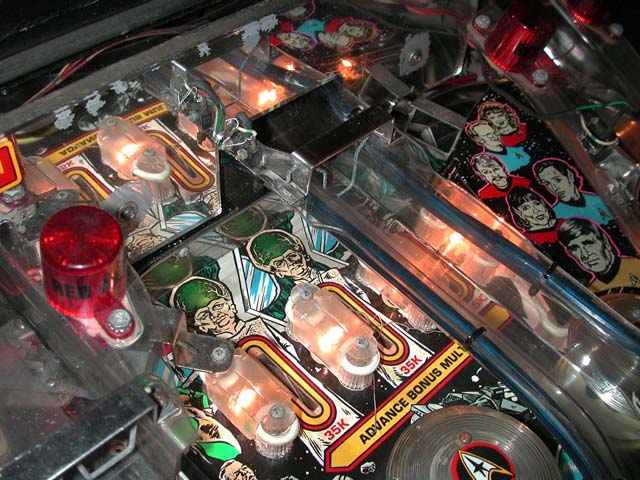 Rollover lanes and pop bumpers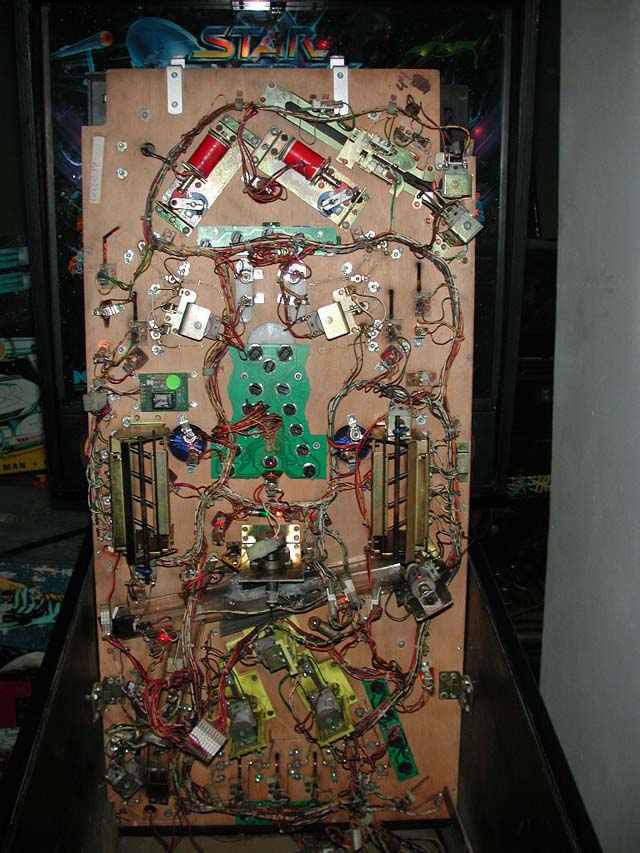 Under playfield view.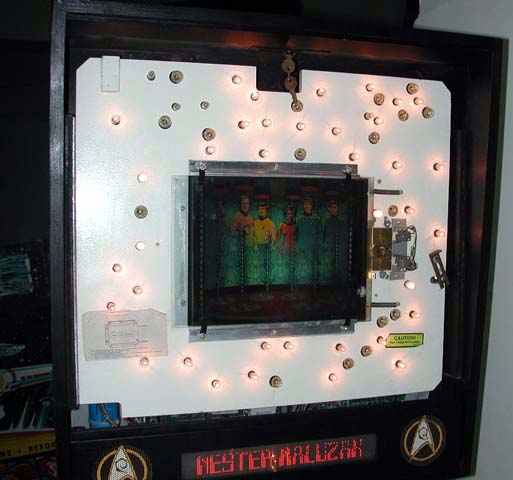 A super cool transport effect was used on the backbox.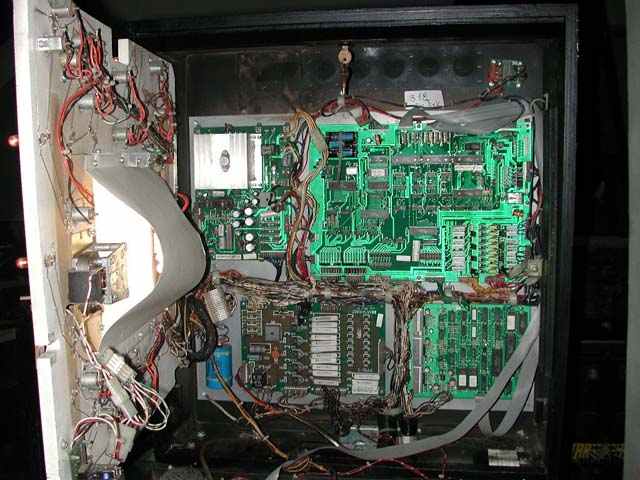 A view of the game boards, and cpu


Above Photos Courtesy of Miriam L in Miami, Florida
---
Current Star Trek 25th Pinball Machine And Parts For Sale
---
Learn How to Play A Star Trek 25th Pinball Machine Here
See Discussion on The Star Trek 25th Pinball On rec.games.pinball
Learn How to Repair Your Star Trek 25th Pinball Machine
See Other Pages Featuring A Star Trek 25th Pinball Machine
See The Star Trek 25th Pinball Machine Owners List

---
FROM THE INTERNET PINBALL DATABASE
Star Trek
September, 1991 / 4 Players
Manufacturer: Data East Pinball, Inc.
Model Number: 14
MPU: DataEast/Sega Version 3
Type: Solid State Electronic
Theme: Outer Space - Licensed Theme
Specialty: Mechanical Backbox Animation
Notable Features: Multiball (3 ball), Automatic Plunger, Swinging Target, 4-bank drop targets (2), Kickout Saucer.
Toys: Patented "Transporter Effect" backglass animation
Design by: Joe Kaminkow, Ed Cebula
Art by: Margaret Hudson, Kevin O'Connor
Music by: Brian Schmidt
Sound by: Brian Schmidt
Software by: Kristina Donofrio

---
---
Free Title Strips - Pinball Instruction Cards - Jukebox Archive - Your Nostalgia Stop! - Classic Soda Advertising Pinball Pages - Drive In Theaters - My Gameroom - Ken's Resume - Links - Fortune Tellers - The Cave - View Guestbook - Sign Guestbook - Wanted To Buy - Wanted To Sell - Gameroom Chat - Ken's Poll -

I could really use a small donation to keep this site running. If you care to help click the button below to send $5.
Back To Kens Homepage