---
Space Invaders Pinball By Bally of 1980 at www.pinballrebel.com
---
A cool game with awesome HR Giger inspired artwork. In specific it borrows heavily from the movie ALIEN



A classic Pinball cabinet with ultra cool art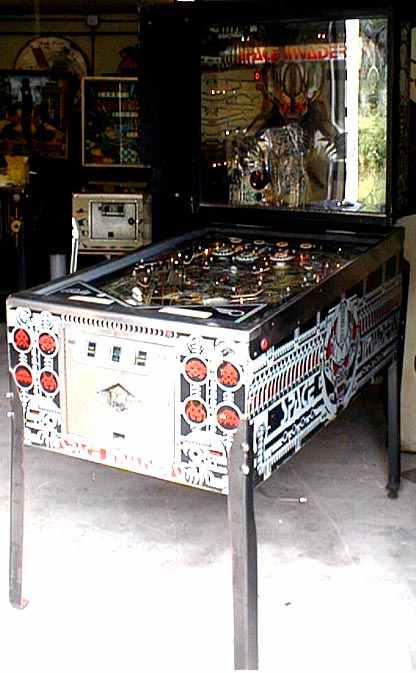 front door also shows Space Invader Video Game Art which Bally also had licensed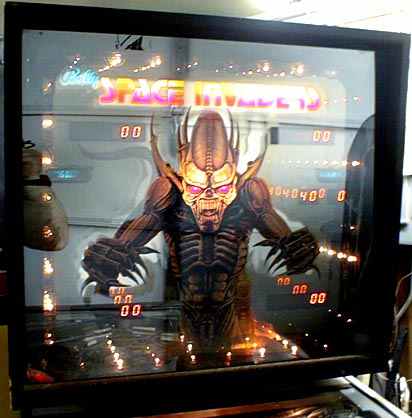 Infinity lighting was used on the back glass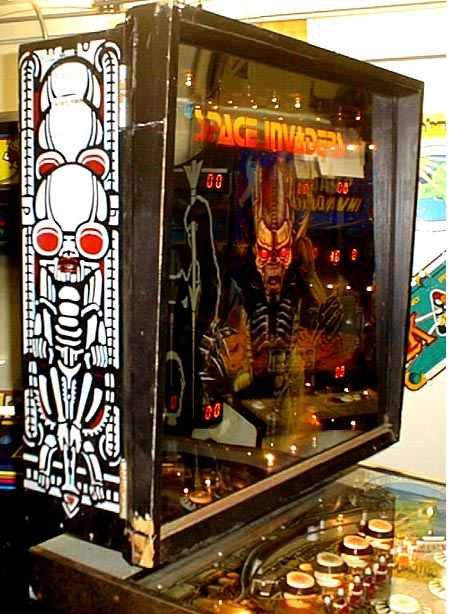 side of the head has artwork that closely ressembles Gigers Birth Chamber Artwork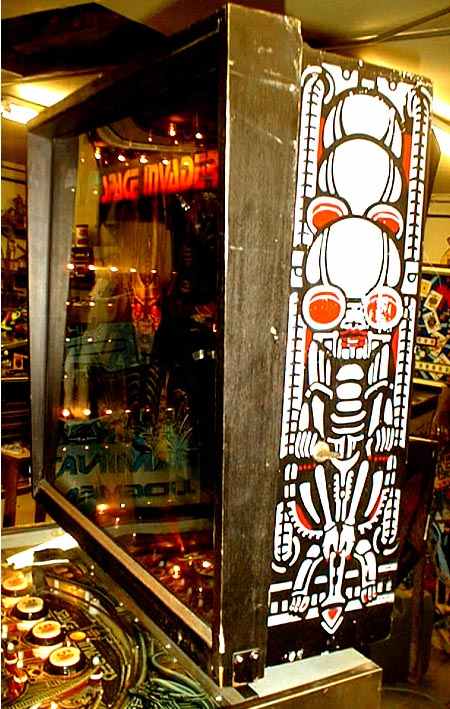 Another view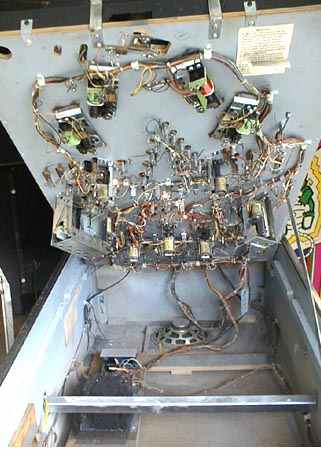 Raised playfield and a look inside the cabinet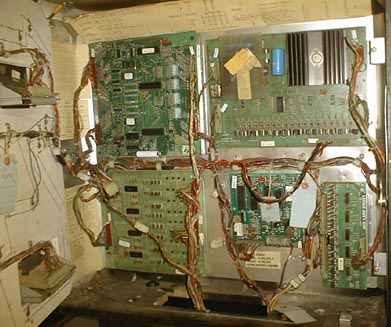 Pinball boards are standard Bally issue. Note the battery on the CPU board tends to leak.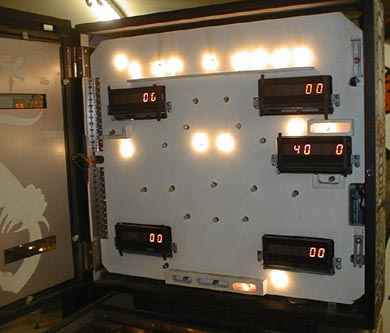 Score displays are plasma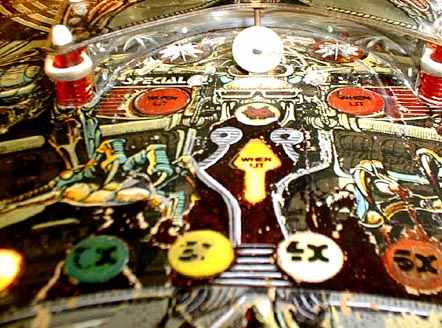 playfield art is usually worn very heavy in the center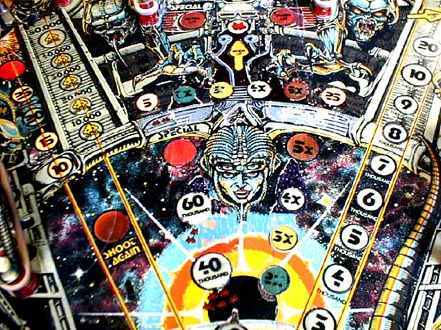 lower view of the playfield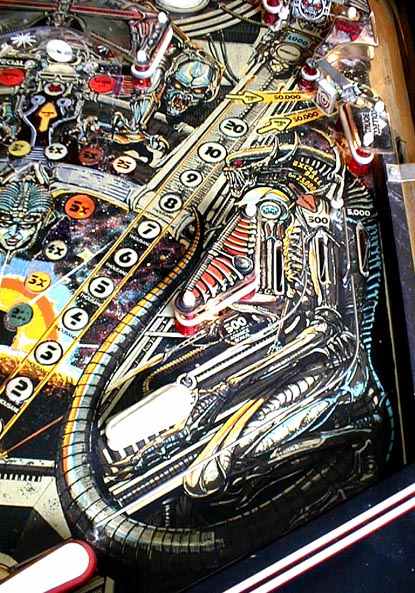 right slingshot plastics and outlane



left slingshot plastic and outlane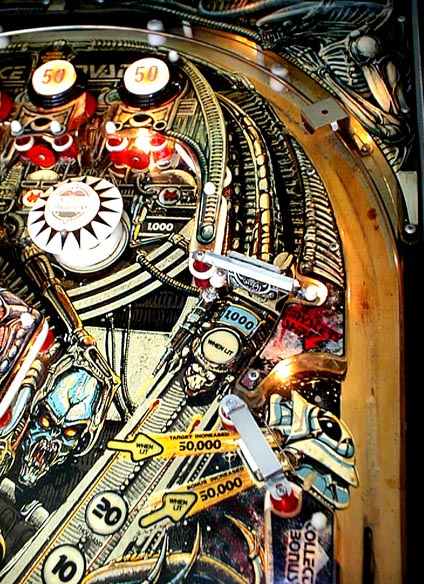 spinner and upper right of playfield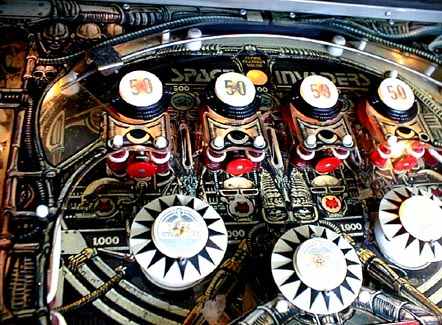 top of the playfield and rollover lanes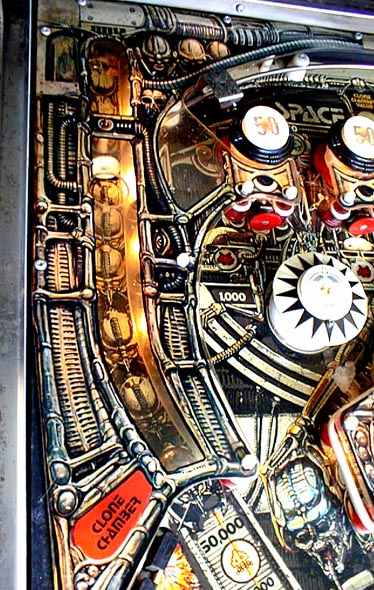 the trademark Bally captive ball feature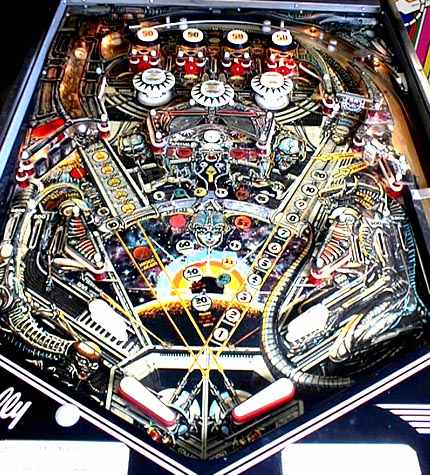 A great view of the entire playfield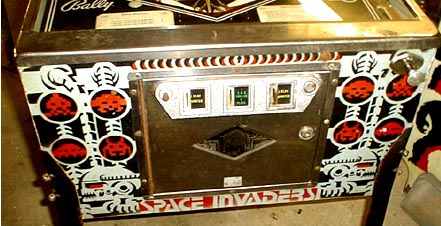 closeup of the coin door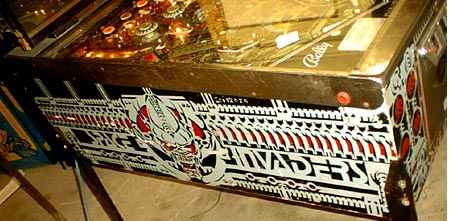 In my humble opinion the artwork on this game is another high benchmark for pinball art.


Above Photos Courtesy of Steve A. of Weedsport NY
---
Current Space Invaders Pinball Machine Or Parts For Sale
---
Learn How to Play A Space Invaders Pinball Machine Here
See Discussion on The Space Invaders Pinball On rec.games.pinball
Learn How to Repair Your Space Invaders Pinball Machine
See Other Pages Featuring A Space Invaders Pinball Machine

---
FROM THE INTERNET PINBALL DATABASE
Space Invaders
May 08, 1979 / 4 Players
Manufacturer: Bally
Project Date: May 08, 1979
Date Of Manufacture: April, 1980
Model Number: 178-E
MPU: Bally MPU AS-2518-35
Type: Solid State Electronic (SS)
Production: 11,400 units
Theme: Outer Space
Specialty: Widebody
Notable Features: Infinity lights behind backglass, captive ball, 4 flippers
Design by: Jim Patla
Art by: Paul Faris

---
---
Free Title Strips - Pinball Instruction Cards - Jukebox Archive - Your Nostalgia Stop! - Classic Soda Advertising Pinball Pages - Drive In Theaters - My Gameroom - Ken's Resume - Links - Fortune Tellers - The Cave - View Guestbook - Sign Guestbook - Wanted To Buy - Wanted To Sell - Gameroom Chat - Ken's Poll -

I could really use a small donation to keep this site running. If you care to help click the button below to send $5.
Back To Kens Homepage