---
---
South Park PINBALL of 1999 by Sega & Stern at www.pinballrebel.com
---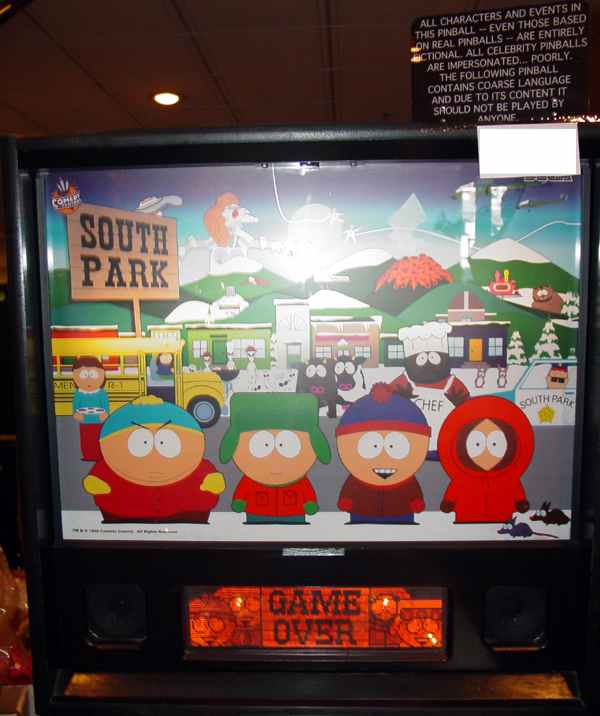 The foul mouth South Park Gang In All Their Glory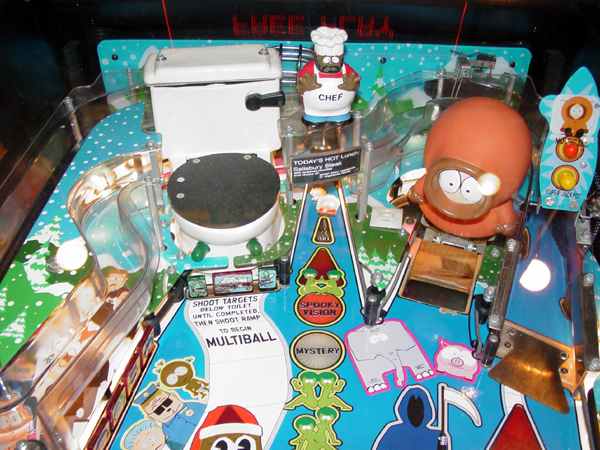 Upper playfield includes a toliet with pop up Mr. Hankey.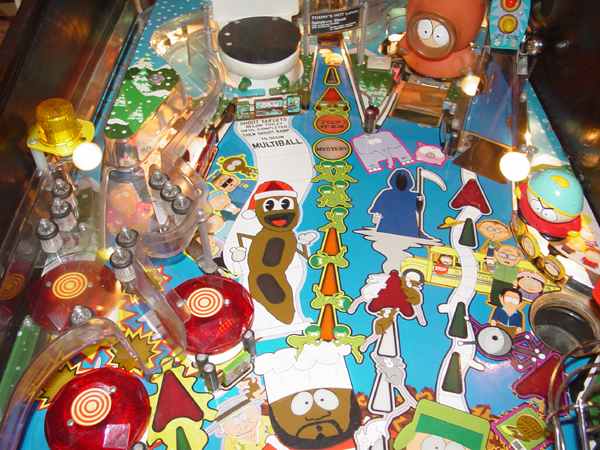 An middle playfield shot showing pop bumpers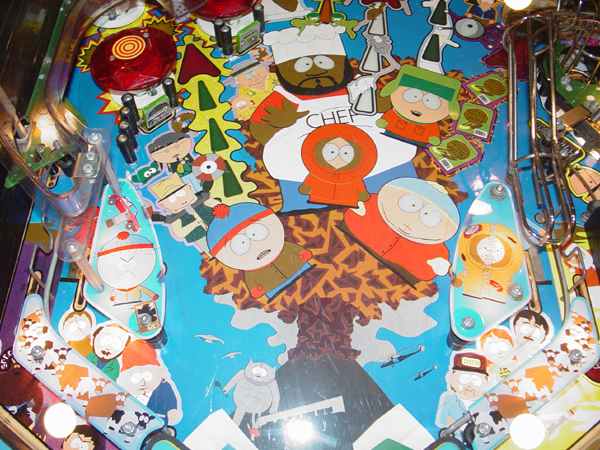 An lower playfield shot.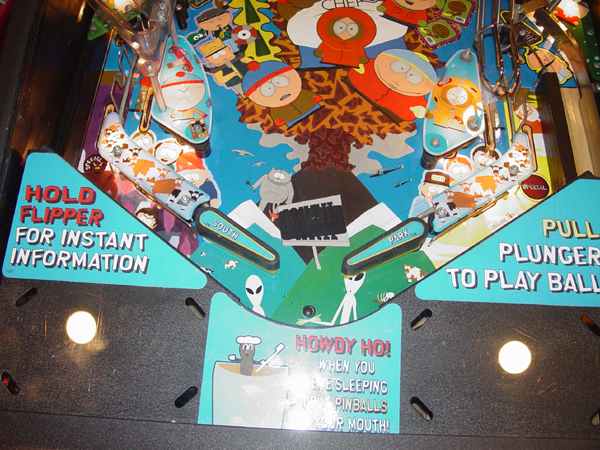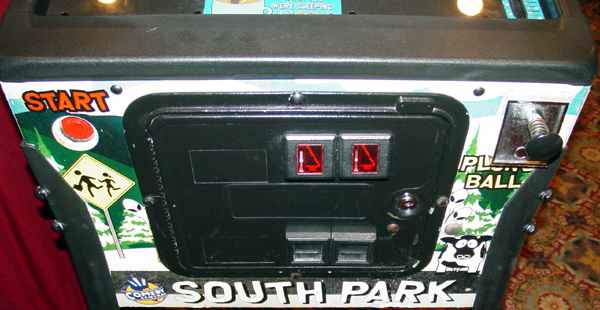 Coin Door Shot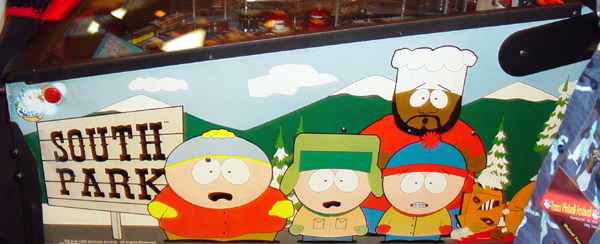 Side Artwork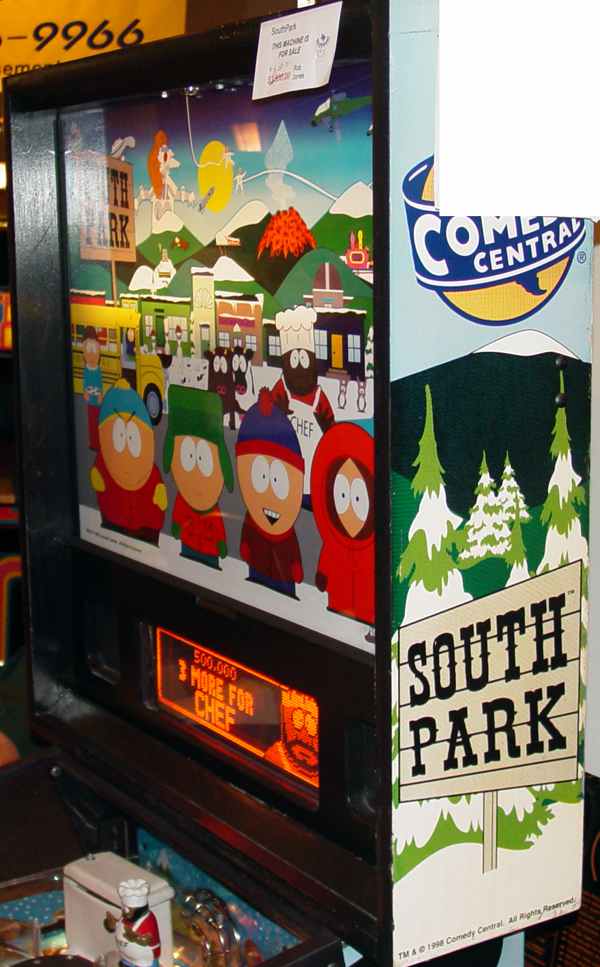 Backbox artwork
---
Current South Park Pinball Machine Or Parts For Sale
---
Learn How to Play A South Park Pinball Machine Here
See Discussion on The South Park Pinball On rec.games.pinball
Learn How to Repair Your South Park Pinball Machine
See Pages Of Other South Park Pinball Machine Owners
See The South Park Pinball Machine Owners List
Watch Some South Park Pinball Video Clips Courtesy Of Sheila Rosamond
Camel Poo
Chef Sings
Kill Kenny
Mr Hankey and Howdy Ho
Mr Mackey M'Kay Mode
Multi Ball Mode

---
FROM THE IPD

South Park February, 1999
Manufacturer: Sega Pinball, Inc. (Chicago, Illinois) (1994-1999)
Model Number: 71
MPU: Sega/Stern Whitestar
Type: Solid State Electronic (SS)
Production: 2,200 units (approximate)
Theme: Cartoon - Licensed
Toys: "Working" toilet on playfield "flushes" balls during multiball play.
Mechanics by: Joe Balcer, Rob Hurtado
Software by: Neil Falconer, Orin Day
Notes: Adult theme; very funny game but you better keep younger kids away from it.
It has been reported the production run was 2,200 initially and either 242 or 600 on the second run.
CLICK HERE TO SEE THE FULL IPD ENTRY
---
---
Free Title Strips - Pinball Instruction Cards - Jukebox Archive - Your Nostalgia Stop! - Classic Soda Advertising Pinball Pages - Drive In Theaters - My Gameroom - Ken's Resume - Links - Fortune Tellers - The Cave - View Guestbook - Sign Guestbook - Wanted To Buy - Wanted To Sell - Gameroom Chat - Ken's Poll -

I could really use a small donation to keep this site running. If you care to help click the button below to send $5.
Back To Kens Homepage

---