---
Sopranos Pinball By Stern of 2005 at www.pinballrebel.com
---
A game based after the hit HBO series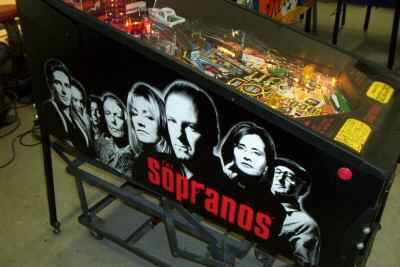 Side art features folks from the show and the also recorded many of the voices.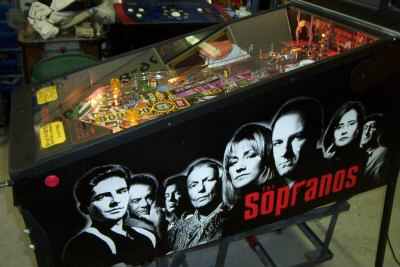 Opposing view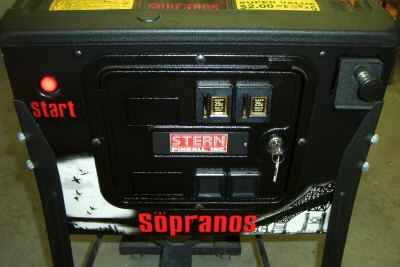 Coin door continues the black and white art motiff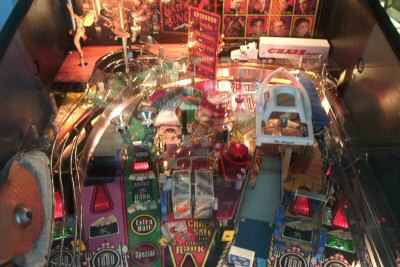 Upper playfield has pole dancing girls, a boat, and character photos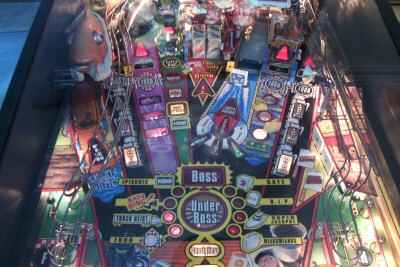 Work your way up to Boss and crack the safe. The talking fish will guide you.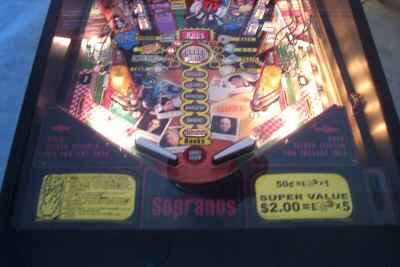 Flipper and outhole view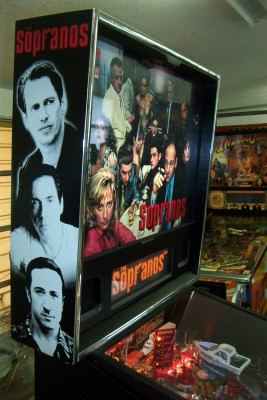 Backbox artwork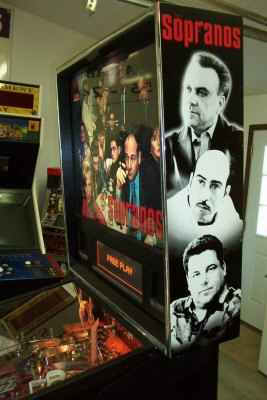 Other side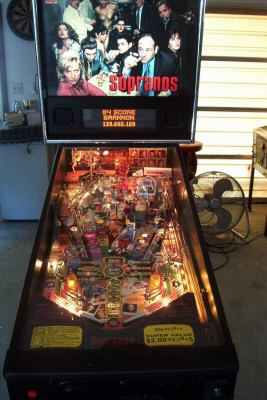 Full game view from the front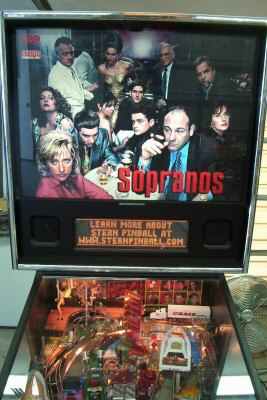 Pinball Glass is the same as the DVD boxset.

Above Photos Courtesy of LITTLE SHOP OF GAMES
---
Current Sopranos Pinball Machine Or Parts For Sale
---
Learn How to Play A Sopranos Pinball Machine Here
See Discussion on The Sopranos Pinball On rec.games.pinball
Learn How to Repair Your Sopranos Pinball Machine
See Other Pages Featuring A Sopranos Pinball Machine

---
FROM THE INTERNET PINBALL DATABASE
The Sopranos
February, 2005 / 4 Players
Manufacturer: Stern Pinball, Inc.
MPU: Stern Whitestar (modified)
Type: Solid State Electronic (SS)
Theme: Licensed Theme - Mobsters
Toys: Pole dancers. Talking fish head. Safe. Tony Soprano's boat.
Design by: George Gomez
Art by: Kevin O'Connor
Software by: Dwight Sullivan

---
---
Free Title Strips - Pinball Instruction Cards - Jukebox Archive - Your Nostalgia Stop! - Classic Soda Advertising Pinball Pages - Drive In Theaters - My Gameroom - Ken's Resume - Links - Fortune Tellers - The Cave - View Guestbook - Sign Guestbook - Wanted To Buy - Wanted To Sell - Gameroom Chat - Ken's Poll -

I could really use a small donation to keep this site running. If you care to help click the button below to send $5.
Back To Kens Homepage