---
Shaq Attaq Pinball By Gottlieb of 1995 at www.pinballrebel.com
---
In the mid to late 90's basketball themed games were everywhere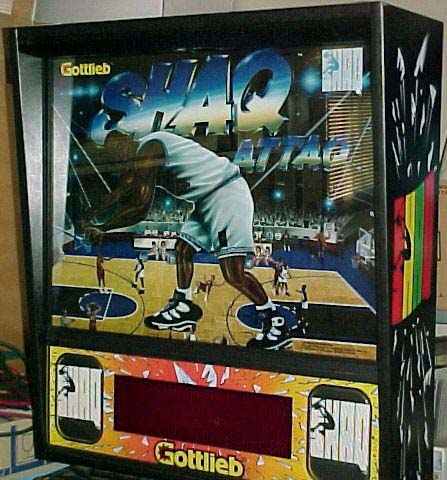 A classic Pinball Glass with Shaq himself looking larger than life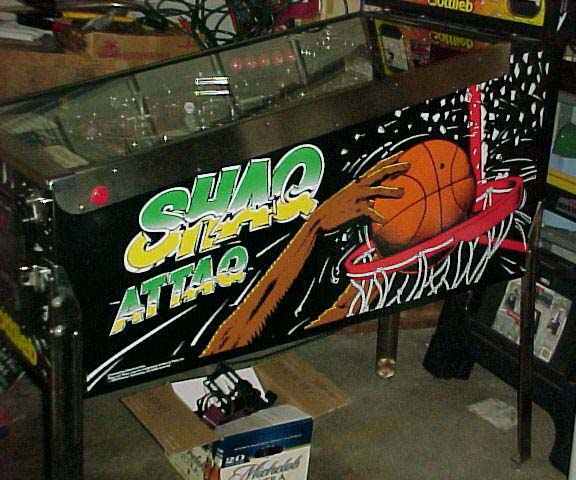 side art features Shaq smashing a glass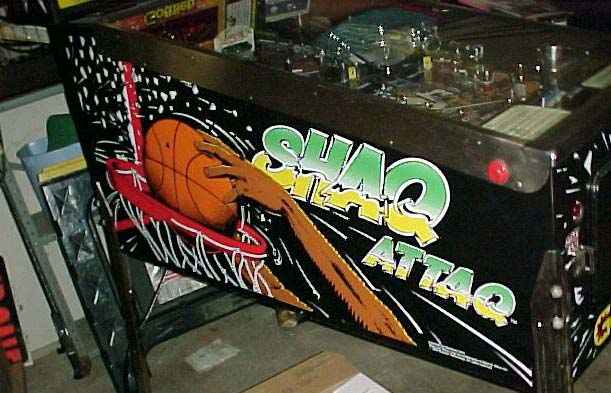 another view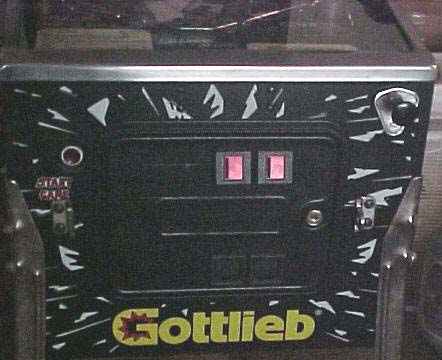 coin door view.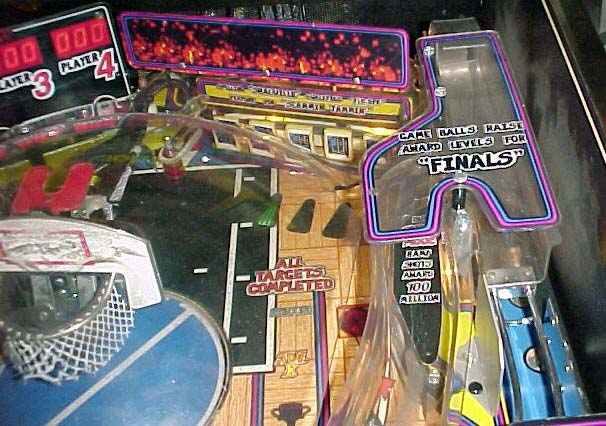 upper right corner of playfield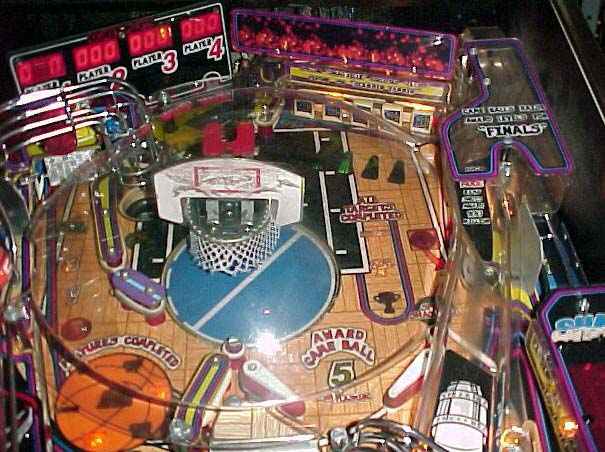 upper playfield with flippers and basketball goal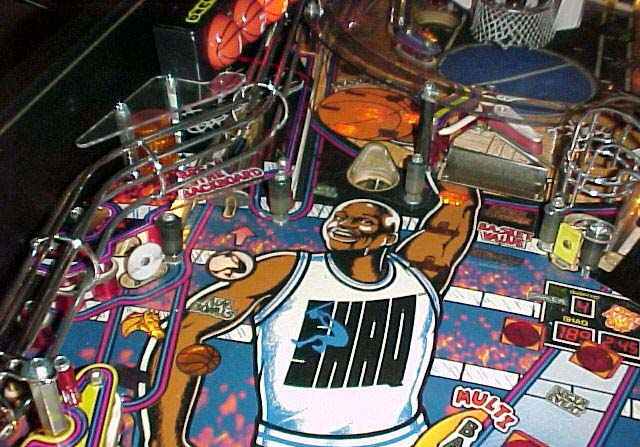 middle playfield view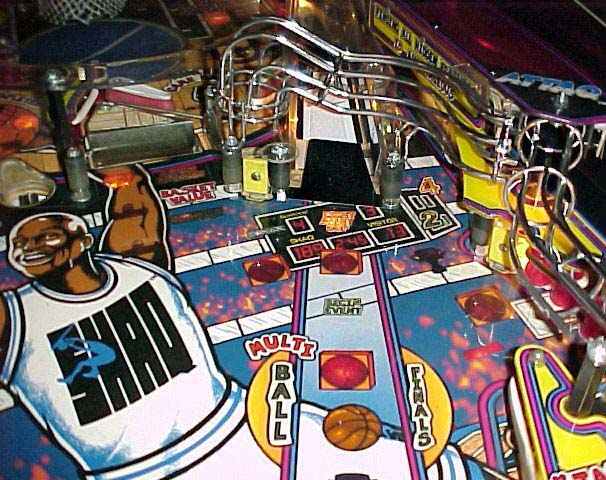 to the left is a ramp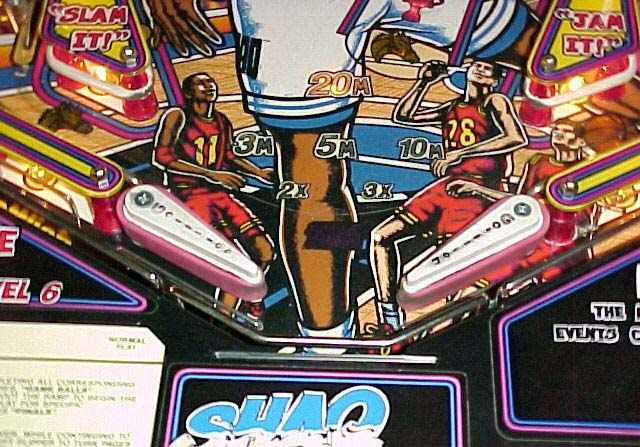 outhole view and flippers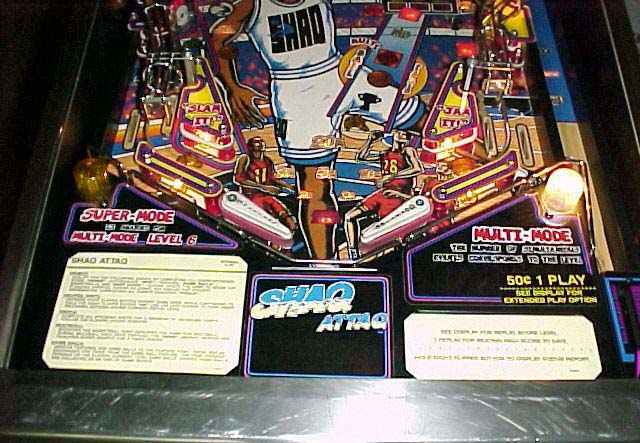 lower playfield shot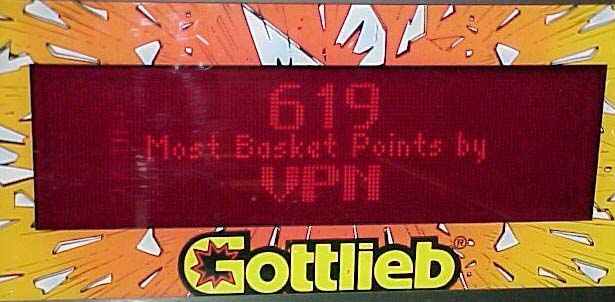 Gottlieb used red tint over orange DMD's to make their games stand out. The system 3 pinball electronics used in
this machine are very solid and many are still on location making money.

Above Photos Courtesy of David K. of South Bend, IN
Current Shaq Attaq Pinball Machine Or Parts For Sale
---
Learn How to Play A Shaq Attaq Pinball Machine Here
See Discussion on The Shaq Attaq Pinball On rec.games.pinball
Learn How to Repair Your Shaq Attaq Pinball Machine
See Other Pages Featuring A Shaq Attaq Pinball Machine

---
FROM THE INTERNET PINBALL DATABASE
Shaq Attaq
February, 1995 / 4 Players
Manufacturer: Gottlieb
Model Number: 743
MPU: Gottlieb System 3
Type: Solid State Electronic (SS)
Production: 3,380 units
Theme: Sports - Basketball - Celebrities - Licensed Theme
Notable Features: Flippers(4), Multiball(3), Drop Targets, Vari Target
Toys: Swinging basket
Design by: Jon Norris
Art by: Constantino Mitchell

---
---
Free Title Strips - Pinball Instruction Cards - Jukebox Archive - Your Nostalgia Stop! - Classic Soda Advertising Pinball Pages - Drive In Theaters - My Gameroom - Ken's Resume - Links - Fortune Tellers - The Cave - View Guestbook - Sign Guestbook - Wanted To Buy - Wanted To Sell - Gameroom Chat - Ken's Poll -

I could really use a small donation to keep this site running. If you care to help click the button below to send $5.
Back To Kens Homepage