---
Secret Service Pinball By Data East of 1988 at www.pinballrebel.com
---
A good early effort by Data East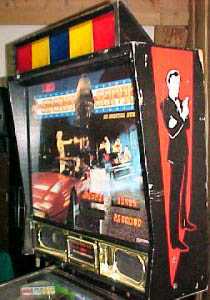 A Pinball Glass with photography instead of drawn artwork.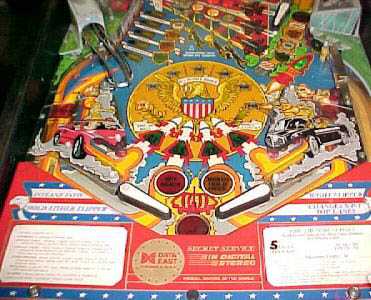 Lower playfield view.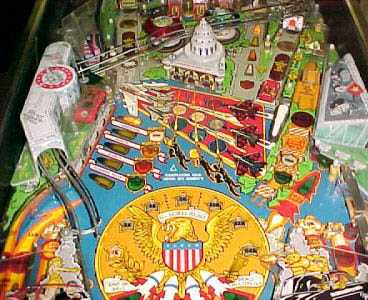 Note the 3-D models of the Whitehouse and Capitol Rotunda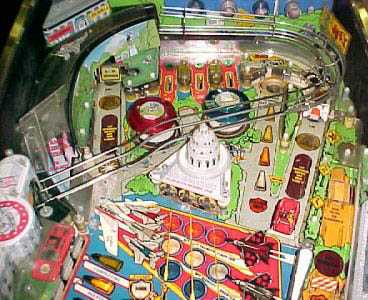 Rollover lanes and pop bumpers.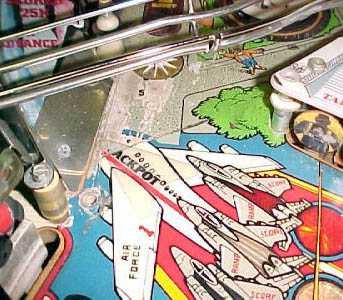 Playfield detail#1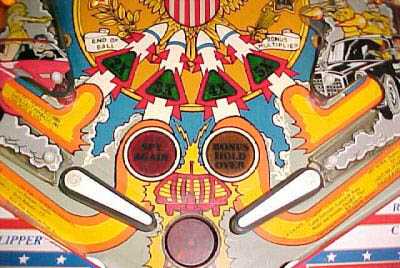 Playfield detail#2 Note the up post between the flippers.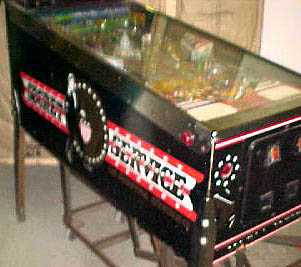 Cabinet view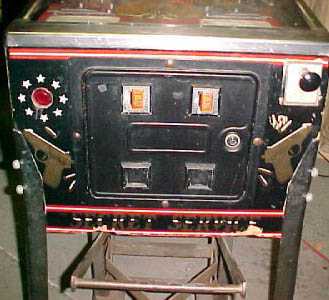 Coin door artwork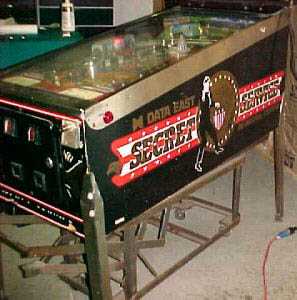 Another cabinet view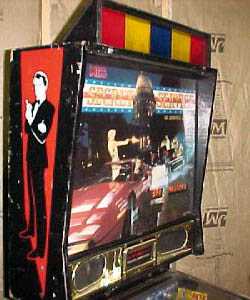 The game also has a bit of a James Bond Motiff although that is not the license.

Above Photos Courtesy of Greg from Skynet Amusement Company
---
Current Secret Service Pinball Machine Or Parts For Sale
---
Learn How to Play A Secret Service Pinball Machine Here
See Discussion on The Secret Service Pinball On rec.games.pinball
Learn How to Repair Your Secret Service Pinball Machine
See Other Pages Featuring A Secret Service Pinball Machine

---
FROM THE INTERNET PINBALL DATABASE
Secret Service
February, 1988 / 4 Players
Manufacturer: Data East Pinball, Incorporated
Model Number: 02
MPU: DataEast/Sega Version 2
Type: Solid State Electronic (SS)
Theme: Police/Spy
Notable Features: There is an extra flipper on the right, middle of the playfield
Toys: A model of the Capitol building is at center playfield, and a White House model is on the left. The Capitol has 3 drop targets underneath it.
Design by: Joe Kaminkow
Art by: Kevin O'Connor, Margaret Hudson
Music by: David Thiel
Sound by: Kyle Johnson, David Thiel
Software by: Lonnie D. Ropp, Richard Ditton

---
---
Free Title Strips - Pinball Instruction Cards - Jukebox Archive - Your Nostalgia Stop! - Classic Soda Advertising Pinball Pages - Drive In Theaters - My Gameroom - Ken's Resume - Links - Fortune Tellers - The Cave - View Guestbook - Sign Guestbook - Wanted To Buy - Wanted To Sell - Gameroom Chat - Ken's Poll -

I could really use a small donation to keep this site running. If you care to help click the button below to send $5.
Back To Kens Homepage