---
Jungle Lord Pinball By Williams of 1981 at www.pinballrebel.com
---
A great game that hooked me at the bowling alley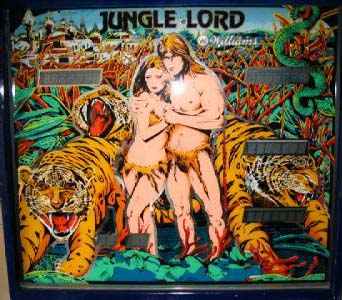 A classic Pinball Glass with a Tarazan type theme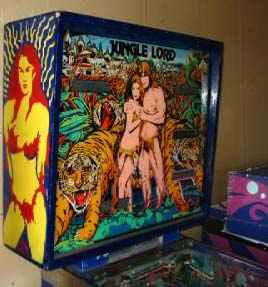 Who wouldnt want to be Tarazan with that particular Jane around?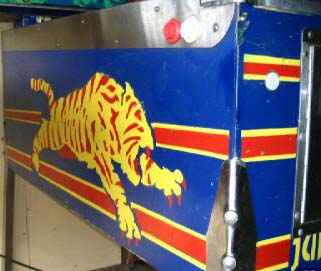 Side art features a charging Tiger with claws drawn.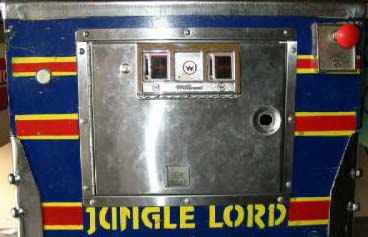 Coin door is standard Williams fare for the time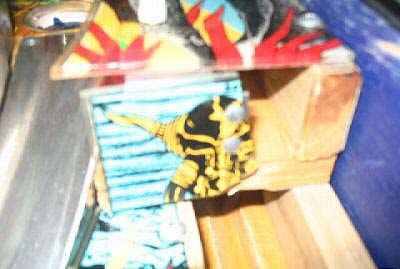 shooter detail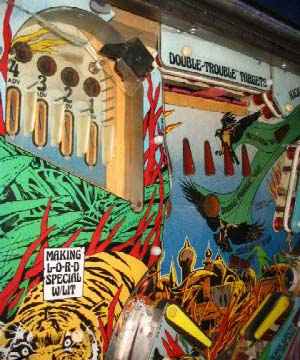 the upper left corner of the game has a mini bagatelle playfield with its own ball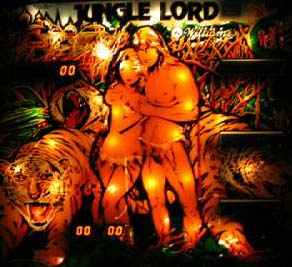 night shot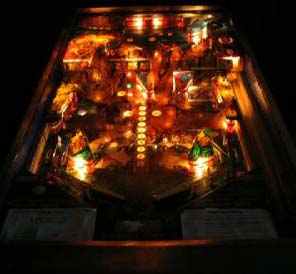 lights out view of the pinball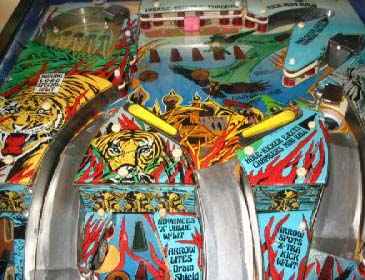 upper playfield had its own flippers and drop targets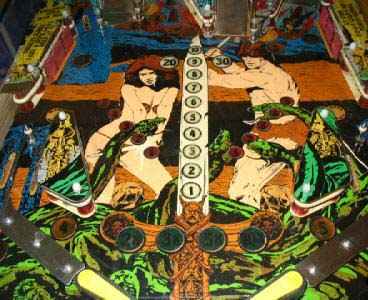 an outhole and flipper view. this game also had magna save which let players save the
ball from the outlanes with the use of another set of buttons on the side of the cabinet next to the flipper buttons.

Above Photos Courtesy of 69 GT500 in Western Canada
---
Current Jungle Lord Pinball Machine Or Parts For Sale
---
---
Learn How to Play A Jungle Lord Pinball Machine Here
See Discussion on The Jungle Lord Pinball On rec.games.pinball
Learn How to Repair Your Jungle Lord Pinball Machine
See Other Pages Featuring A Jungle Lord Pinball Machine
See The Jungle Lord Pinball Machine Owners List
---
FROM THE INTERNET PINBALL DATABASE
Jungle Lord
February, 1981 / 4 Players
Manufacturer: Williams
Model Number: 503
MPU: Williams System 7
Type: Solid State Electronic (SS)
Production: 6,000 units
Theme: Fantasy
Notable Features: Flippers (4), 3-bank drop targets (2), 5-bank drop targets (1),
Kick-out hole (2), Magna-Save, Split-level playfield (the second of the four split-level
System 7 games that Williams produced). Landing a ball in the kick-out hole releases
a ball in a mini-bagatelle located in the upper playfield.
Design by: Barry Oursler
Art by: Constantino Mitchell

---
---
Free Title Strips - Pinball Instruction Cards - Jukebox Archive - Your Nostalgia Stop! - Classic Soda Advertising Pinball Pages - Drive In Theaters - My Gameroom - Ken's Resume - Links - Fortune Tellers - The Cave - View Guestbook - Sign Guestbook - Wanted To Buy - Wanted To Sell - Gameroom Chat - Ken's Poll -

I could really use a small donation to keep this site running. If you care to help click the button below to send $5.
Back To Kens Homepage