---

Johnny Mnemonic Pinball By Williams of 1995 at www.pinballrebel.com
This Machine Was Sold At The Texas Pinball Festival In 2003
---
I Bought Another One
Click Here To See My New Johnny Mnemonic!
---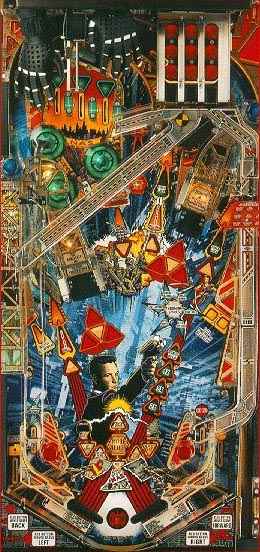 Overall shot of the playfield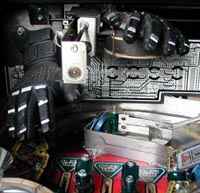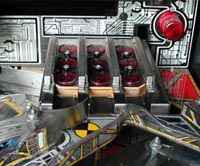 The glove and the matrix are the two things most people remember about playing the Johnny Mnemonic pinball. In fact the data glove shown above is one of the reasons why this machine is so seldom found in the wild. Most operators are loathe to fix this toy and it does require a degree of regular work. However, one it has been fixed it tends to work well for some time not unlike the clock in Twilight Zone.
The ball shoots from under the playfield up into a magnet in the glove. The player then uses the four buttons on the side of the cabinet to manuver the glove over the matrix. Pressing the launch button will drop the ball. When you line up three balls multiball will begin when the matrix tilts upward and releases all the balls.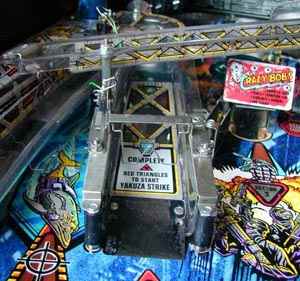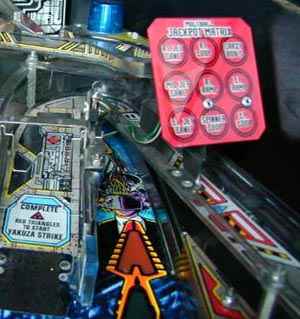 Here are the left and right ramp shots that feed the return lanes. These shots are fast and furious as is the outher orbit. In fact, this game has so much speed (Other than loading the matrix) that it really has a Steve Ritchie feel to it. In fact the first time I played it I thought it was one of his.
On the right ramp shot there is a plastic that shows you the value of the matrix slots during multiball (where to shoot for jackpots).
On the left you will notice the Crazy Bob saucer shot. A shot in this hole will reveal the mystery value of one of the matrix slots. This helps you decide which ones to drop the ball on from the glove.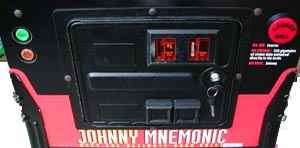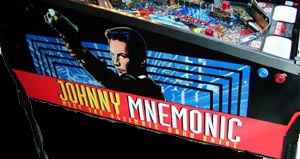 Here you can see the side artwork. Its not very exciting and I have a feeling it might have had to do with the liscense as John Youssi can really draw. The playfield and backglass artwork are awesome.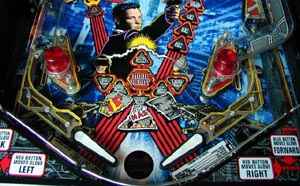 The flashers over the slingshots are wild. In fact they can leave you flash blind at times. The lighting effects on JM are some of the best of the late model Williams games. In all reality JM is a sleeper pin. It is a well kept secret. I own some great pins and I'd put this one up against many of them.

The wizard award is awesome. It is called powerdown. Each section of the playfield slowly goes dark and without power until the entire game looks as if the power has been shut off. The game then calculates your score.

This pinball also includes a neat video mode and the famous midnight madness multiball which occurs when the internal clock turns 12 midnight.
---
---
Current Johnny Mnemonic Pinball Machine Or Parts For Sale
---
Learn How to Play A Johnny Mnemonic Pinball Machine Here
See Discussion on The Johnny Mnemonic Pinball On rec.games.pinball
Learn How to Repair Your Johnny Mnemonic Pinball Machine
See Pages Of Other Johnny Mnemonic Pinball Machine Owners
See The Johnny Mnemonic Pinball Machine Owners List
---
From The IPD
Johnny Mnemonic (JM) /No. 3683/Williams Electronic Games, Inc.,
a subsidiary of WMS Industries,Inc., August 1995, 4 players
Model number: 50042
Theme: Celebrities - Fictional - Licensed Theme
Features: Flippers(2), Ramps(2), Multiball(3), Automatic Plunger
Toys: Magnetic ball lift, Matrix ball lock
Design: Jorge Gomez
Art: John Youssi
Graphics: Adam Rhine, Brian Morris
Software: Tom Uban
Mechanics: Tom Kopera
Sound: Dave Zabriskie
Music: Dave Zabriskie
Photos in:
Atlanta Journal & Atlanta Constitution November 26, 1995, pp. G4:1.
Cigar Aficionado Autumn 1996, pp. 320
Click Here For The Full IPD Entry
Flyer Back
Playfield
Wav File

---
Click Here To Watch A Video Of The Data Glove In Real Player