Indiana Jones Pinball By Williams (Prototype) at www.pinballrebel.com
---
---
---
I bought another Indiana Jones pinball. If you want to see it click HERE!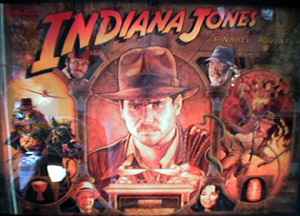 Great artwork but I could use a new glass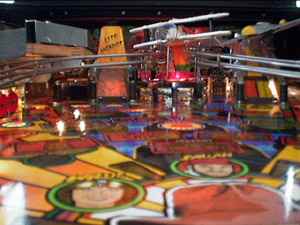 View From Ball Level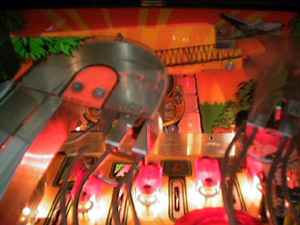 The elusive lost plastic on sample games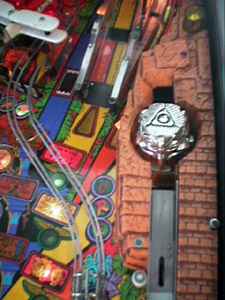 Idol Ball Lock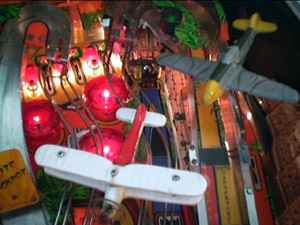 Dogfight anyone? Notice no insignia on German plane.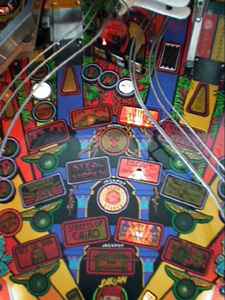 Modes Modes and more Modes!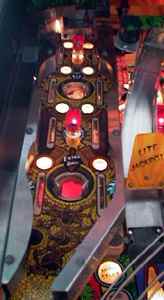 Path of Adventure (Note Metal Rails)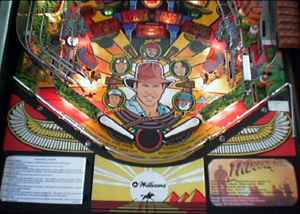 A shot of the lower playfield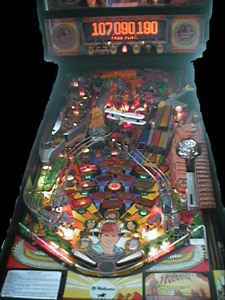 A shot of the widebody playfield
Backglass Scan
Nothing to fear here (wav)
---
CLICK BELOW TO WATCH VIDEOS IN REALPLAYER
Indiana Jones Idol Lock

Indiana Jones Path Of Adventure
---
---
Current Indiana Jones Pinball Machine Or Parts For Sale
---
The Indiana Jones Website (lots of good info)
---
Learn How to Play A Indiana Jones Pinball Machine Here
See Discussion on The Indiana Jones Pinball On rec.games.pinball
Learn How to Repair Your Indiana Jones Pinball Machine
See Pages Of Other Indiana Jones Pinball Machine Owners
See The Indiana Jones Pinball Machine Owners List
Archive of The IJ Shopout Pages!
---
From The IPD
Indiana Jones (IJ) Williams Electronic Games, Inc.
WMS Industries, Inc., August 1993, 4 players
Model number: 50017
Specialty: Wide-body Machine
Theme: Celebrities - Fictional - Licensed Theme
Features: Flippers(2), Ramps(2), Multiball(4), Captive Ball, Automatic Plunger
Toys: Player-controlled tilting upper playfield
Design: Mark Ritchie
Art: Doug Watson
Sound: Rich Karstens
Music: Chris Granner
Slogans:
The Adventure Continues...


Click Here To View Complete IPD Entry
---
---
Free Title Strips - Pinball Instruction Cards - Jukebox Archive - Your Nostalgia Stop! - Classic Soda Advertising Pinball Pages - Drive In Theaters - My Gameroom - Ken's Resume - Links - Fortune Tellers - The Cave - View Guestbook - Sign Guestbook - Wanted To Buy - Wanted To Sell - Gameroom Chat - Ken's Poll -

I could really use a small donation to keep this site running. If you care to help click the button below to send $5.
Back To Kens Homepage

---