---
High Speed II The Getaway Pinball By Williams 1992 at www.pinballrebel.com
---
I bought this game after seeing an add in the paper. I didn't pay a lot for it and its a good thing. All the flippers needed to be rebuilt and it needed rings and lamps. The solenoid bridge and cap had to be replaced as well. The game was missing the knocker assembly which I secured with the help of another collector. The DMD was starting to outgas and had to be replaced. The operator had welded the coil stop to the flipper assembly mounting bracket which I found almost impossible to believe.

The object of the game is to hit the stand up targets to change the traffic light from green, to yellow, and then to red. Each time the light changes you lock a ball and multiball starts when you lock the ball for the red light (Running the red light.) Then its 3-ball multiball with a shot to the supercharger lighting the jackpot and a shot to the lock ramp to collect it.

You also run up through five gears and redline the engine earning a specific reward for each gear. This is a very fast game and lots of fun for a early WPC design.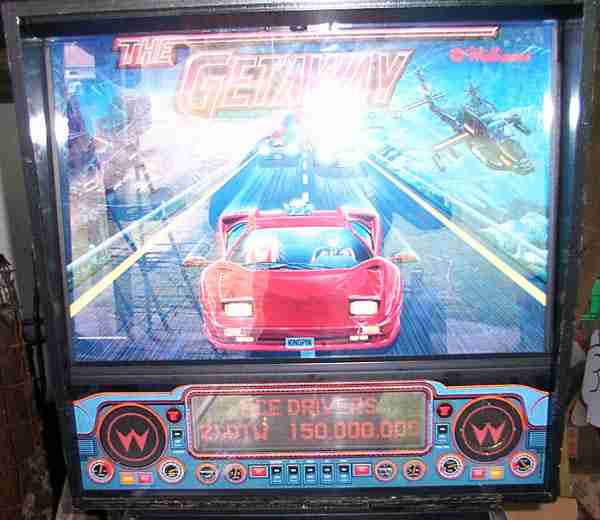 Great Translite Even If It Was Bright Outside!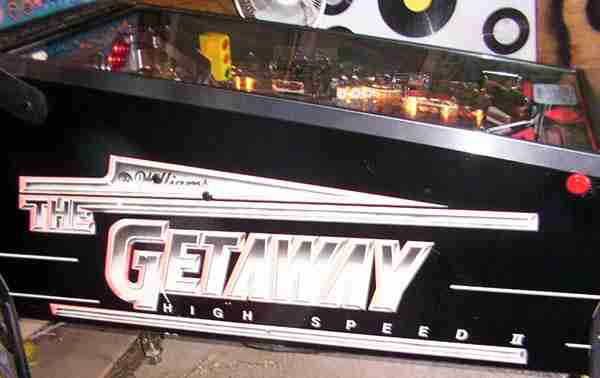 Left side of cabinet has serious fade. Anyone making repros?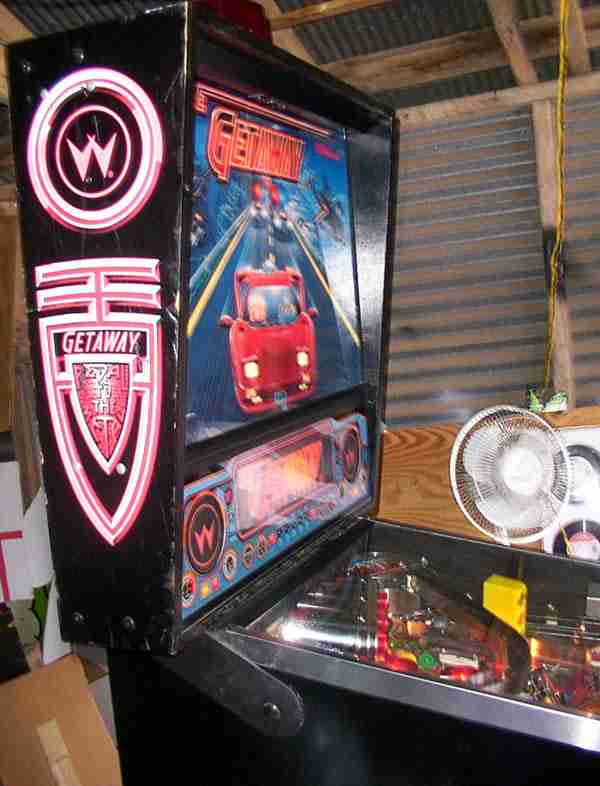 Left head is a little better than the rest of the left side.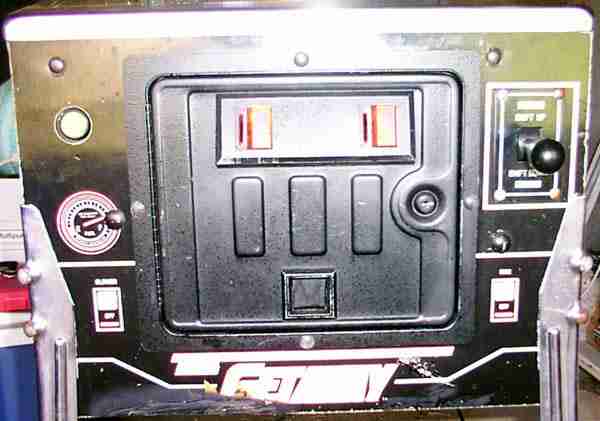 Coin door is also faded and has a tear on the left bottom.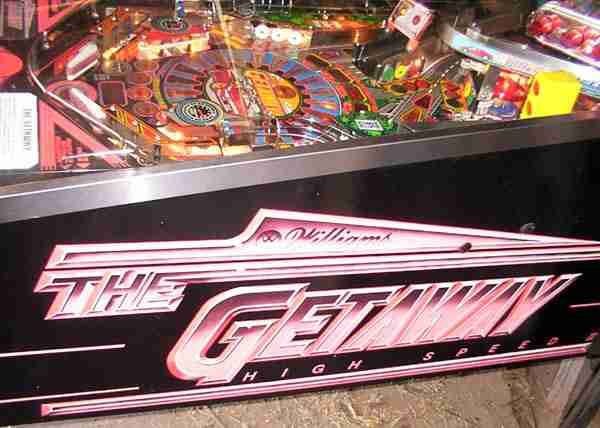 Ride side art is much better. The bright sunlight washed it out some.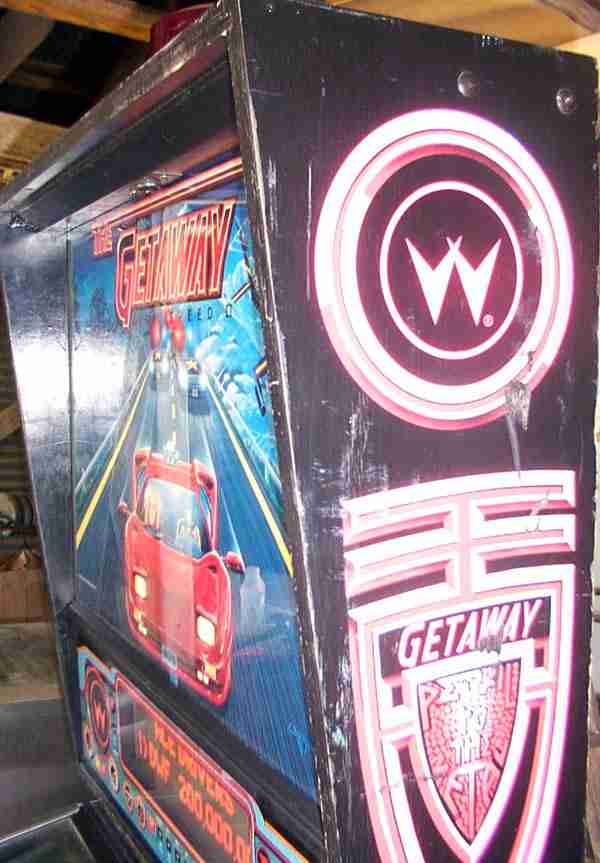 Right head has nicks and scrapes.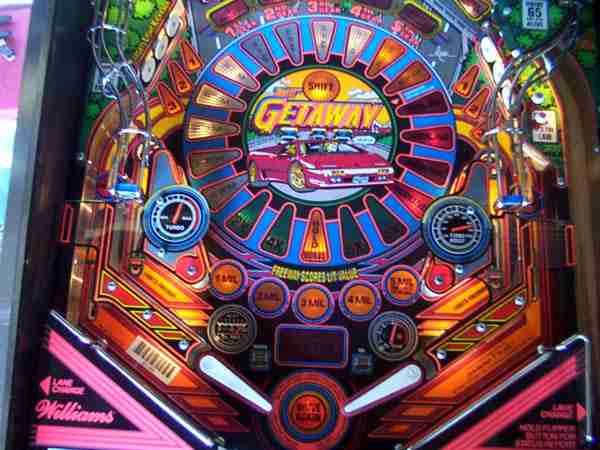 Playfield has no broken plastics or wear (YAHOO!)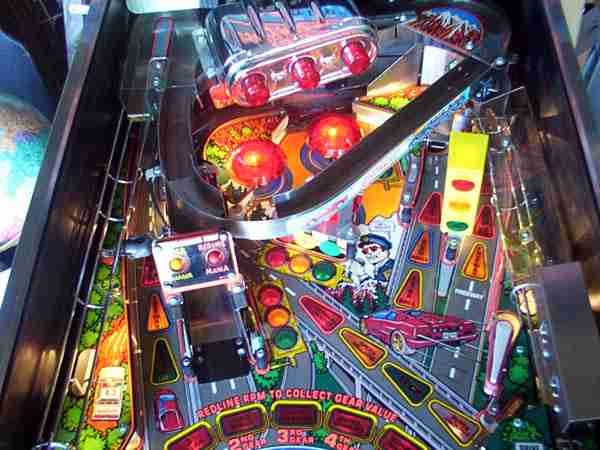 Gotta love that supercharger!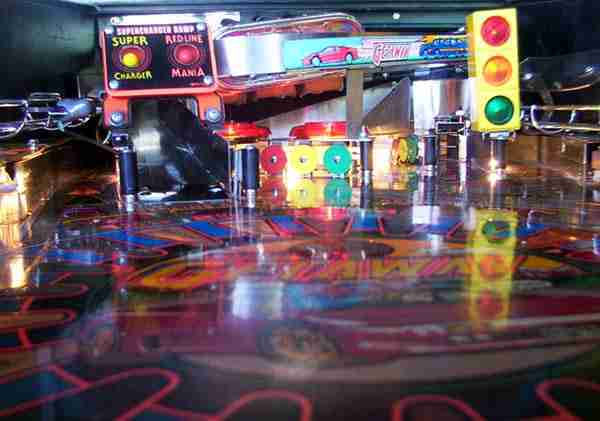 Ball's view of the ramp shot.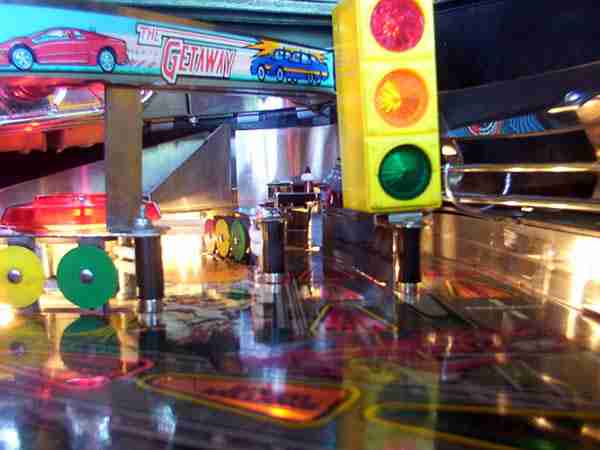 Ball's view of the tunnel shot.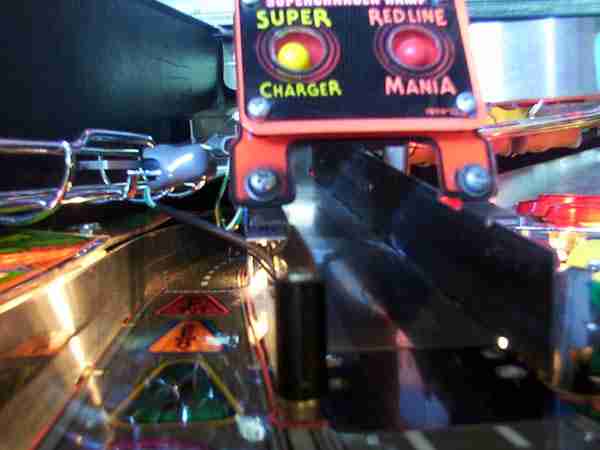 Ball's view of the outer loop shot.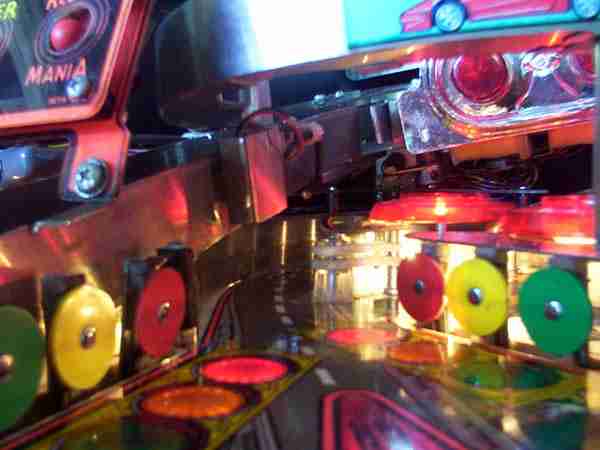 Run that Red Light!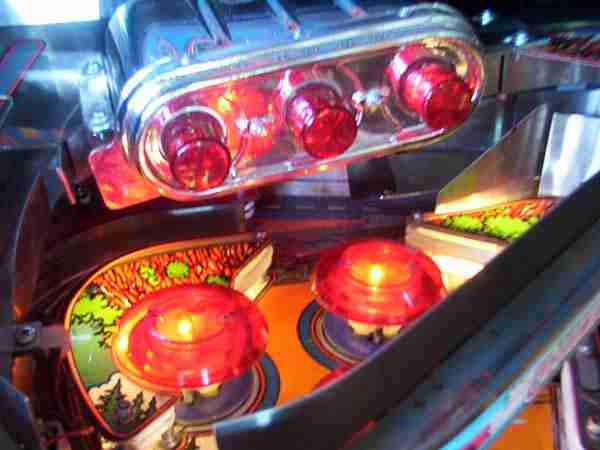 Nothing like chrome on a pinball!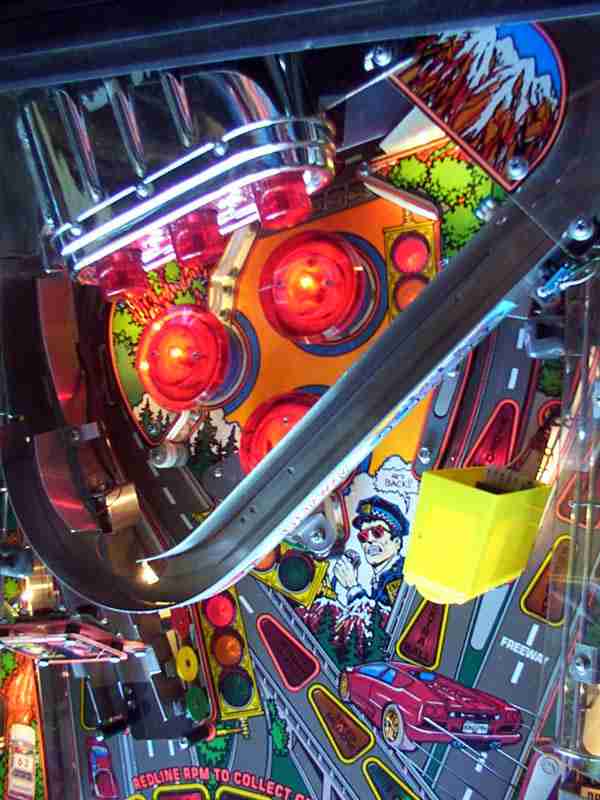 Jet Bumper layout.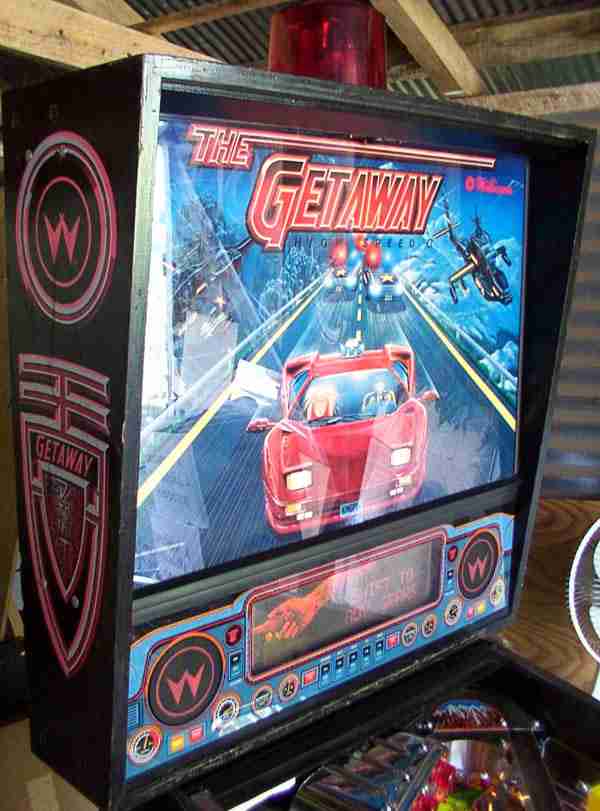 Police beacon waits atop the game for multiball!
---
Current High Speed The Getaway Pinball Machine Or Parts For Sale
---
---
Learn How to Play the Getaway High Speed Pinball Machine Here
See Discussion on the Getaway High Speed Pinball On rec.games.pinball
Learn How to Repair Your Getaway High Speed Pinball Machine
See Pages Of Other Getaway High Speed Pinball Machine Owners
---
FROM THE IPD

The Getaway: High Speed II
February 02, 1992
4 Players
Manufacturer: Williams Electronic Games, Inc.,
a subsidiary of WMS Industries, Inc. (1985 - 10/25/1999)
Model Number: 50004 MPU: Williams WPC (Fliptronics 1)
Type: Solid State Electronic
Theme: Cops and Robbers Notable
Features: Flippers(3), Ramps(2), Multiball(3), Automatic plunger
Toys: Magnetic ball accelerator
Design by: Steve Ritchie
Art by: Doug Watson, Mark Sprenger
Sound by: Dan Forden


CLICK HERE FOR THE FULL IPD ENTRY
---
---
---
Free Title Strips - Pinball Instruction Cards - Jukebox Archive - Your Nostalgia Stop! - Classic Soda Advertising Pinball Pages - Drive In Theaters - My Gameroom - Ken's Resume - Links - Fortune Tellers - The Cave - View Guestbook - Sign Guestbook - Wanted To Buy - Wanted To Sell - Gameroom Chat - Ken's Poll -

I could really use a small donation to keep this site running. If you care to help click the button below to send $5.
Back To Kens Homepage