---
---
High Speed Pinball by Bally of 1986 at www.pinballrebel.com
---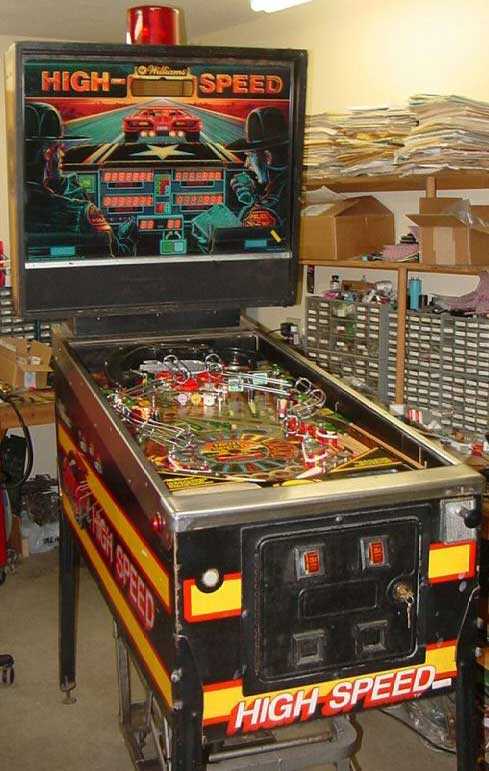 A machine that saved the industry with several new ideas.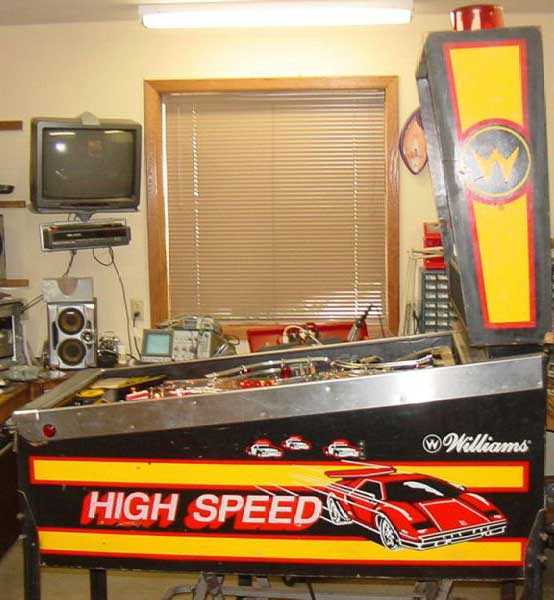 The police chase theme was inspired by a real life event that
occured involving fame designer Steve Ritchie!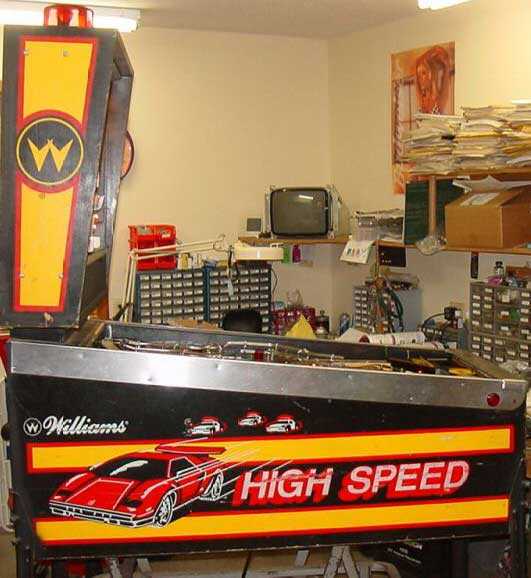 Side Art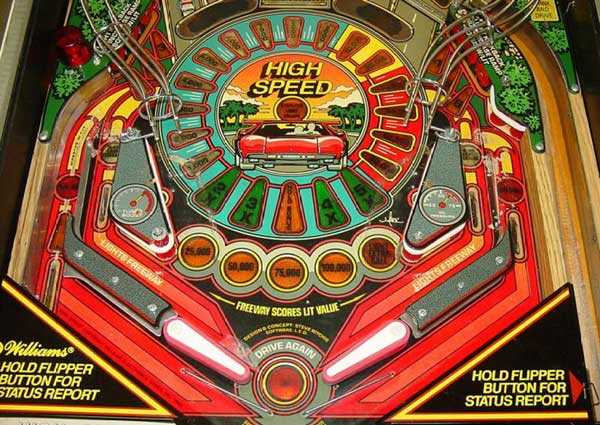 Outhole View and Flippers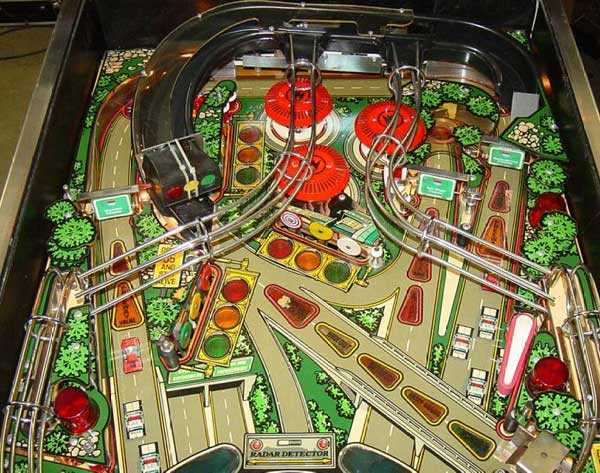 Top Bumpers & Upper Flipper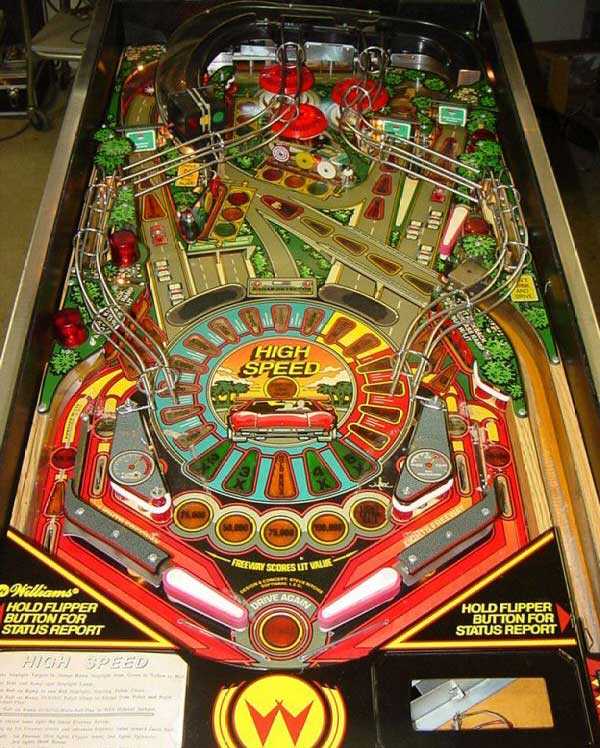 Full Playfield Shot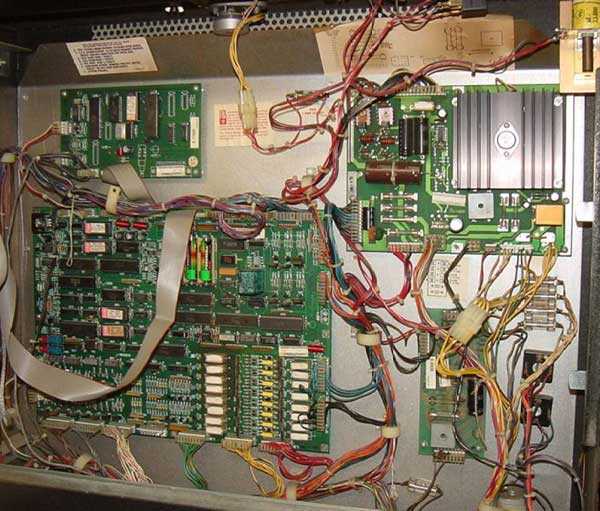 High Speed is a System 11 game and here is a view of the boards.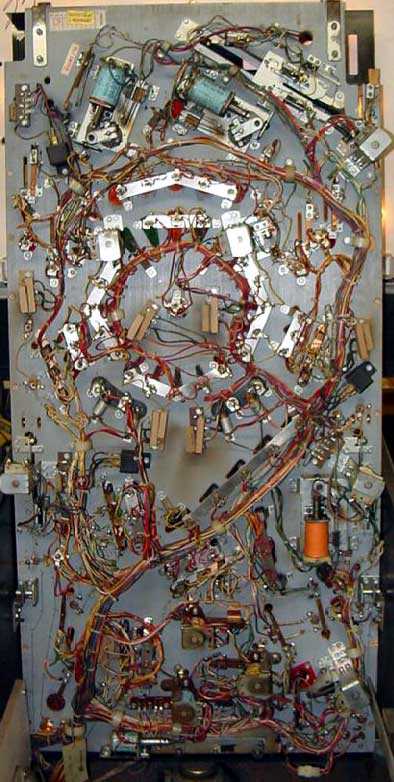 underside of the playfield view


Above photos courtesy of
Rick
---
Current High Speed Pinball Machine Or Parts For Sale
---
---
Learn How to Play A High Speed Pinball Machine Here
See Discussion on The High Speed Pinball On rec.games.pinball
Learn How to Repair Your High Speed Pinball Machine
High Speed Pinball Machine Owners List
See Pages Of Other High Speed Pinball Machine Owners
---
FROM THE IPD
High Speed January, 1986
4 Players
Manufacturer: Williams
Model Number: 541
MPU: Williams System 11
Type: Solid State Electronic (SS)
Production: 17,080 units
Theme: Cops and Robbers
Notable Features: Flippers(3), Ramps(1), Multiball w/jackpot, Siren Beacon Light, Stationary Targets(15), Spinners(3), Kickback.
First pinball to play a complete song.
First Williams pinball game to use alpha-numeric displays.
First diverter in a pinball.
First "Kick-Big" (kicker and scoop) in a pinball.
First use of Auto Percentaging (for replay scores).
First "Jackpot" in a pinball, during multi-ball.
First Jackpot that carried over between games.
Toys: Traffic light on the ramp.
Concept by: Steve Ritchie
Design by: Steve Ritchie
Art by: Mark Sprenger, Python Anghelo
Music by: Steve Ritchie, Bill Parod
Sound by: Larry DeMar, Eugene Jarvis, Bill Parod
Software by: Larry DeMar
CLICK HERE TO SEE THE FULL IPD ENTRY
---
---
---
Free Title Strips - Pinball Instruction Cards - Jukebox Archive - Your Nostalgia Stop! - Classic Soda Advertising Pinball Pages - Drive In Theaters - My Gameroom - Ken's Resume - Links - Fortune Tellers - The Cave - View Guestbook - Sign Guestbook - Wanted To Buy - Wanted To Sell - Gameroom Chat - Ken's Poll -

I could really use a small donation to keep this site running. If you care to help click the button below to send $5.
Back To Kens Homepage