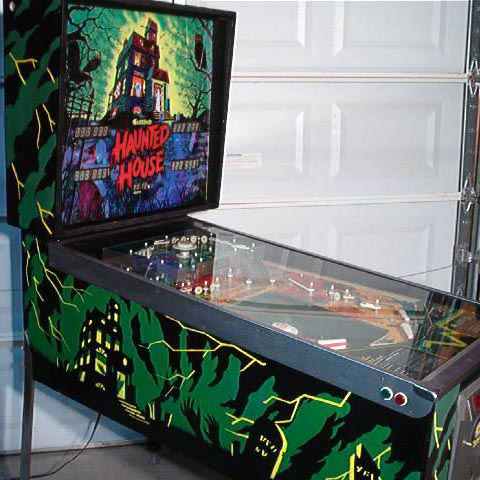 Another view of the full game.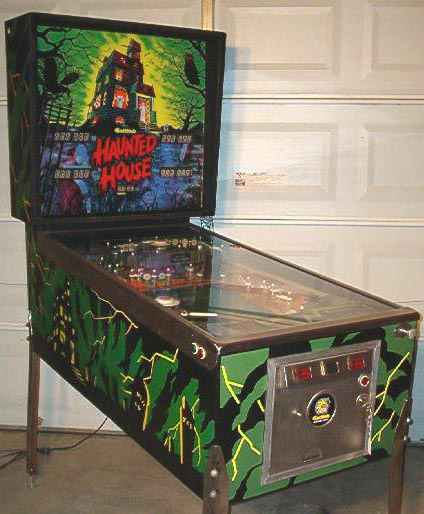 The greens on the cabinet really do contribute to the haunted theme very well.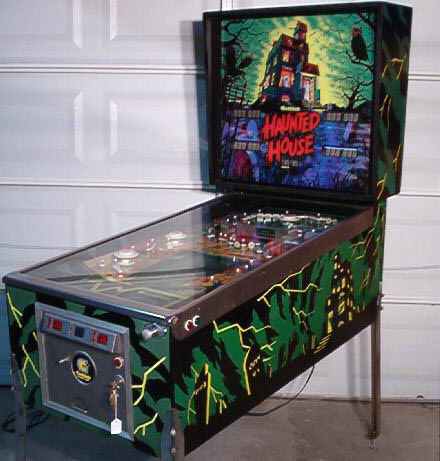 A classic game in every repect!


Above Photos Courtesy of John Reid in Port Huron Michigan
---
Current Haunted House Pinball Machine Or Parts For Sale
---
---
Learn How to Play A Haunted House Pinball Machine Here
See Discussion on The Haunted House Pinball On rec.games.pinball
Learn How to Repair Your Haunted House Pinball Machine
See Other Pages Featuring A Haunted House Pinball Machine
See The Haunted House Pinball Machine Owners List
---
FROM THE INTERNET PINBALL DATABASE
Haunted House
June, 1982 / 4 Players
Manufacturer: D. Gottlieb & Co., a Columbia Pictures
Model Number: 669
MPU: Gottlieb System 80
Type: Solid State Electronic (SS)
Production: 6,835 units
Theme: Adventure - Supernatural
Specialty: Widebody
Notable Features: Flippers (8), Pop bumpers (4), Kick-out holes (2), Up-kickers (2).
Three Level Playfield. Secret passage (false target that drops down after impact to
allow entrance to cellar). Trap door that opens for ball. Lightning animation in backglass.
Design by: John Osborne
Art by: Terry Doerzaph

---
---
---
Free Title Strips - Pinball Instruction Cards - Jukebox Archive - Your Nostalgia Stop! - Classic Soda Advertising Pinball Pages - Drive In Theaters - My Gameroom - Ken's Resume - Links - Fortune Tellers - The Cave - View Guestbook - Sign Guestbook - Wanted To Buy - Wanted To Sell - Gameroom Chat - Ken's Poll -

I could really use a small donation to keep this site running. If you care to help click the button below to send $5.
Back To Kens Homepage