---
---
WILLIAMS FUNHOUSE PINBALL 1990 at www.pinballrebel.com
---
I bought this game from an operator to replace my first funhouse I sold. Below you can see both before and after shopping pictures. The game was filthy but still on location earning money up until I bought it. So this is my second funhouse. My first had really bad cabinet fade so this one is in much better shape. I had to replace the soundboard and a few other items as well. This game is staying at Dan and Joy's place for now (thanks guys!). In fact Dan helped me shop it out.
To See My First Funhouse Pinball Click Here
The object of the game is to put Rudy to sleep by advancing the clock. When he goes to sleep he snores with his mouth open. Then you shoot the ball into his mouth to start multiball.
It is a WPC design although it uses alpha numeric displays instead of a Dot Matrix display.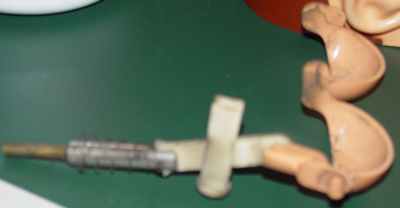 The two most commonly broken parts as you can see I still need A-14030 (I "fixed" mine with JB WELD.)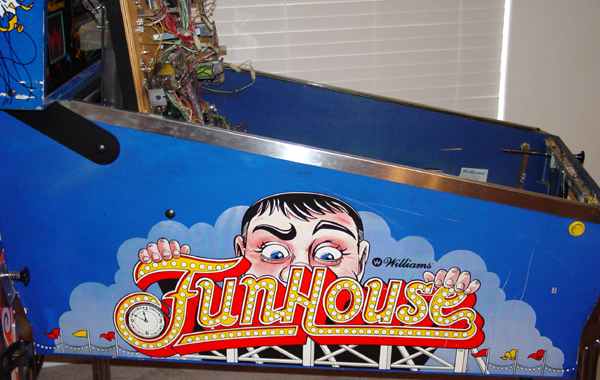 Left side of cabinet has a few scratches but no fade! This shot was before I cleaned it.

Left head has a scratch or two but should touch up easy since it is not on the artwork..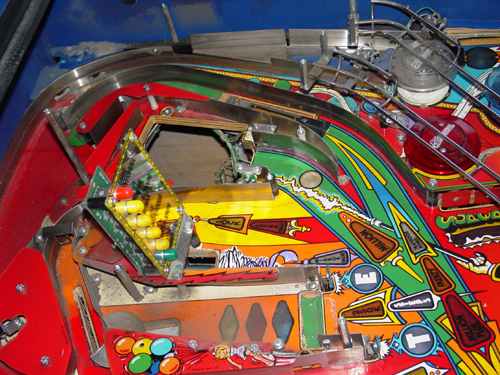 Shot of top of playfield with Rudy removed. Look at all the dirt and filth.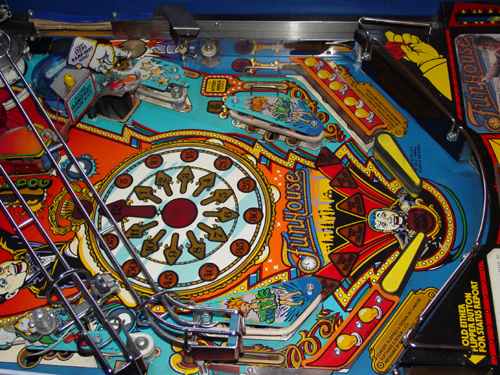 No Diamond Plate but at the mylar has not started to rise on the clock area.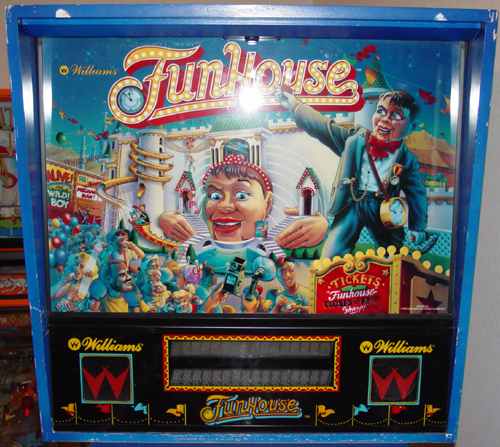 Excellent translite and displays.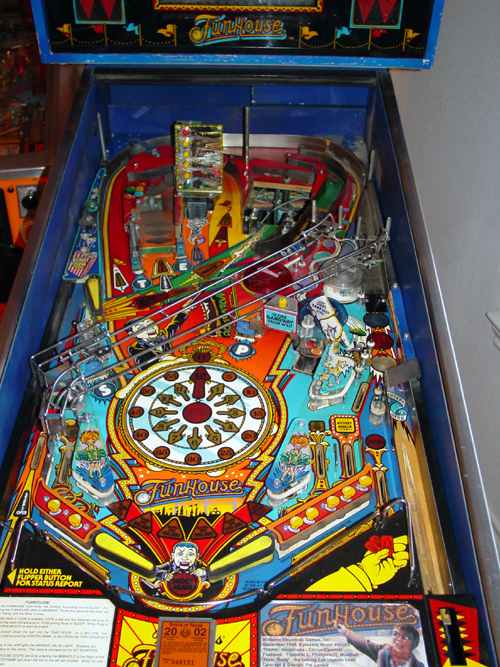 No shop job is complete without a cool custom card :)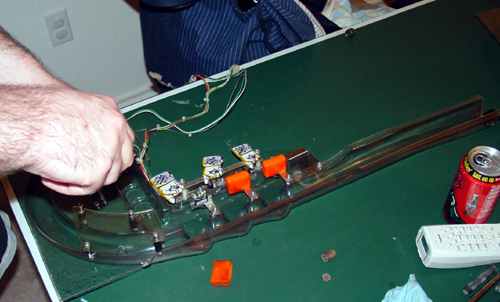 My friend Dan cleaning the steps ramp.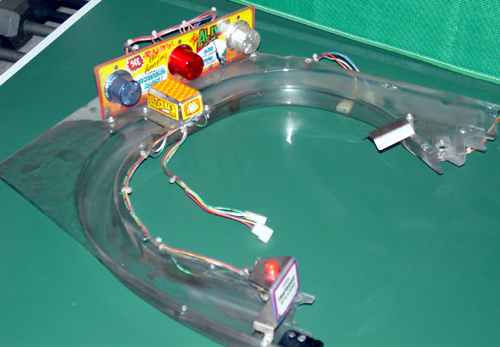 Is it possible for this ramp to be more dirty?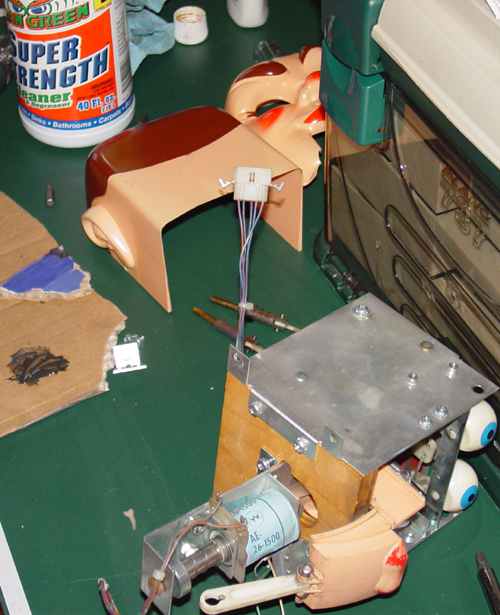 Rudy apart and awaiting repair. Notice the Mean Green (Shaggy) and the JB weld being mixed on the cardboard?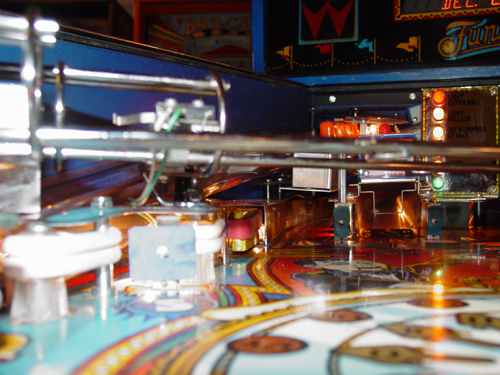 Ball's view of the outer loop shot.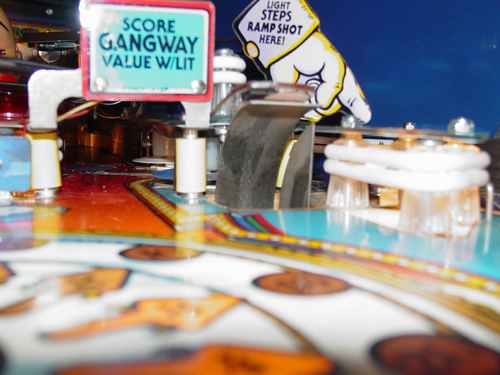 No scoop wear!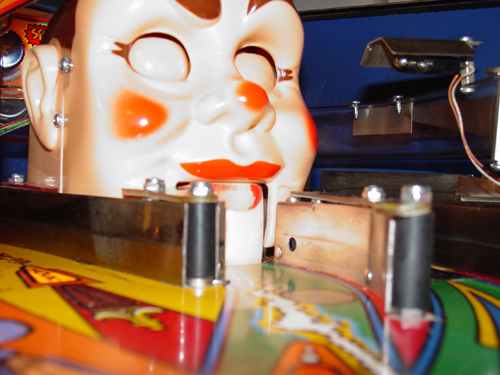 Rudy waits for a pinball player to badger.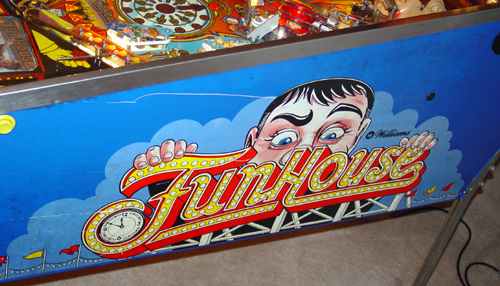 Again a few scratches but nothing major on the right side.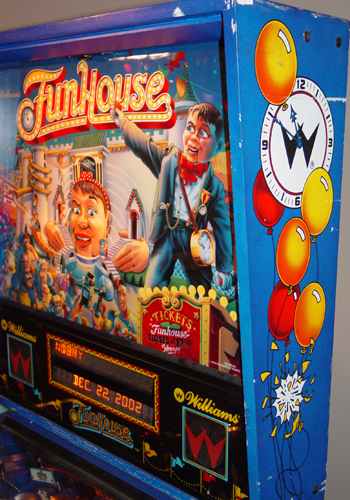 Same here.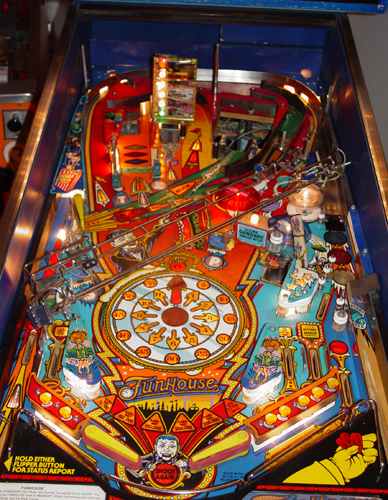 Ready to be put back together.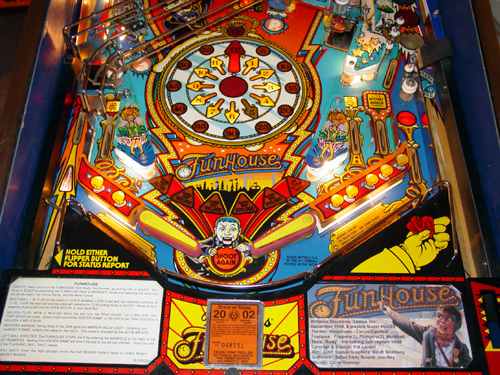 What a difference bulbs make.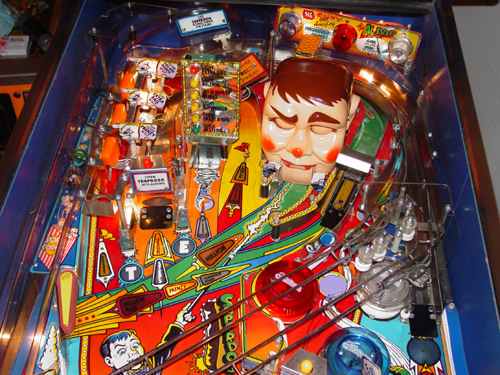 Both the ramps and Rudy are back in place.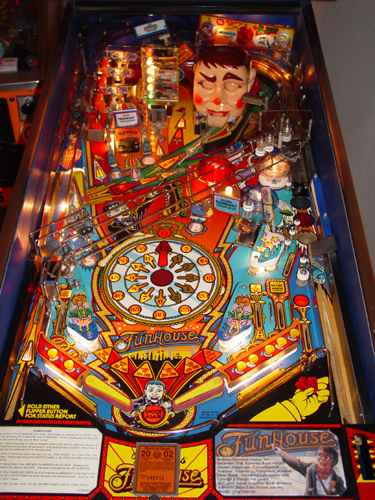 Another Funhouse lives to play and entertain.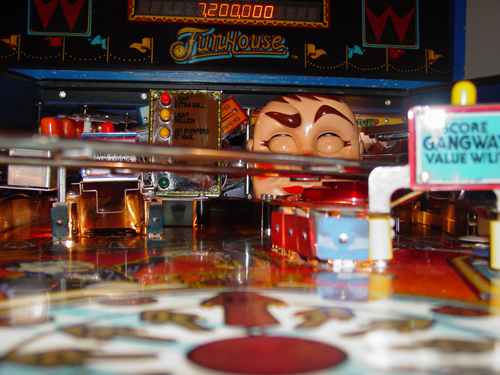 One last shot from the playfield..
---
Learn How to Play A Funhouse Pinball Machine Here
See Discussion on The Funhouse Pinball On rec.games.pinball
Learn How to Repair Your Funhouse Pinball Machine
See Pages Of Other Funhouse Pinball Machine Owners
See The Funhouse Pinball Machine Owners List
---
Current Funhouse Pinball Machines & Parts For Sale

---
FROM THE IPD
Funhouse (FH) / IPD No. 966 / December, 1990 / 4 Players
Manufacturer: Williams Electronic Games, Inc., a subsidiary of WMS Ind., Inc. (1985 - 10/25/1999)
Trade Name: Williams Model Number: 50003 MPU: Williams WPC (Alpha Numeric)
Type: Solid State Electronic (SS) Production: 10750 units (approximate)
Theme: Happiness - Circus/Carnival
Features: Flippers(3), Plungers(2), Multiball,
Toys: 'Rudy' - the talking, ball capturing head
Concept by: Pat Lawlor Design by: Pat Lawlor, Larry DeMar
Art by: John Youssi
Mechanics by: John Krutsch
Music by: Chris Granner
Sound by: Jon Hey, Brian Eddy
Software by: Larry DeMar Notes:
Ed Boon is the voice of Rudy.
Marketing Slogans: "The Game is Watching You"
CLICK HERE TO SEE THE FULL IPD ENTRY
Click Here To See Video of Rudy Work In Real Player
---
---
---
Free Title Strips - Pinball Instruction Cards - Jukebox Archive - Your Nostalgia Stop! - Classic Soda Advertising Pinball Pages - Drive In Theaters - My Gameroom - Ken's Resume - Links - Fortune Tellers - The Cave - View Guestbook - Sign Guestbook - Wanted To Buy - Wanted To Sell - Gameroom Chat - Ken's Poll -

I could really use a small donation to keep this site running. If you care to help click the button below to send $5.
Back To Kens Homepage