---
---
Fire Pinball by Williams of 1987 at www.pinballrebel.com
---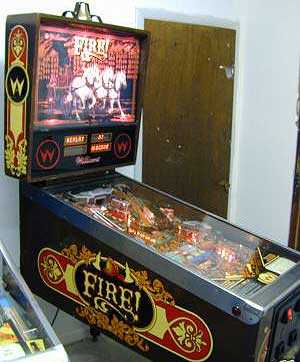 Simple game with aswesome art and fire effects.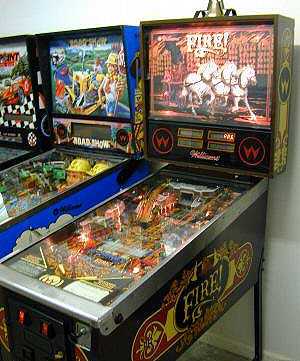 This game moo's when you put in your money. An Ode to the great Chicago fire.
Cows later beace a staple of Williams games.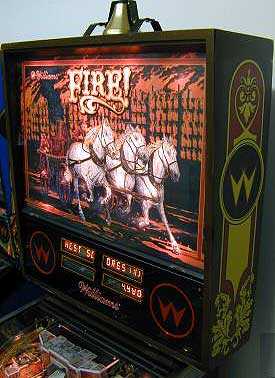 The bell on top also rings.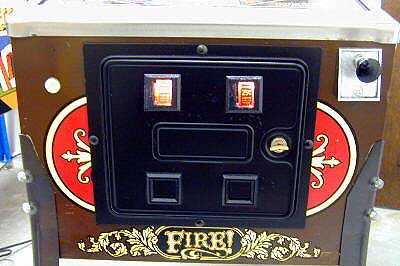 Coin Door shot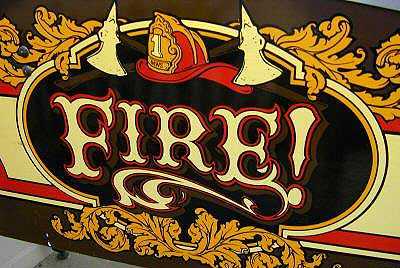 Any fireman would love this art.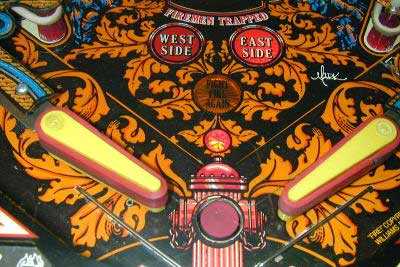 Outhole View which includes an upost between flipper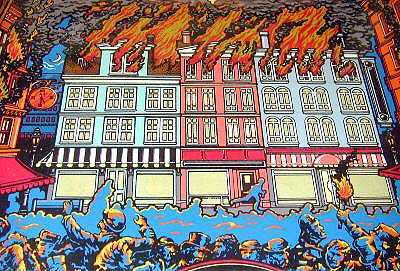 playfiled detail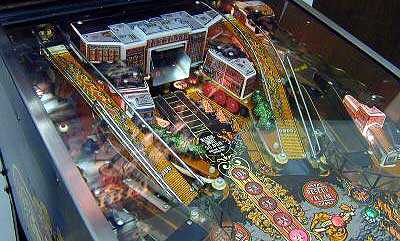 The burning building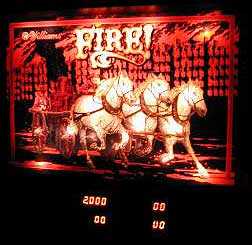 Night view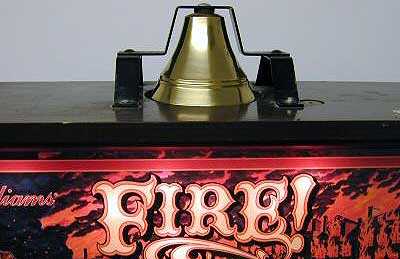 Ring that Bell!


The above photos are courtesy of Ken of
www.gameroomconnection.com
---
Learn How to Play A Fire Pinball Machine Here
See Discussion on The Fire Pinball On rec.games.pinball
Learn How to Repair Your Fire! Pinball Machine
Fire! Pinball Machine Owners List
See Pages Of Other Fire! Pinball Machine Owners
---
Fire Pinball Machines & Parts For Sale

---
---
FROM THE IPD

Fire!
August, 1987 4 Players
Manufacturer: Williams
Model Number: 556
MPU: Williams System 11A
Type: Solid State Electronic (SS)
Production: 7,700 units
Design by: Barry Oursler
Art by: Mark Sprenger
Sound by: Brian Schmidt, Rich Karstens
Software by: Dan Lee
CLICK HERE TO SEE THE FULL IPD ENTRY
---
---
Free Title Strips - Pinball Instruction Cards - Jukebox Archive - Your Nostalgia Stop! - Classic Soda Advertising Pinball Pages - Drive In Theaters - My Gameroom - Ken's Resume - Links - Fortune Tellers - The Cave - View Guestbook - Sign Guestbook - Wanted To Buy - Wanted To Sell - Gameroom Chat - Ken's Poll -

I could really use a small donation to keep this site running. If you care to help click the button below to send $5.
Back To Kens Homepage