---
DR WHO PINBALL by BALLY of 1990 at www.pinballrebel.com
---
I bought this game from an operator. Below you can see both before shopping pictures. This game is staying at Dan and Joy's place for now (thanks guys!). The only item that did not work when I bought it was the Time Expander. When I took it out and apart all of the optics just fell out of it onto the table. All of them had came loose from the board. I but them back and now it works great. The most unusual items about this game is that there are two markings under the game one says "16" and the other looks like a signature. I tried to get a photo but it did not come out. It looks like it says IAN in very fancy handwriting.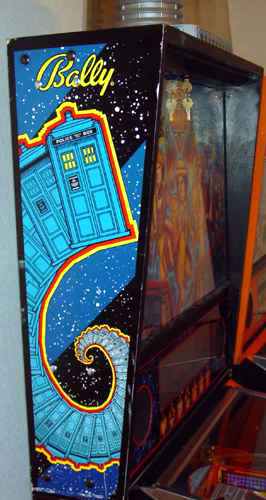 Side art is in great shape.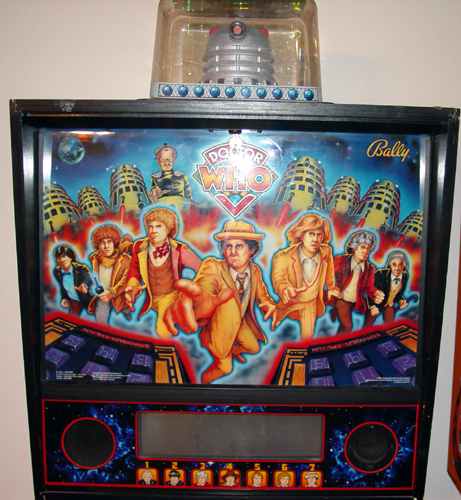 Awesome translite and dalek topper.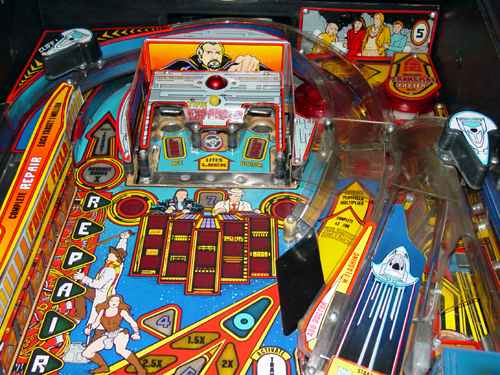 An upperplayfield shot.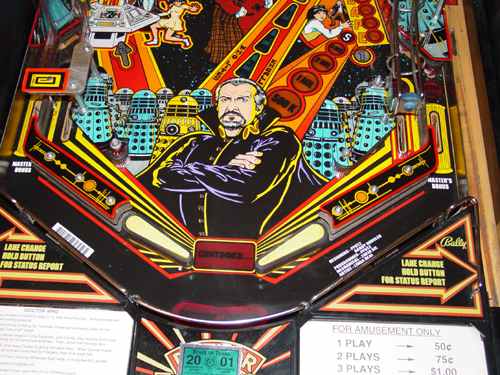 An lower playfield shot.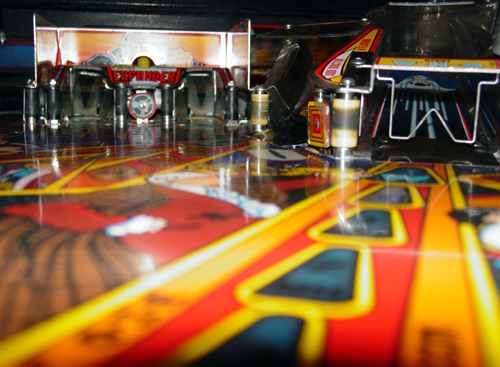 Ball's eyeview of the time expander.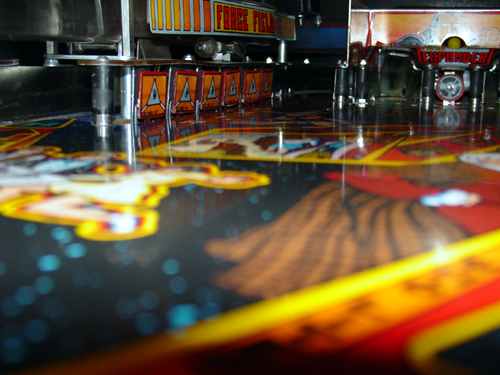 Another ball's eye view.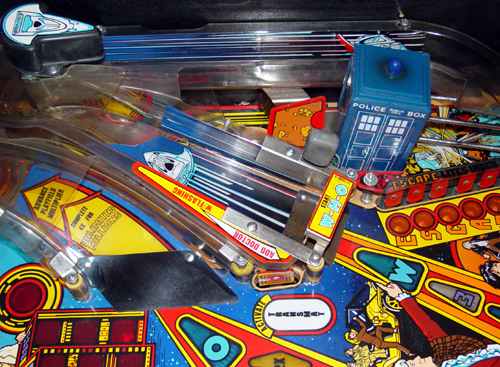 Ramps are in great shape.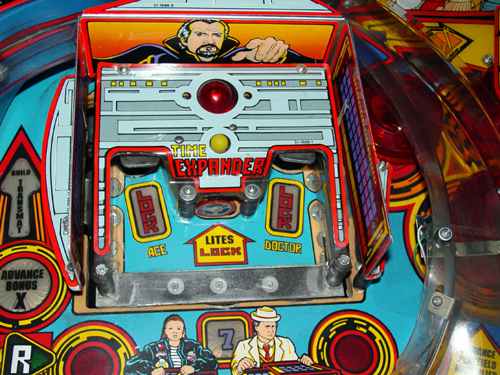 The time expander which required repair. A very cool toy.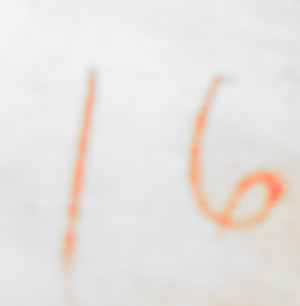 A mysterious #6 under the playfield.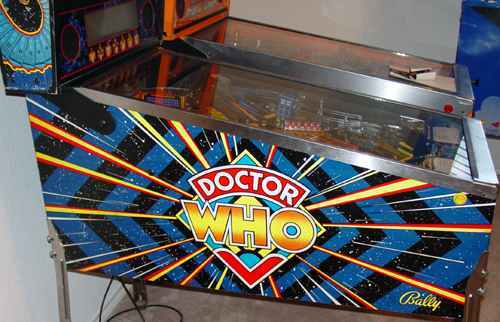 One last shot of the cabinet.
---
Learn How to Play A Doctor Who Pinball Machine Here
See Discussion on The Doctor Who Pinball On rec.games.pinball
Learn How to Repair Your Doctor Who Pinball Machine
See Pages Of Other Doctor Who Pinball Machine Owners
See The Doctor Who Pinball Machine Owners List
---
Dr. Who Pinball Machines & Parts For Sale

---
---
FROM THE IPD

Doctor Who (DW) / IPD No. 738 / September, 1992 / 4 Players
Manufacturer: Midway Mfg. Co., a subsidiary of WMS Industries, Inc. (1988-1999)
Trade Name: Bally
Model Number: 20006 MPU: Williams WPC (Fliptronics 2)
Type: Solid State Electronic (SS) Production: 7744 units (approximate)
Theme: Celebrities - Fictional - Licensed Theme
Notable Features: Flippers(3), Ramps(2), Multiball Toys: Three Level Mini-Playfield
Design by: Barry Oursler, Bill Pfutzenreuter
Art by: Linda Deal
Music by: Jon Hey Sound by: Jon Hey
Software by: Bill Pfutzenreuter Marketing Slogans: "It's About Time" & "The Doctor Is In..."
CLICK HERE TO SEE THE FULL IPD ENTRY
---
---
---
Free Title Strips - Pinball Instruction Cards - Jukebox Archive - Your Nostalgia Stop! - Classic Soda Advertising Pinball Pages - Drive In Theaters - My Gameroom - Ken's Resume - Links - Fortune Tellers - The Cave - View Guestbook - Sign Guestbook - Wanted To Buy - Wanted To Sell - Gameroom Chat - Ken's Poll -

I could really use a small donation to keep this site running. If you care to help click the button below to send $5.
Back To Kens Homepage