---
---
Dr Dude Pinball by Bally of 1990 at www.pinballrebel.com
---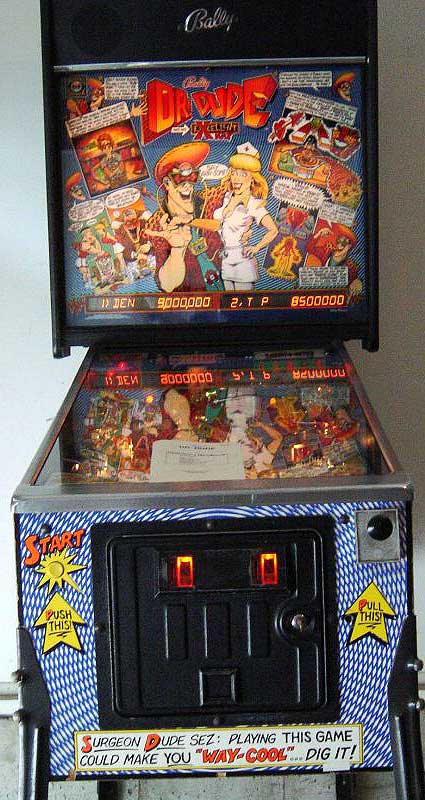 Comis book type artwork make for a cool game with great humor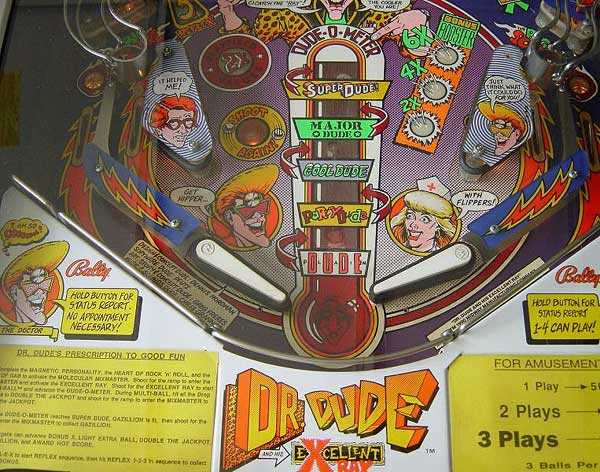 outhole view with flippers and excellent ray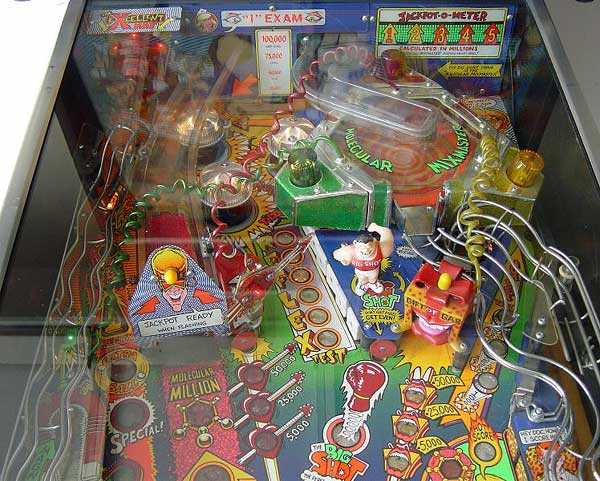 the mixmaster toy in the upper right is very cool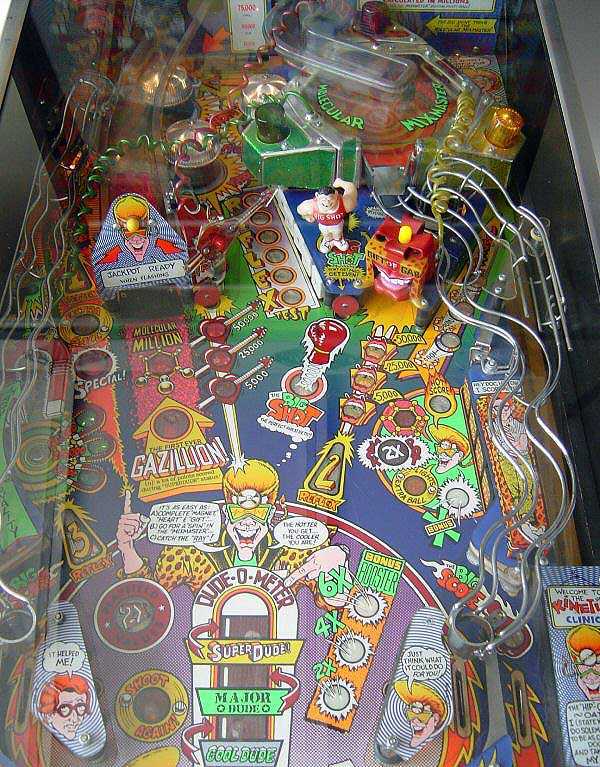 full playfield view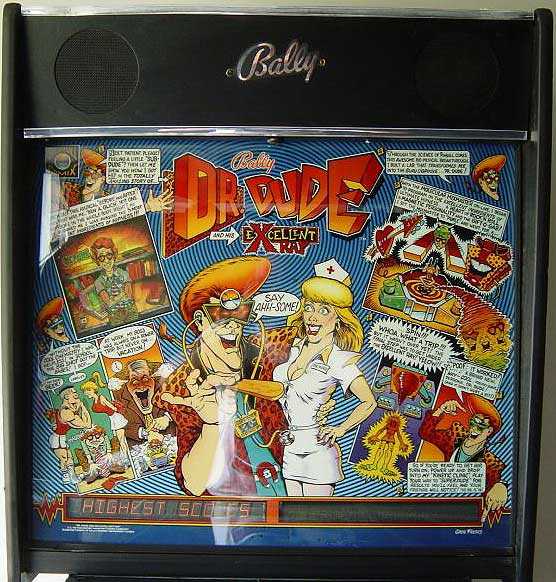 typical Bally cab for the time with top speakers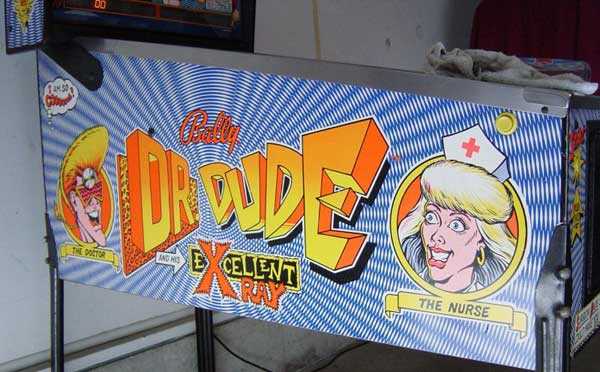 you are under my power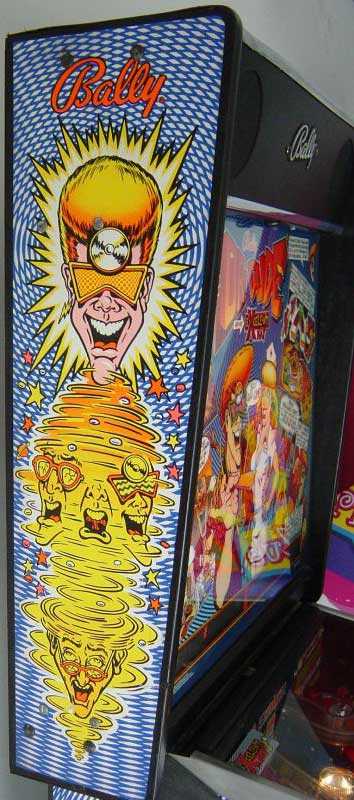 did we really dress like that in the late 80's?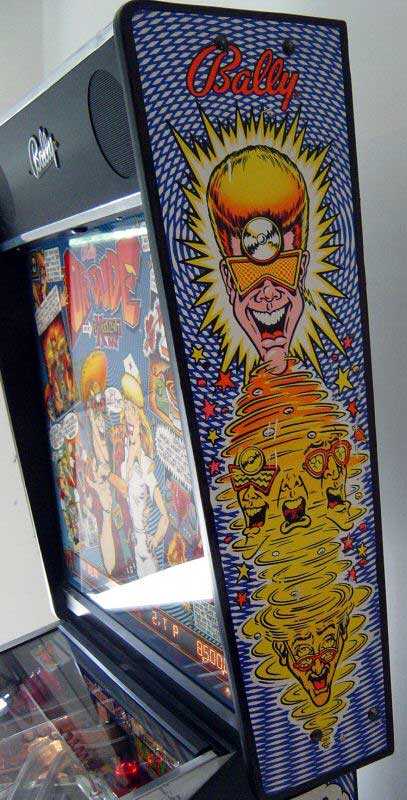 head artwork view

Above Photos Courtesy of Trevor T. of ionia, MI
---
Learn How to Play A Dr Dude Pinball Machine Here
See Discussion on The Dr Dude Pinball On rec.games.pinball
Learn How to Repair Your Dr Dude Pinball Machine
Dr Dude Pinball Machine Owners List
See Pages Of Other Dr Dude Pinball Machine Owners
---
Dr Dude Pinball Machines & Parts For Sale

---
---
FROM THE IPD
Dr. Dude
November, 1990 / 4 Players
Manufacturer: Bally
Model Number: 2016
MPU: Williams System 11C
Type: Solid State Electronic (SS)
Production: 4,000 units
Theme: Celebrities - Fictional
Notable Features: Flippers(2), Ramps(1), Multiball(2), VUK(2), Spinner(1), Habitrail(2), Magnet(1).
Toys: eXcellent Ray, Big Shot, Mix Master
Design by: Dennis Nordman
Art by: Greg Freres
Music by: Chris Granner
Sound by: Jon Hey
Software by: Bill Pfutzenreuter
CLICK HERE TO SEE THE FULL IPD ENTRY
---
---
---
Free Title Strips - Pinball Instruction Cards - Jukebox Archive - Your Nostalgia Stop! - Classic Soda Advertising Pinball Pages - Drive In Theaters - My Gameroom - Ken's Resume - Links - Fortune Tellers - The Cave - View Guestbook - Sign Guestbook - Wanted To Buy - Wanted To Sell - Gameroom Chat - Ken's Poll -

I could really use a small donation to keep this site running. If you care to help click the button below to send $5.
Back To Kens Homepage