---
Cactus Canyon Pinball By Bally of 1998 at www.pinballrebel.com
---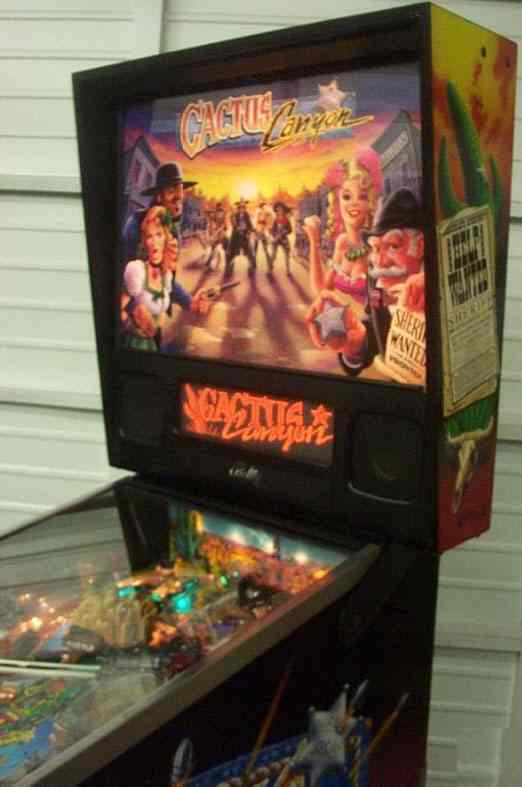 The last WPC era game to come off the line at Williams was this Bally Cactus Canyon. After this model they began production of the ill
fated Pinball 2000.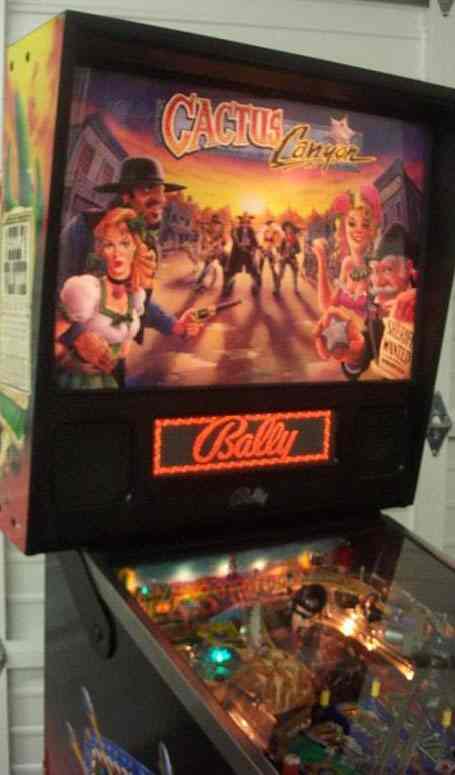 Artwork is classic Bally with cute girls and a western theme.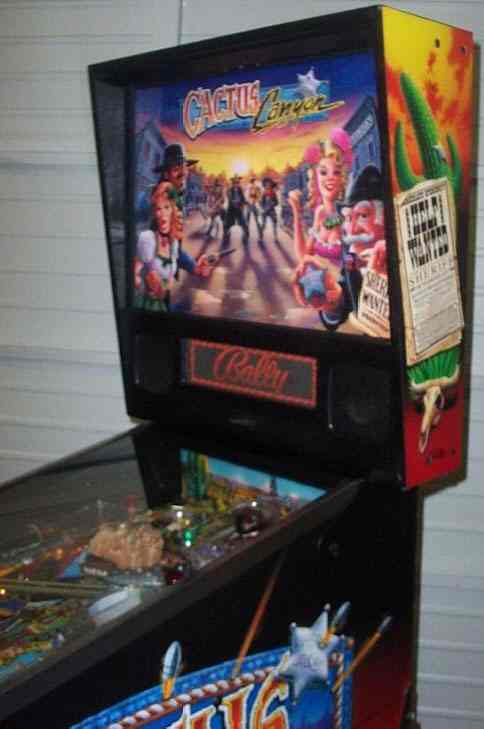 Another view of the side artwork.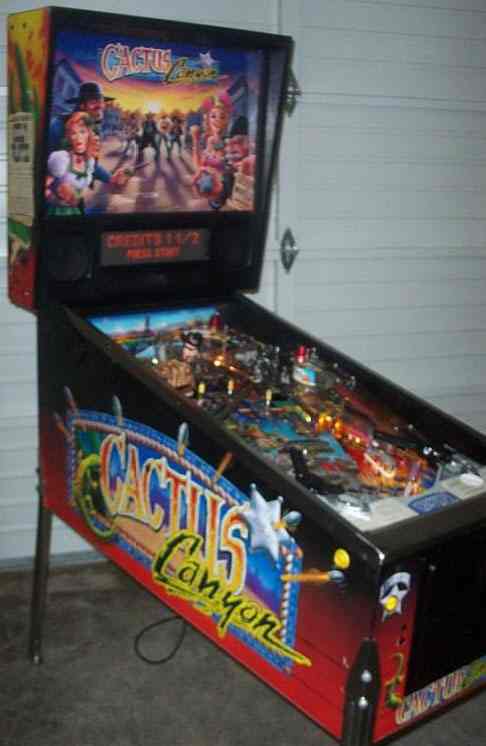 The cabinet used decals and they often tend to be wrinkled by the legs.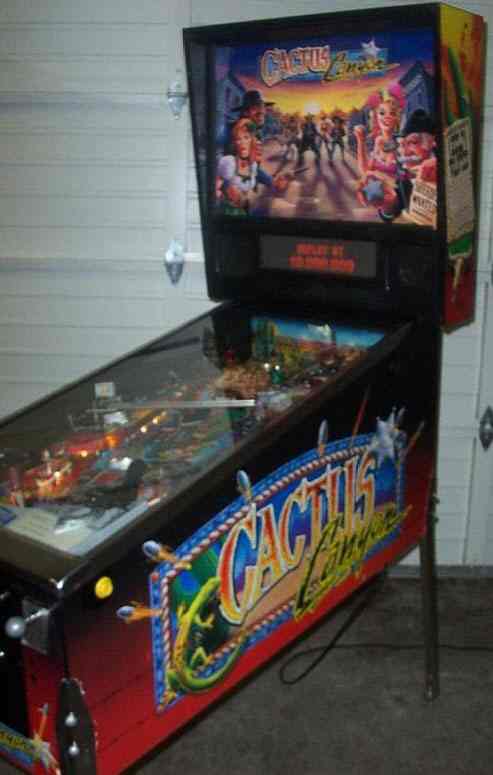 The choice of colors on this pinball is just amazing.

---
---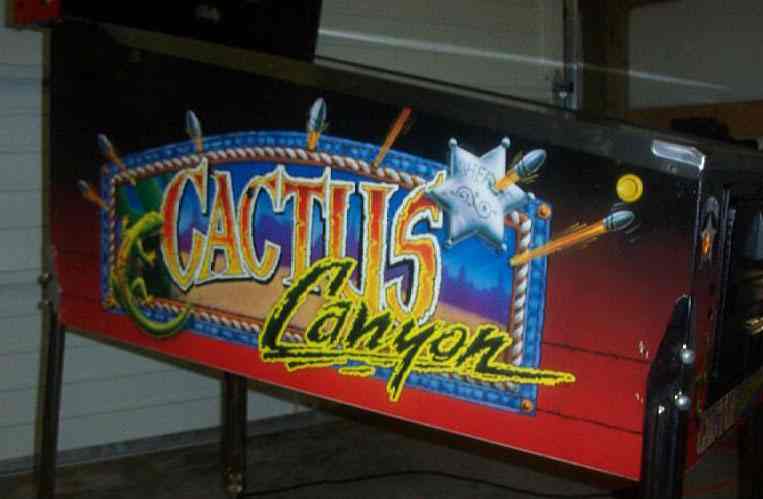 The game does have an imcomplete set of software. In the rush to get the game out the door the code was never really finished although
most non-advanced players will never notice.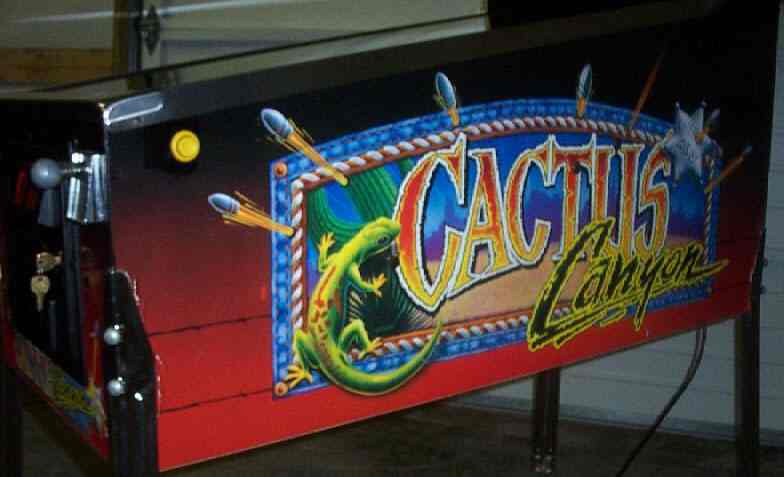 Production was so low on these games that they are very hard to find today.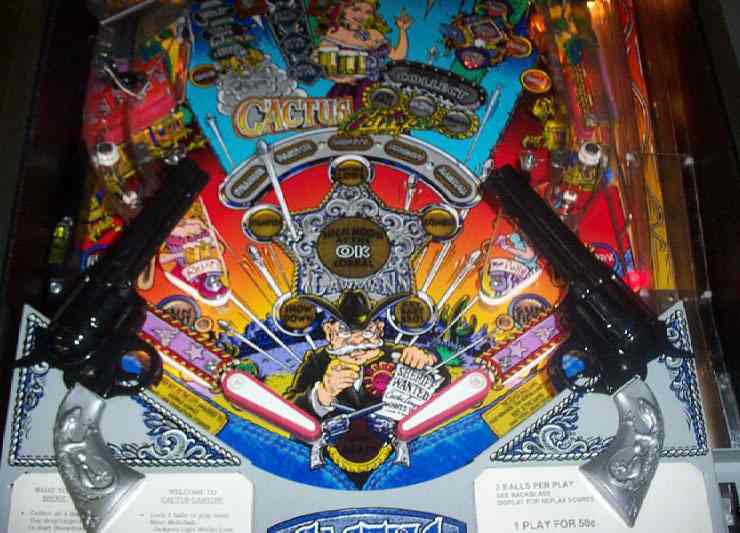 Outhole and flipper view. Notice the twin six shooters over the slings.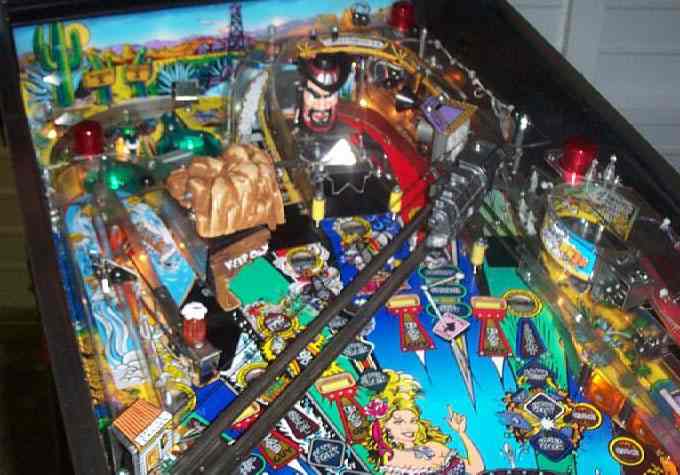 Upper playfiled view. Here you can see the train.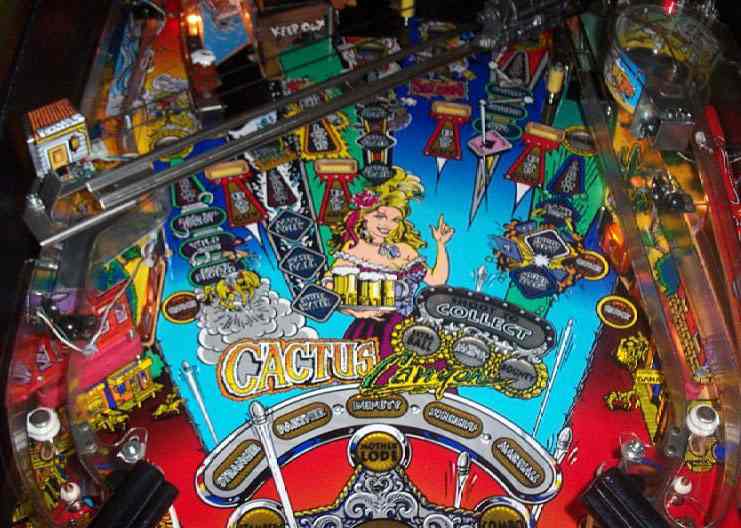 Middle playfield view.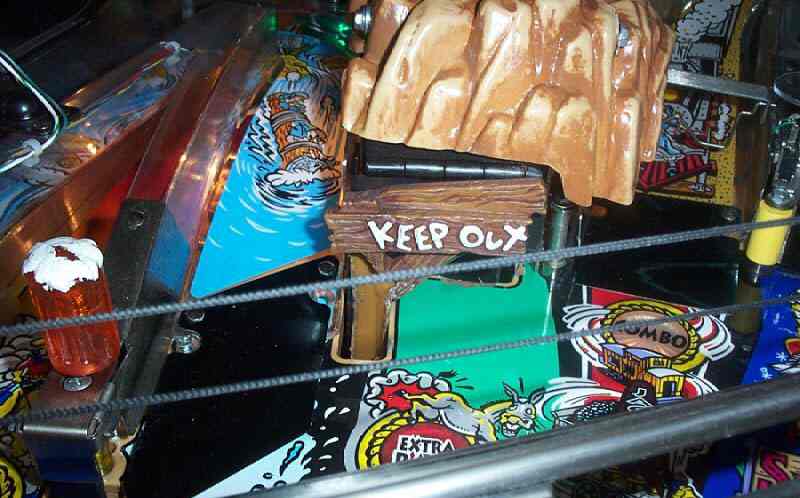 Playfield detail.

Above Photos Courtesy Of Tim Scott In Clackamas, Oregon
---
Below Photos Courtesy Of Mark Culbert www.childamusements.com.au
Something You Dont See Everyday. A Line Of These Rare Games In For Restoration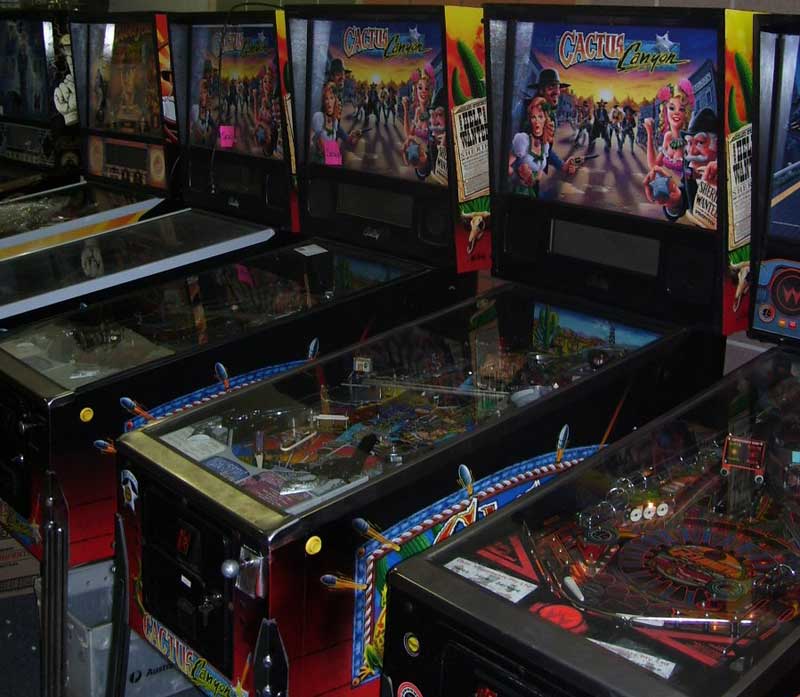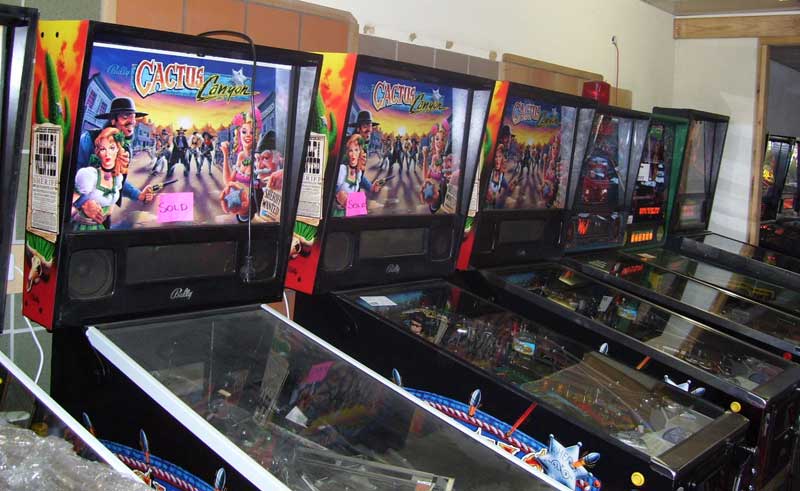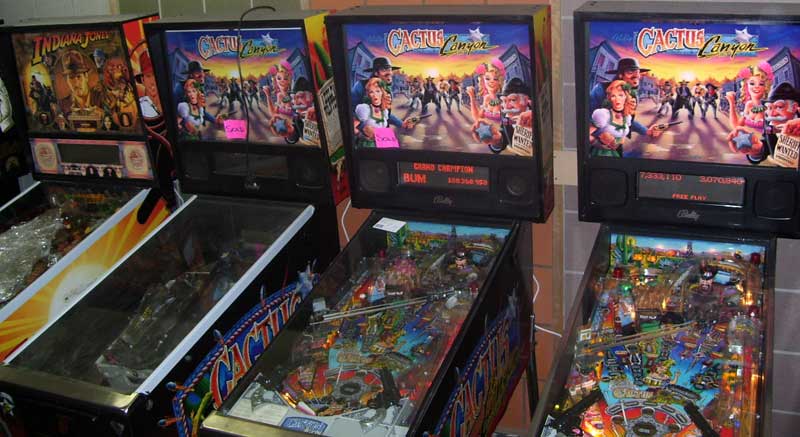 ---
Learn How to Play A Cactus Canyon Pinball Machine Here
See Discussion on The Cactus Canyon Pinball On rec.games.pinball
Learn How to Repair Your Cactus Canyon Pinball Machine
See Other Pages Featuring A Cactus Canyon Pinball Machine
---
Cactus Canyon Pinball Machines & Parts For Sale

---
---
FROM THE INTERNET PINBALL DATABASE
Cactus Canyon
October, 1998 / 4 Players
Manufacturer: Bally
Model Number: 50066
MPU: Williams WPC-95
Type: Solid State Electronic
Production: 903 units
Notable Features: Popup "bad guy" drop targets (4). Pop bumpers (2).
Toys: Moving Train on track; Bart head with popup hat; mine, with closeable mine door.
Design by: Tom Kopera, Matt Coriale
Art by: John Youssi
Dots/Animation by: Adam Rhine, Jim Raff
Mechanics by: Louis Toy
Music by: Rob Berry
Sound by: Rob Berry

---
---
Free Title Strips - Pinball Instruction Cards - Jukebox Archive - Your Nostalgia Stop! - Classic Soda Advertising Pinball Pages - Drive In Theaters - My Gameroom - Ken's Resume - Links - Fortune Tellers - The Cave - View Guestbook - Sign Guestbook - Wanted To Buy - Wanted To Sell - Gameroom Chat - Ken's Poll -

I could really use a small donation to keep this site running. If you care to help click the button below to send $5.
Back To Kens Homepage