---
THE MACHINE BRIDE OF PINBOT PINBALL BY WILLIAMS
---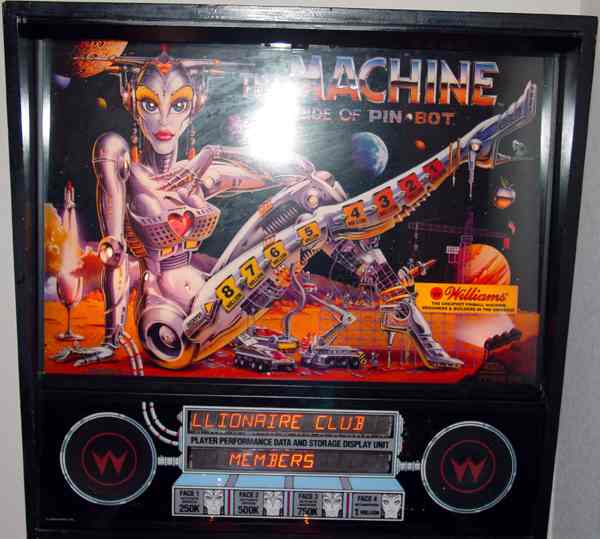 The Machine Bride of Pinbot was a sequel to the very popular Williams Pinbot Pinball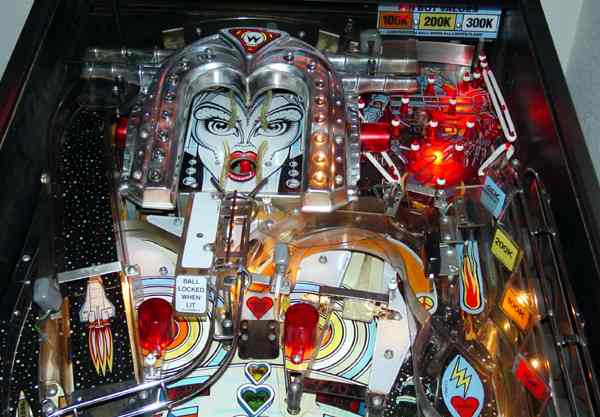 Here you see the games main feature the robot face that require you to lock various balls to turn her into a human.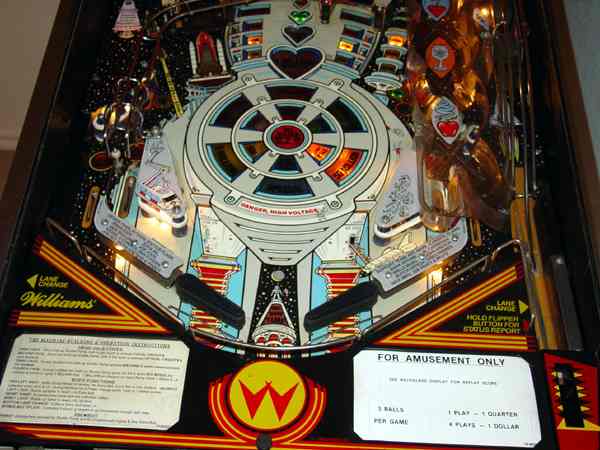 Despite the fact that the bride is mechanical the art team tried to make her very erotic.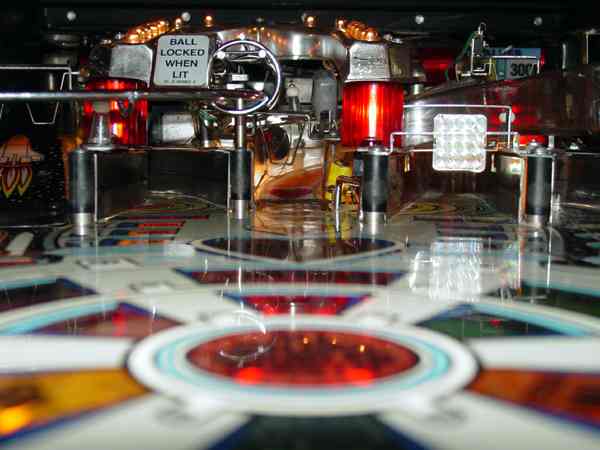 Here is a playfield view from the pinballs POV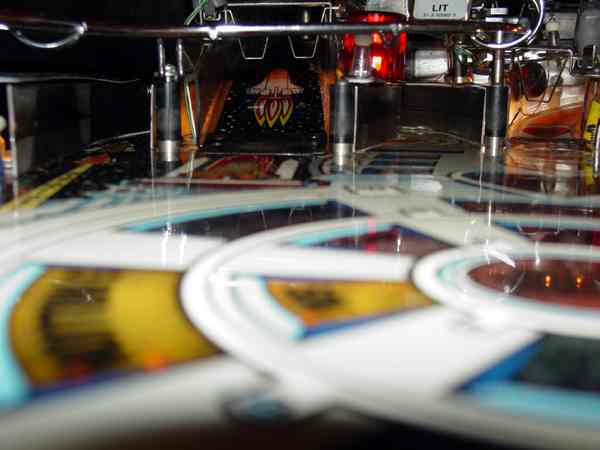 The ramp entrance.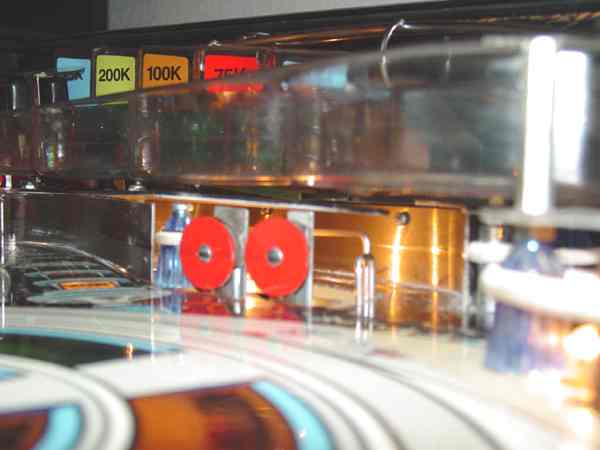 Two red stand up targets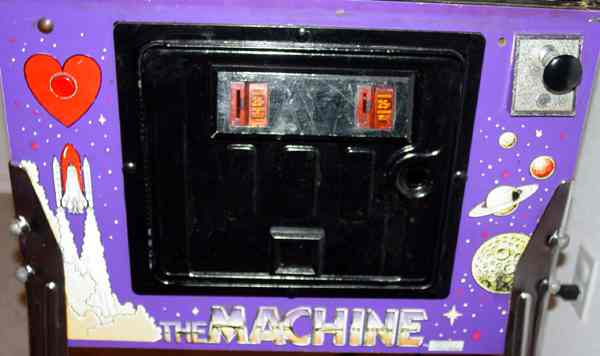 The coin door area features the space shuttle which also made a Williams game.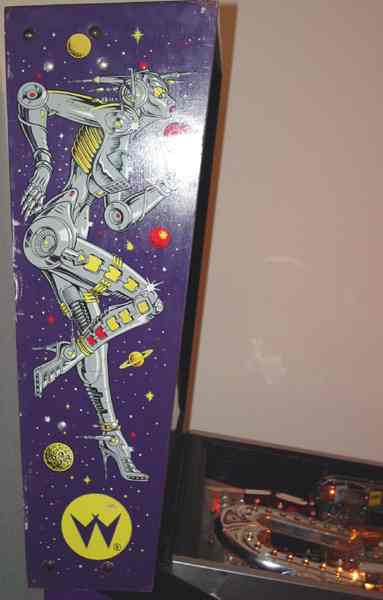 Backbox artwork has the Williams logo and a very lovely robot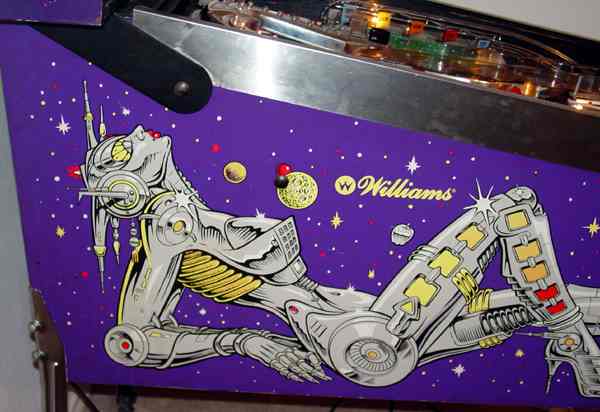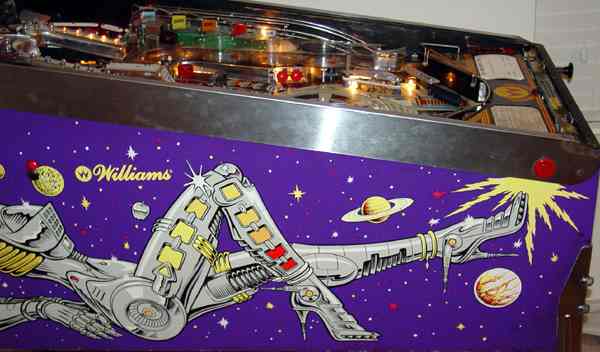 Side art can raise a few eyebrows as well.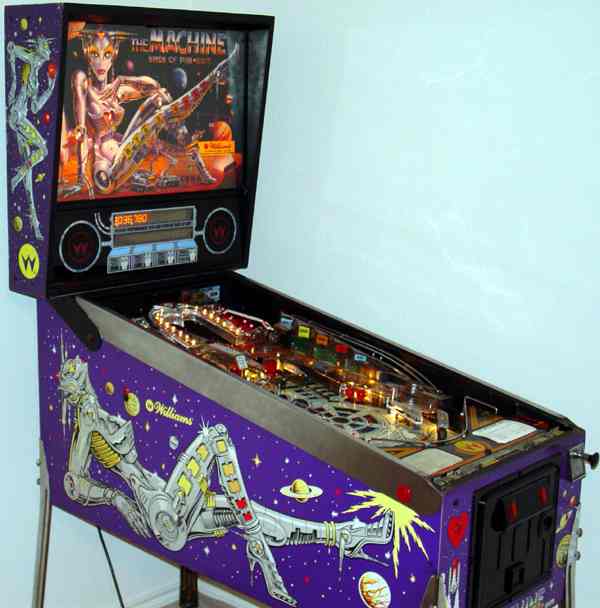 ---
Learn How to Play A Bride Of Pinbot Pinball Machine Here
See Discussion on The Bride Of Pinbot Pinball On rec.games.pinball
Learn How to Repair Your Bride Of Pinbot Pinball Machine
See Pages Of Other Bride Of Pinbot Pinball Machine Owners
See The Bride Of Pinbot Pinball Machine Owners List
---
Bride of Pinbot Pinball Machines & Parts For Sale

---
FROM THE INTERNET PINBALL DATABASE
The Machine: Bride of Pinbot (TM:BOP) February, 1991 4 Players
Manufacturer: Williams Electronic Games, Inc., a subsidiary of WMS Ind., Inc. (1985 - 10/25/1999)
Model Number: 50002 MPU: Williams WPC (Alpha Numeric)
Type: Solid State Electronic (SS) Production: 8100 units (approximate)
Theme: Fantasy Notable Features: Flippers(2), Ramps(2), Multiball
Concept by: Python Anghelo Design by: John Trudeau, Python Anghelo
Art by: John Youssi
Music by: Dan Forden Sound by: Jon Hey
Software by: Brian Eddy Marketing
Slogans: "Watch Her Turn Heads!"
"Here Comes the Bride!"
VIEW THE COMPLETE IPD ENTRY
---
---
---
Free Title Strips - Pinball Instruction Cards - Jukebox Archive - Your Nostalgia Stop! - Classic Soda Advertising Pinball Pages - Drive In Theaters - My Gameroom - Ken's Resume - Links - Fortune Tellers - The Cave - View Guestbook - Sign Guestbook - Wanted To Buy - Wanted To Sell - Gameroom Chat - Ken's Poll -

I could really use a small donation to keep this site running. If you care to help click the button below to send $5.
Back To Kens Homepage