---
---
Seeburg 148 of 1948
---
The Seeburg 148 Jukebox is sometimes called the trash can or washing machine due to its unusual shape. I saw it and just had to have it. I traded a USC1 bandshell for it. I had to restore it though. This machine is made of metal although it has a wood grain finish. It plays one side of 20 78 RPM records. This machine spent most of its life in a drug store in VV, Texas. I am its 3rd owner since 1948.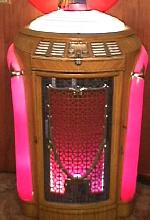 ---
Free Title Strips - Pinball Instruction Cards - Jukebox Archive - Your Nostalgia Stop! - Classic Soda Advertising Pinball Pages - Drive In Theaters - My Gameroom - Ken's Resume - Links - Fortune Tellers - The Cave - View Guestbook - Sign Guestbook - Wanted To Buy - Wanted To Sell - Gameroom Chat - Ken's Poll -

I could really use a small donation to keep this site running. If you care to help click the button below to send $5.
Back To Kens Homepage

---