---
---
VENDO 81 COCA-COLA MACHINE
---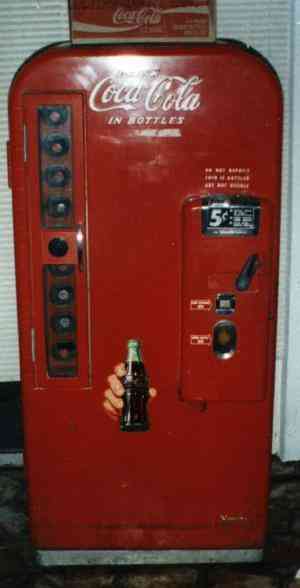 This is a vendo 81 Coca-Cola machine. This is the first version. You can tell because it is solid red and the embossed metal is off center. A later version of this machine is much more common which is red with a white top with a bit of chrome that splits the top from the rest of the machine.


I bought this machine from the parent of a student the first year I started teaching. I was lucky because she let me pay it out over several months. It looks very heavy but its not to bad. Once it is filled with drinks it is impossible to move though.

Finding drinks for a machine of this type is a quest. Not just any quest but a serious quest. I spent a lot of time tracking down drinks only to have Coca-Cola Enterprises mess it up. They bought out almost every bottler in the state of Texas that still used returnable bottles and promptly discontinued them. When I made a complaint I was told that they had (smashed all those old bottles because they didn't want to mess with them)


Yes, here in the US we have to drink from (yuck) plastic bottles. This is an outrage! It's bad enough that the big plants switched over from sugar to corn syrup, but to expect us to drink out of plastic? To my knowledge the only Coca-Cola plant in the state of Texas still doing runs of returnable bottles is the Lufkin plant in east Texas which (Thank Goodness!) has not been bought by Coca-Cola Enterprises. The only drawback is that they only bottle the 10oz versions and you must travel to Lufkin to get them.

Yes, you can still get glass Cokes in the toss away 8oz bottles but here in Texas they average $4-$5 a six pack which to me is highway robbery. If you sneak across the border into Oklahoma the price drops to $2.48. The other advantage to driving to Oklahoma is that more flavors are available in 8oz bottles. Currently the Great Plains Coca-Cola company in Oklahoma City is doing runs of Coke, Diet Coke, Dr Pepper, and Sprite. In Texas Coca Cola Enterprises only offers Coke and Sprite.

So what are all those flavors in my machine? Well if you do a little digging you can find gold! A quick trip to Dublin, Texas will put you on the trail of the worlds oldest Dr-Pepper bottler. They still use real sugar and returnable bottles. If you can't make the trip don't worry they ship! Flavors currently include Dr Pepper, Nu-Grape, Suncrest Orange, Big Red, Frosite Root Beer.

Click here to visit them in Dublin, Texas.

The Dr Pepper Company in Dallas offers consumers toss away long neck bottles (hey this is the south it is a redneck thing ya'll). These are pretty decent. Current flavors include Dr Pepper, Diet Dr Pepper, Sukist Orange, Welches Grape, A&W Rootbeer, Big Red, and 7-UP. This run about $10 a case and will work fine in a machine that could use the original 10oz bottles.

The Pepsi Bottler in West Texas also bottles in longnecks and is a source for Pepsi, and Mountain Dew.

What ever you find never try to use Mexican bottles. These Coke and Pepsi bottles are 11.5oz and are just big enough to jam your machine. However, they are good drinking soda waters. In South America pure can sugar is cheap and this is what they use to bottle the drinks with. Most stores that cater to Hispanic clients will have these in the ethnic food section. Buy a few and try them out and the bottles make great keepsakes. Also try a JOYA cola if they have one.

As always I am trying to find bottlers across the US who still bottle in returnables. If you know of any please email me at the link at the bottom of the page.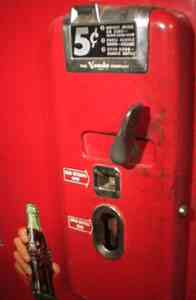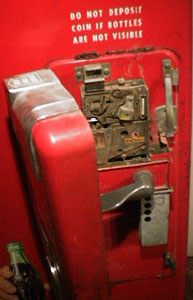 This is the coin door notice it is 100% mechanical.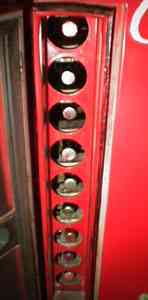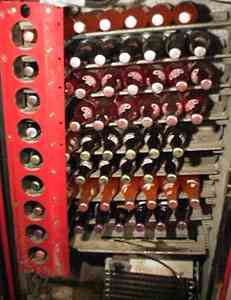 Ahh! Look at all those choices!
Simply the best. Real soda waters in a real machine.
---
Free Title Strips - Pinball Instruction Cards - Jukebox Archive - Your Nostalgia Stop! - Classic Soda Advertising Pinball Pages - Drive In Theaters - My Gameroom - Ken's Resume - Links - Fortune Tellers - The Cave - View Guestbook - Sign Guestbook - Wanted To Buy - Wanted To Sell - Gameroom Chat - Ken's Poll -

I could really use a small donation to keep this site running. If you care to help click the button below to send $5.
Back To Kens Homepage

---