I buy fortune teller machines email me at ken@pinballrebel.com
---
---
Modern Fortune Teller With Screen
---
If you have more information please contact me.

Built By: Unknown
Year Built: Unknown
Number Made: Unkown
Designer: Unknown
Country of Construction:Unknown

Special Features: A classic reproduction model of a 1950's style coin operated fortune teller known as a coffin fortune teller. This machine features the Skull looking outside of his black wooden coffin which has a clear window with the Skulls head inside and a red velvet background. When you insert a nickel into the slot the skulls head will move around inside of the coffin clear window section of the coffin. Also when the machine is not in use the top roof lighting unit inside of the machine will stay on for attraction mode. Once the movements are complete a fortune ticket will appear in the slot. The top marquee sign on the machine reads: Ask The Skull and the gothic style sign on the cabinet reads: Answers from Beyond. The cabinet is made out of wood and the cabinet features reflective silver/white decals to give the machine that spooky haunted house look. The dimensions of this machine are 5ft.and 10in. height, 1ft. and 10in. width and 1ft. depth. This machine is electrical and comes dispenses fortune tickets.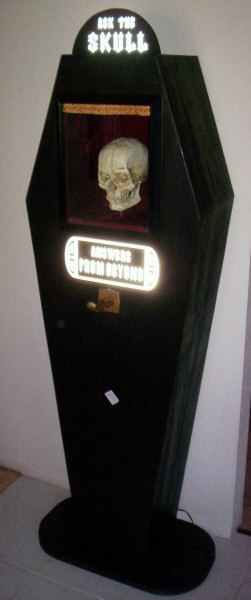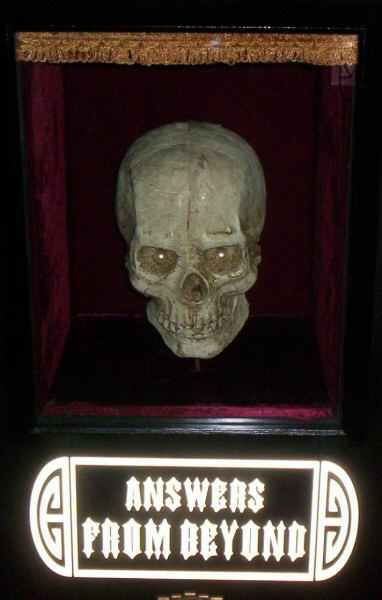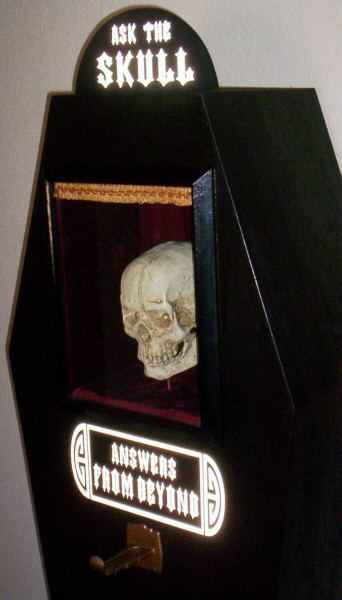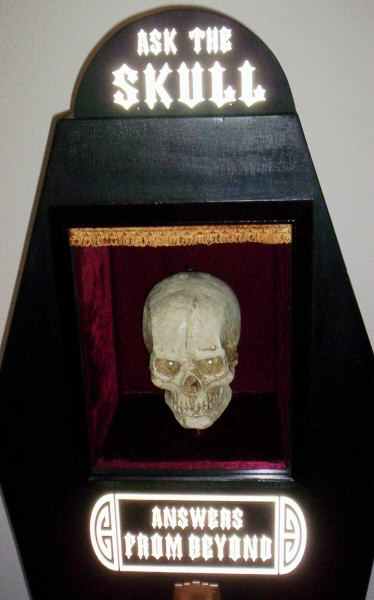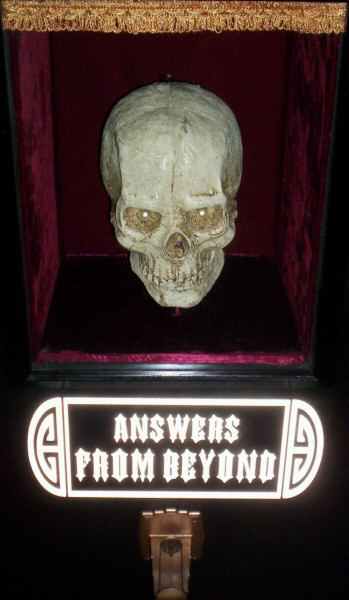 If you have a fortune teller machine for sale in any condition or if you have information of pictures to add to the archive please contact me.
I buy fortune teller machines email me at ken@pinballrebel.com
---
Buy A Cool Fortune Teller Like This Here
---
Free Title Strips - Pinball Instruction Cards - Jukebox Archive - Your Nostalgia Stop! - Classic Soda Advertising Pinball Pages - Drive In Theaters - My Gameroom - Ken's Resume - Links - Fortune Tellers - The Cave - View Guestbook - Sign Guestbook - Wanted To Buy - Wanted To Sell - Gameroom Chat - Ken's Poll -

I could really use a small donation to keep this site running. If you care to help click the button below to send $5.
Back To Kens Homepage

---