I buy fortune teller machines email me at ken@pinballrebel.com
---
---
The Gypsy Fortune Teller Arcade Machine At www.pinballrebel.com
---
Built By: Unkown
Year Built: Unkown
Number Made: Unkown
Designer: Unkown
Country of Construction:Unkown
This is a great looking older European style Gypsy Fortune Teller machine
featuring a very pretty gypsy lady sitting in a room in front of her table staring into her crystal ball.
The inside of the machine is really neat with a minature picture on the wall and minature knick knacks
on the shelves of the room. This machine operates on a quarter and when the customer places a
quarter in the coin slide slot, the Gypsy's head will then tilt down towards the crystal ball and it will light up.
Then, her head will tilt up and down the chute will come your fortune ticket.
The inside of the machine is lighted with a two bulb light unit in the roof area of the machine.
This machine is electrical/mechanical and is in good working condition and is fully stocked with very small
square size fortune tickets which are about 1 1/2in. square. The cabinet is made out of a oak style wood with
gold metal casting trim and legs. The head and body of the gypsy is made out of some kind of composition
material and the hands are a molded type material. This machine is in very good condition and the dimensions
of this item are 5ft. and 10in. height, 1ft. and 5in. width.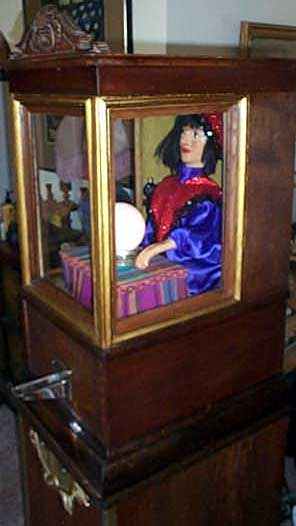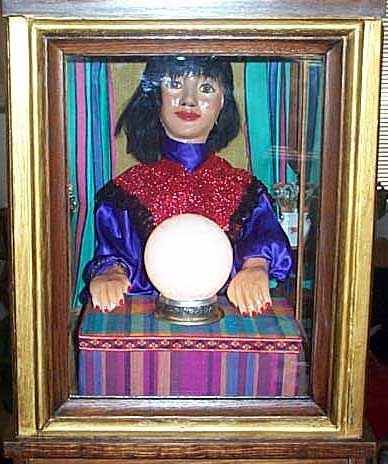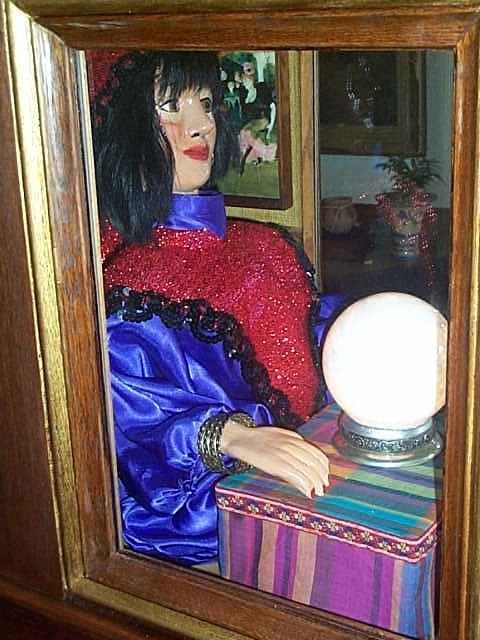 If you have a fortune teller machine for sale in any condition or if you have information of pictures to add to the archive please contact me.
I buy fortune teller machines email me at ken@pinballrebel.com
---
Buy A Cool Fortune Teller Like This Here
---
Free Title Strips - Pinball Instruction Cards - Jukebox Archive - Your Nostalgia Stop! - Classic Soda Advertising Pinball Pages - Drive In Theaters - My Gameroom - Ken's Resume - Links - Fortune Tellers - The Cave - View Guestbook - Sign Guestbook - Wanted To Buy - Wanted To Sell - Gameroom Chat - Ken's Poll -

I could really use a small donation to keep this site running. If you care to help click the button below to send $5.
Back To Kens Homepage

---