---
---
Hi-View Drive-In Theater in Commerce, TX at www.pinballrebel.com
---
Photos And Story By Bill Salamon & Are Used By Permission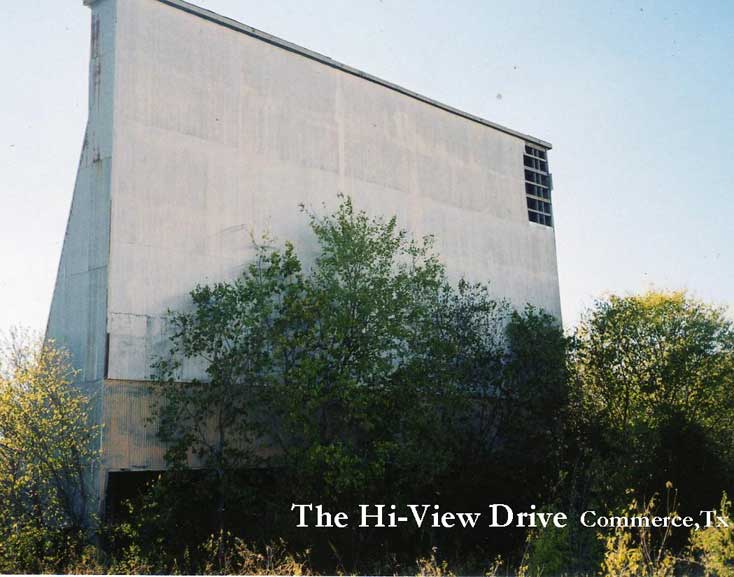 You know for years living in East Texas and going back and forth to Commerce,
I have always taken the back road, which is Hwy. 224. As you come into Commerce
and start climbing the hill at the main exit to Texas A&M College, you can see
an old metal shell of what appears to be a Drive-In Movie Theater off to the
left and about a mile away on Hwy 2874. For years it's been sitting there like
some ancient monument wasted away by the elements. Today as I was leaving Commerce
and approached the top of the hill out of town, something compelled me to go take a look.
Since I didn't have any dead lines or places I had to be, I thought it would be a now or
never time to see something from the past that held memories for many.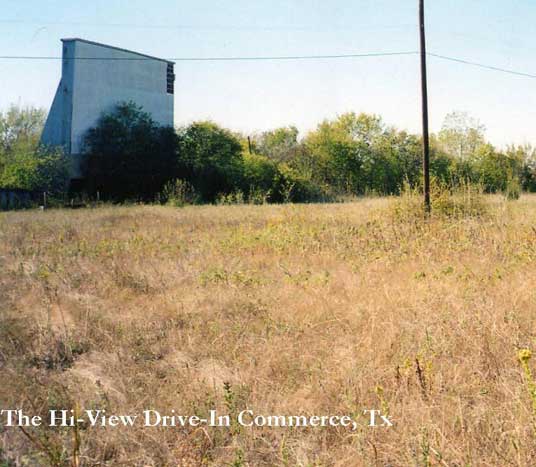 As I drove closer along the narrow deserted highway near what must have been the entrance
to the Drive-In, I could see a large metal building off to the right with some fairly late
model trucks parked outside. I pulled up into a dirt driveway, got out and walked through
a large double overhead door into what appeared to be a horse-training center. A man was
putting a bridle on a pinto, and as I approached him he was rather friendly. With a big
"Howdy" he thrust his hand out for a shake. I told him who I was and that for years I have
been wanting to stop here and take a look at the old Drive-In Theater next door. He looked
at me with his sun soaked eyes, reddish skin and heavy lines and wrinkles in his face and
said, "Why? Why would you want to see that old thing?" I proceeded to tell him as briefly
as I could about my interest in nostalgia and the arts, including theatre. I asked him who
owns the property and what's left of the old Drive-in, and he said, "I do". His name was
Mr. McDonald and he had been living near there for a long time. The large metal building
at one time was a hanger for the local airport. He moved close to it when he purchased
the land, and built his house near his training stable.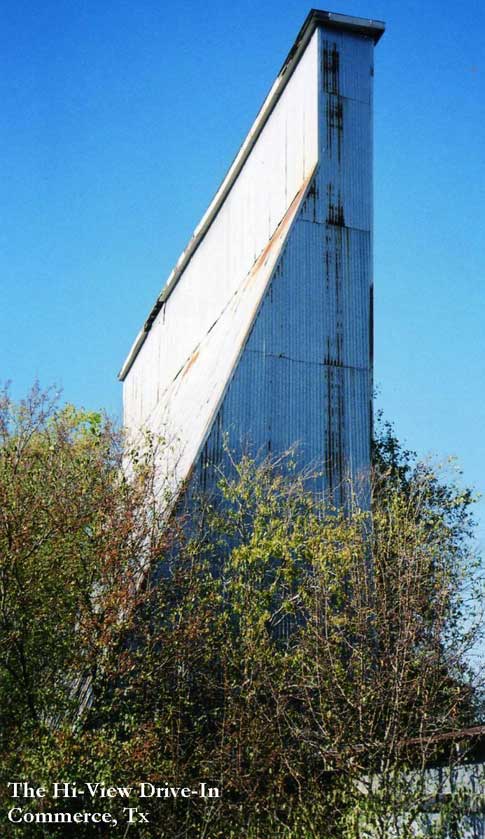 He told me the old Drive-In Movie Theater was called "The Hi-View" and was built in the early
1940's. It closed in late 1959 and reopened again with new renovations in 1961. After opening
in 1961, it soon became apparent to the owners that if they were to survive in a college town,
they would have to show adult films and serve beer. Even the local Sheriff had a trailer off
in the distance facing the huge screen, so things were usually kept calm among the college
kids and other locals who would even park outside the gate along the road to catch a
glimpse of the latest "B" movie and flesh feast. I told Mr. McDonald that I wanted to
get a few pictures with my camera before it was torn down and gone forever.
He said to me, "Be my guest". I quickly ran to my car and got my camera out of my zipper bag
and started walking toward what seemed to be an already marked trail of dirt and hay that was
matted down and all around me was as high as my knees. Things always look smaller off in the
distance, but when you get closer they seem to be overwhelmingly bigger. I had to make my
way through the high weeds and hay hoping I wouldn't run into any snakes or something worse.
I assumed that I was entering along the curved dirt road where at one time a tall rather over
bearing lighted sign shot up into the air for people to see for miles in each direction.
Moving lights must have flashed and flickered on and off spelling out the letters HI-VIEW one
by one and another set of lighted arrows pointing into the entrance. Drive-In box offices were
always lit with yellow and purple neon bug lights, and the ticket taker would hand out suckers
for free to all the kids in the car.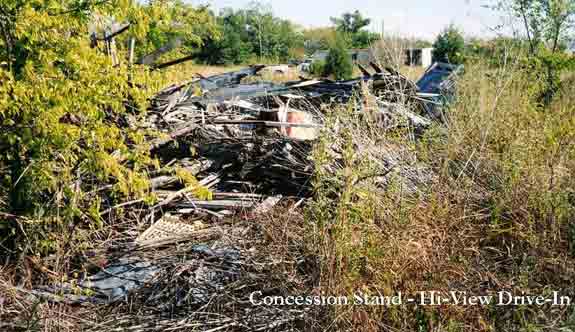 After walking over cracks and ruts in the black earth, I was finally standing next to the giant
screen that stretched 80 feet or more into the air, and I could see that large sections of it were
missing and several maple and oak trees brushing against it, made their way to it's center. I could
hear chickens and other poultry that had made their home in the base of it's structure, where long
ago a kids playground with swings and rides squeaked and squawked under the summer moon.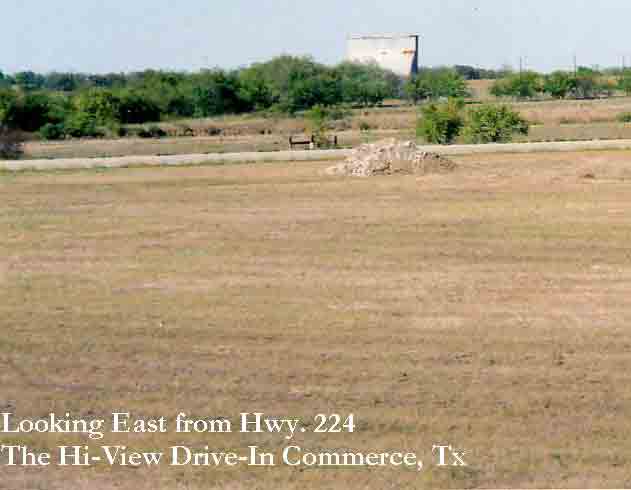 Raising one leg at a time through the overgrowth, I found myself standing in the center of the Drive-In
Movie Park. Behind me some forty feet was a pile of aged lumber and debris that once stood as the
concession stand and projection room. I reached an area of the pile where I was able to walk on a
cement floor where families would gather before; during and after the movie to savor the hot popcorn
and snacks as they could hear the big projector collecting it's film onto it's take-up reel, and the
motor and lamp were burning images across the park onto the screen. Bits and reminders of some of the
kitchen and snack bar were still visible. Rusted pipes and a bent metal top from a soda cooler were
lying under the twisted sheet metal and rotted wood with nails sticking out of them.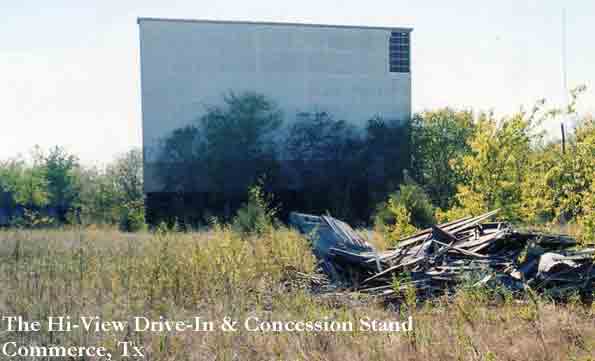 I took several pictures from a view that at one time would have been the "best seat in the house", and
with each step feeling the ground under my shoe were the grated humps that once supported the front wheels
of those cars we now deem as classic. The Chevy's, Oldsmobile's and Ford's that had that special paint
and trim with canvas convertible tops. The station wagons and trucks backed in and filled with families
and kids nestled on mattresses and stacks of pillows. Grandpa and Grandma sitting outside the car on their
favorite lawn chair as the speakers hung on the car windows for all to hear. There was the smell of
hot dogs and fresh roasted peanuts filling the senses of the outdoor moviegoers as they walked from
their cars to the snack bar and back again. The children all running to grab a swing or make themselves
dizzy on the twirl-a-round under the big screen as they would stretch their necks and stare straight up
into the sky catching only moments of the movie as they would go around and around.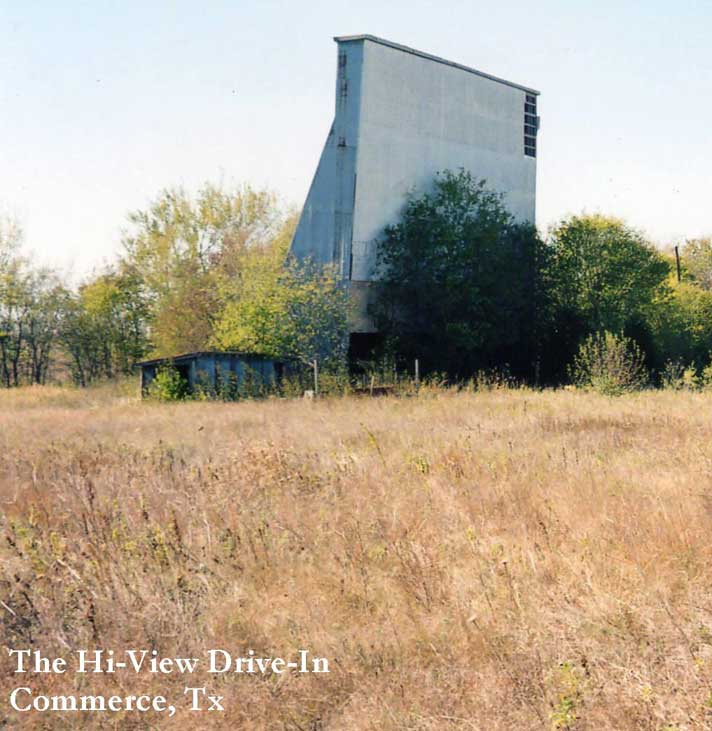 Closing my eyes I could hear the words being spoken from the "bigger than life" Movie Stars, and the sound
would echo across the park. The music would swell and the ending credits would give a signal that intermission
was almost here. The giant flood lights on top of the screen would come on and turn the night into day as
an announcement came across the speakers, "Snack Bar closes in fifteen minutes" and a colorful cartoon
commercial blares out it's theme "Let's All Go To The Lobby, To Get Ourselves a Treat" as the dancing
popcorn, candy and drink lead us to the snack bar. Then just in time for the next feature, parents
are rounding up their kids to settle them down for sleep in back seats and floorboards, so they can
enjoy the second movie with a more mature theme.
The wind is beginning to whip through the holes in the metal supports of the screen, and a couple of
pieces of loose metal siding are swinging back and forth as the sound pierces the cool afternoon.
I took a few more pictures at different angles and started walking back up the path I had made through
the trampled weeds. Stopping near the entrance once again and turning around for one last look toward
the screen, I could see Gene Kelly dancing in the rain with his umbrella, Gary Cooper walking down the
street in "High Noon", James Dean sitting on top of that windmill in "Giant"; William Holden and Kim Novak
dancing under the lights in "Picnic"; Gregory Peck sitting on the porch with "Scout" in
"To Kill a Mockingbird", and Burt Lancaster kneeling down in front of a burned out church in "Elmer Gantry".
I somehow knew I would feel this way, and I knew I would see the things I saw today as they have
withered away, but somehow they have all never really gone away. They have just been put away someplace
waiting for another applause.
Photos And Story Above By Bill Salamon & Are Used By Permission
Photos Below Are Courtesy Of Nick Johnson & Are Used By Permission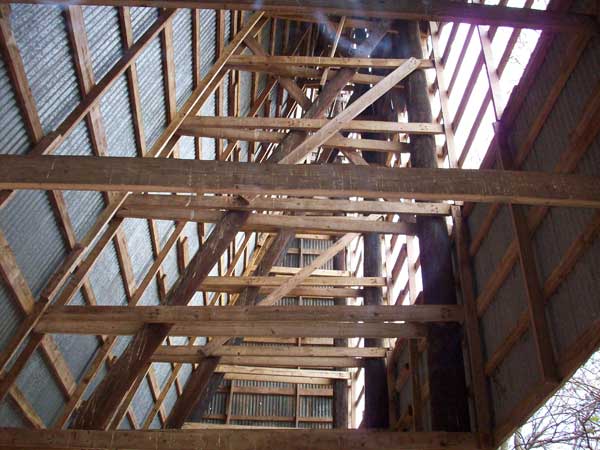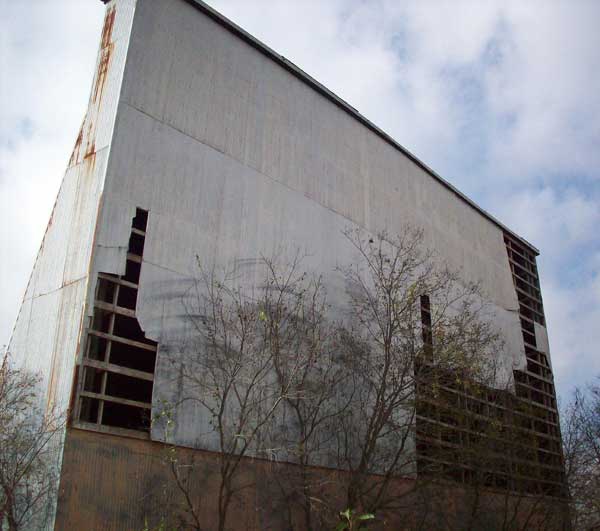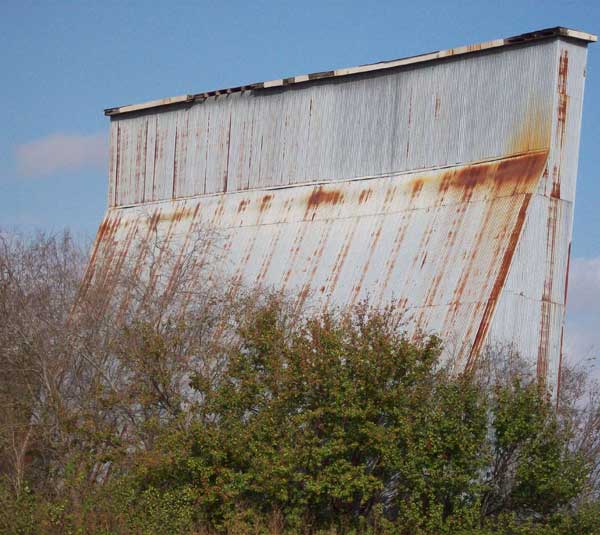 ---
Free Title Strips - Pinball Instruction Cards - Jukebox Archive - Your Nostalgia Stop! - Classic Soda Advertising Pinball Pages - Drive In Theaters - My Gameroom - Ken's Resume - Links - Fortune Tellers - The Cave - View Guestbook - Sign Guestbook - Wanted To Buy - Wanted To Sell - Gameroom Chat - Ken's Poll -

I could really use a small donation to keep this site running. If you care to help click the button below to send $5.
Back To Kens Homepage