I buy jukeboxes email me at ken@pinballrebel.com
---
---
Wurlitzer Model 850 Jukebox of 1941 at www.pinballrebel.com
---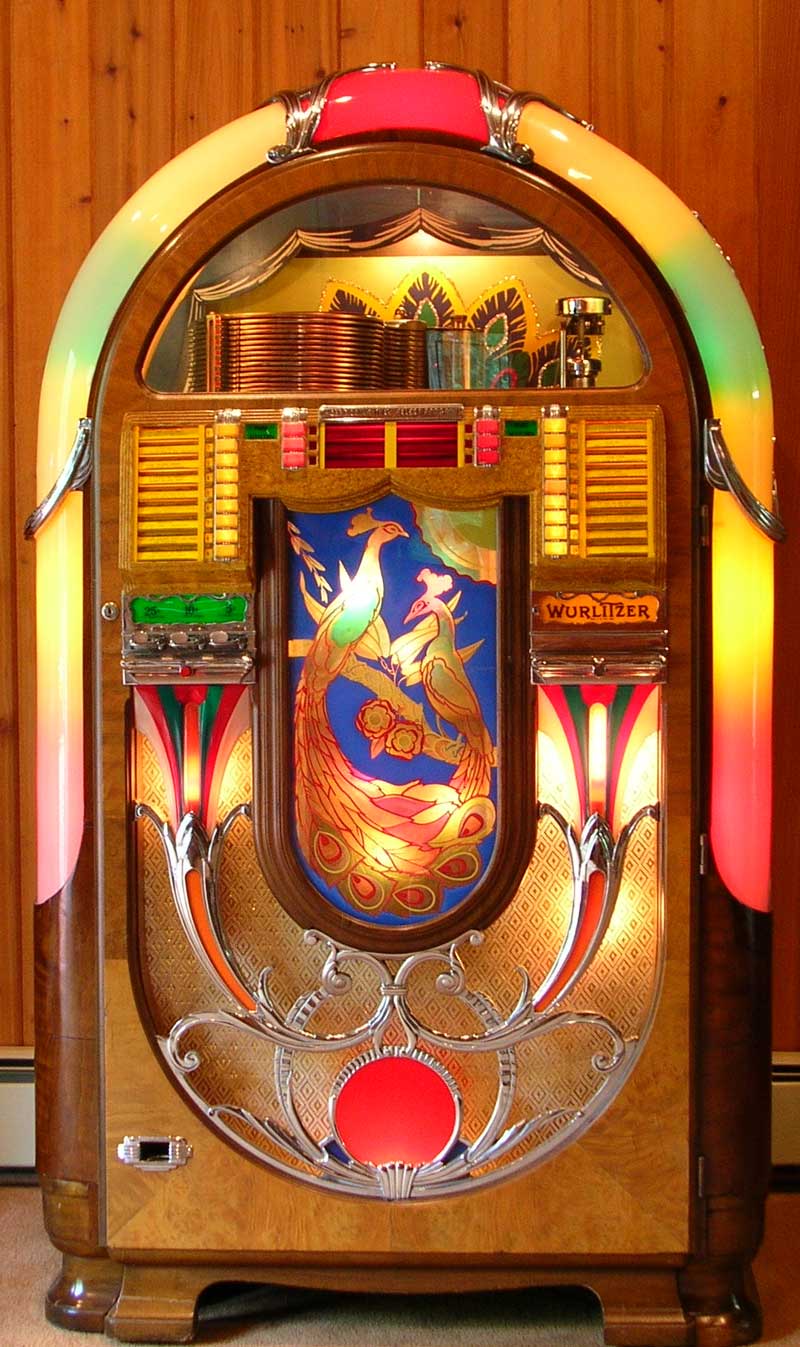 As an FYI, the W850 was the first jukebox to use en electric selector as
opposed to a mechanical one. All selector buttons are lit prior to making
a selection. When the coin is deposited, two "make selection" lights come on.
When the button/s are pushed, that selection light goes out and does not come on
again until the record is played. The light comes back on, indicating it
can be selected again. In this way, you can't accidentally play a
selection that has already been selected. Fascinating system.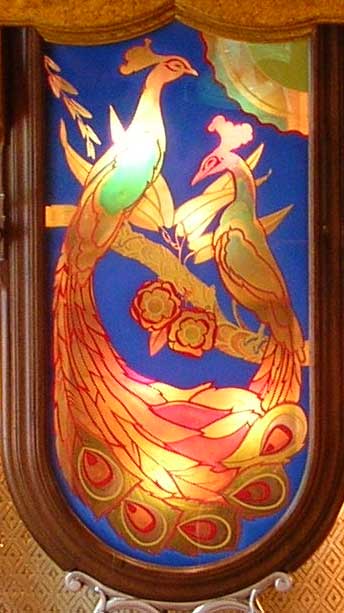 Unfortunately, the W850 was so rare, a manual for it was never
published, so none exists. The closest thing to it is a W800 or W750,
but even those models are different with respect to how selections are
made.
Another "first" for this model was the very first application of
Polaroid film. Behind the stained glass door, a polarizing unit spins 2
circular discs of film. Behind it are regular incandescent light bulbs
(15 watts) that squeeze light directly on the stained glass peacocks.
Instead of just changing colors, as the unit spins, the peacocks
actually change hues before your eyes. It is absolutely mesmerizing and
incredible to watch.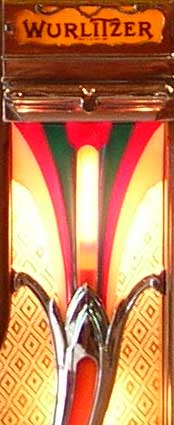 In addition, the machine is large, massive would be a better
description, and when you look at it, you are overwhelmed. The front
door is made from two high quality woods, but the upper part where the
selections reside is a special blonde veneer that is unique. It is the
same wood that was used on the dashboard of the 1941 Cadillac.
The sound system is original and was restored to perfection. It plays 24
78rpm Big Band recordings.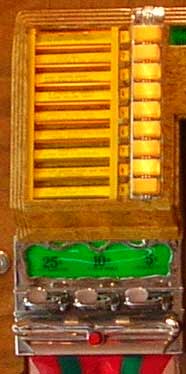 The tone arm is the original "Lolly Pop" tone arm but the stylus has
been upgraded to an early 1950's grade to reduce the massive weight on
the records. It took me about 3 hours of tinkering to ensure that every
record rejected at the end of play. Apparently, while most 78rpm records
did not exceed 3 minutes, when you play records that are a little
longer, like "Sing Sing Sing" for example, you can have the unit reject
prematurely, so adjusting it takes time and patience. But once
accomplished, it is over forever.
For A Full Resolution Photo Of This Awesome Machine Click Here
Photos And Details Above courtesy of Ed Liss Of New York
---
Photos Below courtesy of Dirk at Great Plains Galleries Lone Jack, MO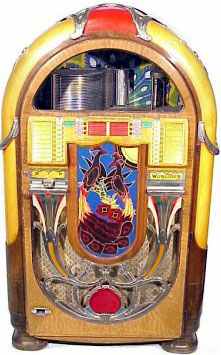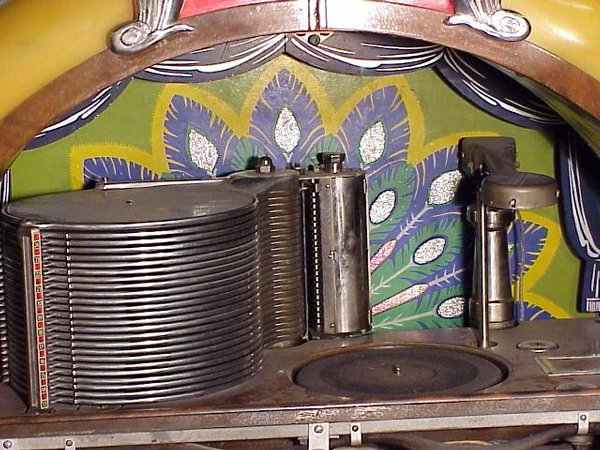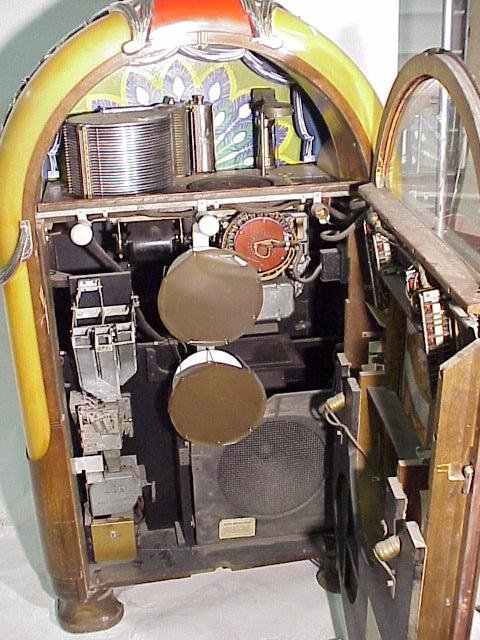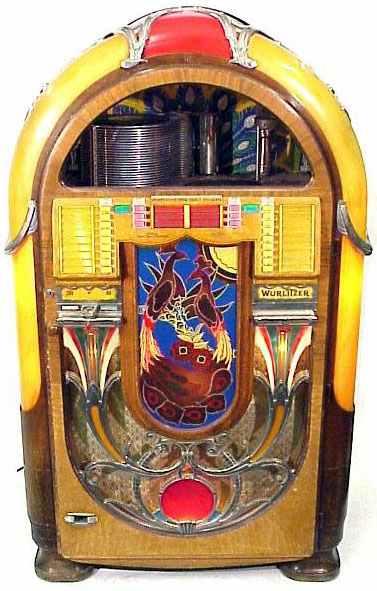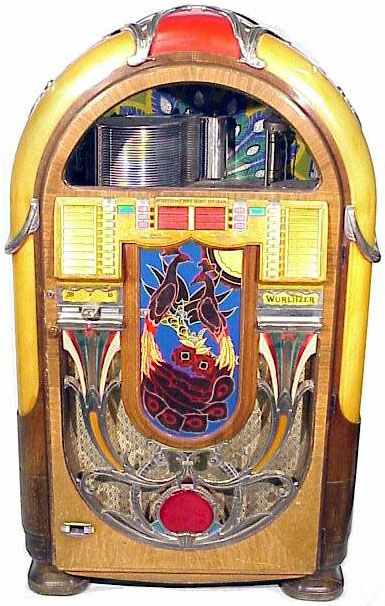 ---
Brochure Photos Below courtesy of Bill Butterfield at Muscial Fun For Everyone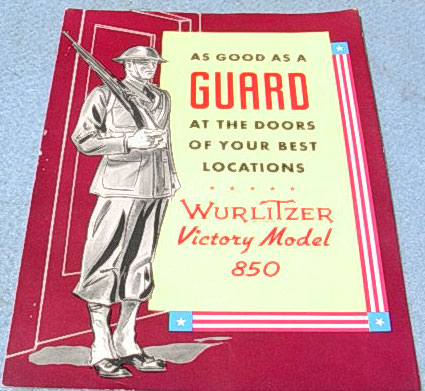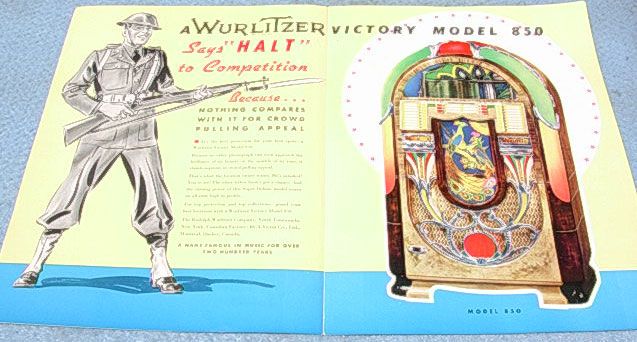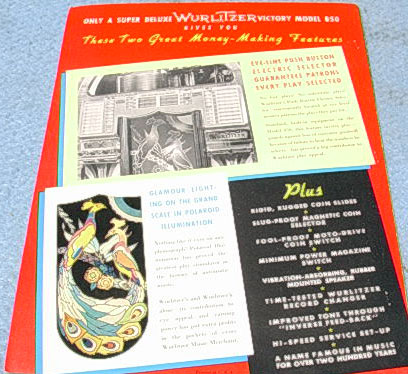 I buy jukeboxes email me at ken@pinballrebel.com
---
Buy A Jukebox Like This Or Parts
---
Free Title Strips - Pinball Instruction Cards - Jukebox Archive - Your Nostalgia Stop! - Classic Soda Advertising Pinball Pages - Drive In Theaters - My Gameroom - Ken's Resume - Links - Fortune Tellers - The Cave - View Guestbook - Sign Guestbook - Wanted To Buy - Wanted To Sell - Gameroom Chat - Ken's Poll -

I could really use a small donation to keep this site running. If you care to help click the button below to send $5.
Back To Kens Homepage

---