I buy fortune teller machines email me at ken@pinballrebel.com
---
---
SERENA'S PROPHECIES Vintage Fortune Teller Arcade Machine At www.pinballrebel.com
---
Built By: ROBERT STRAUSS
Year Built: 1970's
Number Made: Unkown
Designer: ROBERT STRAUSS
Country of Construction:USA
1970'S FORTUNE TELLER "SERENA'S PROPHECIES" MADE BY ROBERT STRAUSS.
NOT MANY OF THESE WERE MADE. ROBERT STRAUSS WAS STEVE GRONOWSKI
PARTNER IN THE CHICAGO LAND SHOW FOR MANY YEARS. THIS MACHINE IS WELL BUILT,
NOT LIKE THE REPRODUCTIONS OF TODAY. THE CABINET IS SOLID OAK.
THE MECHANISM THAT MAKES SERENA MOVE'S IS BUILT LIKE IF IT WAS MADE 70
YEARS AGO, HEAVY DUTY MOTORS AND GEARS. INSERT A COIN AND WATCH
SERENA COME TO LIFE. HER HEAD MOVES LEFT AND RIGHT, HER CHEST MOVES IN & OUT
LIKES SHE'S REALLY BREATHING. HER RIGHT HAND MOVES OVER THE CARDS.
HER LEFT HAND MOVES OVER THE CRYSTAL BALL, AND THEN DISPENSES A FORTUNE CARD.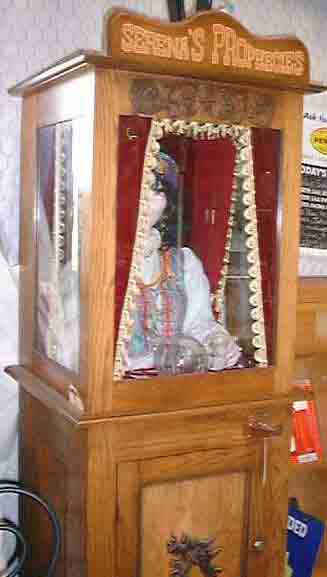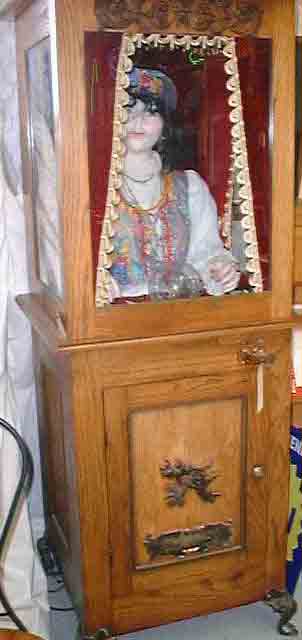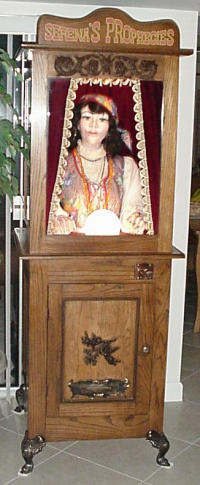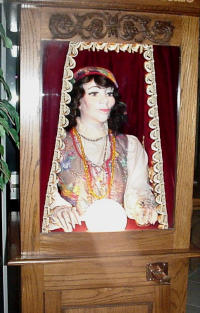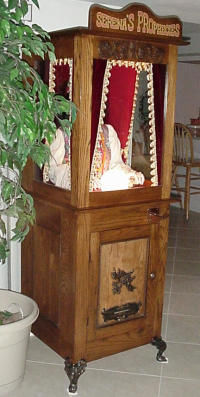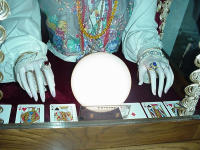 If you have a fortune teller machine for sale in any condition or if you have information of pictures to add to the archive please contact me.
I buy fortune teller machines email me at ken@pinballrebel.com
---
Buy A Cool Fortune Teller Like This Here
---
Free Title Strips - Pinball Instruction Cards - Jukebox Archive - Your Nostalgia Stop! - Classic Soda Advertising Pinball Pages - Drive In Theaters - My Gameroom - Ken's Resume - Links - Fortune Tellers - The Cave - View Guestbook - Sign Guestbook - Wanted To Buy - Wanted To Sell - Gameroom Chat - Ken's Poll -

I could really use a small donation to keep this site running. If you care to help click the button below to send $5.
Back To Kens Homepage

---