I buy fortune teller machines email me at ken@pinballrebel.com
---
---
1947 Lucky Piece Vintage Fortune Teller Arcade Machine At www.pinballrebel.com
---
If you have more information please contact me.

Built By: Exhibit Supply
Year Built: 1947
Number Made: Unkown
Designer: Unknown
Country of Construction:USA
Special Features: This is a very Scarce coin operated Black Man fortune teller made by exhibit supply. in 1947. fully animated.
His eyes and mouth move. Its is a very desirable fortune teller. Here's an example of the Rarer version Titled "Lucky Piece"
Otherwise called called "Smilin Sam Voodoo Man" This machine is completely original. As it found it from the Long Beach Pike.
It has not been touched. Still has the original aracde paint on it from the 40"s. Its in excellent condtion considering its age.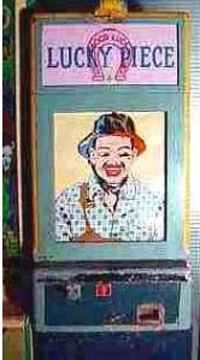 If you have a fortune teller machine for sale in any condition or if you have information of pictures to add to the archive please contact me.
I buy fortune teller machines email me at ken@pinballrebel.com
---
Buy A Cool Fortune Teller Like This Here
---
Free Title Strips - Pinball Instruction Cards - Jukebox Archive - Your Nostalgia Stop! - Classic Soda Advertising Pinball Pages - Drive In Theaters - My Gameroom - Ken's Resume - Links - Fortune Tellers - The Cave - View Guestbook - Sign Guestbook - Wanted To Buy - Wanted To Sell - Gameroom Chat - Ken's Poll -

I could really use a small donation to keep this site running. If you care to help click the button below to send $5.
Back To Kens Homepage

---