---
---
Visit My Other Dedicated Arcade Video Game Pages Here
---
Crazy Climber Arcade Video Game of 1980 by Taito at www.pinballrebel.com
---
A very odd game and one I remember from the local bowling alley.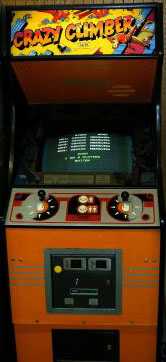 Control was by two joysticks. One was for each hand. You had to alternate back and
forth to make the climber go up the building. To do this it takes a bit of rhythm. Its really kind of strange.

Bad guys would drop flowers on your head. A giant bird would do what giant birds do on your head. And at
one point you even have to avoid King Kong and electric signs. If you make it to the top a helicoptor takes you on to
the next building where you start again at the bottom. This game said the phrases "Go for it!" and "Oh Noooooo!" a lot.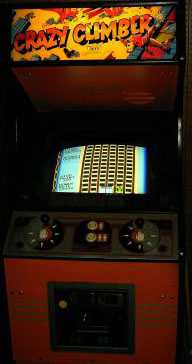 The game is a take off of the human fly/spider craze that sept through the world in the late
70's early 80's where people would scale the sides of skyscrapers.

Above Photos Courtesy of R P Stoner of FORT JENNINGS, O
---
---
Buy A Machine Like This Or Parts

---
See Discussion of Crazy Climber rec.games.video.arcade.collecting


---
Free Title Strips - Pinball Instruction Cards - Jukebox Archive - Your Nostalgia Stop! - Classic Soda Advertising Pinball Pages - Drive In Theaters - My Gameroom - Ken's Resume - Links - Fortune Tellers - The Cave - View Guestbook - Sign Guestbook - Wanted To Buy - Wanted To Sell - Gameroom Chat - Ken's Poll -
I could really use a small donation to keep this site running. If you care to help click the button below to send $5.
Back To Kens Homepage

---