---
---
Visit My Other Dedicated Arcade Video Game Pages Here
---
Pac-Man Video Arcade Game of 1980 by Midway & Namco at www.pinballrebel.com
---
A very good game that even spawned a top 10 hit.
The object is to eat the dots and ghosts before you are eaten.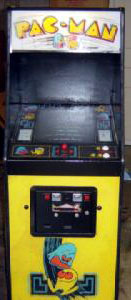 This game has classic artwork in bright colors.




The side art shows Pac-Man running from a ghost..



Control is by one four way joystick. The game was first to be called Puc-Man but the folks at Midway
thought the vandals would make quick work of the word Puc.

Above Photos Courtesy of Andy K at www.HomeGameRoom.com
---
Buy A Machine Like This Or Parts

---
See Discussion of Pac-Man on rec.games.video.arcade.collecting

---
---
Free Title Strips - Pinball Instruction Cards - Jukebox Archive - Your Nostalgia Stop! - Classic Soda Advertising Pinball Pages - Drive In Theaters - My Gameroom - Ken's Resume - Links - Fortune Tellers - The Cave - View Guestbook - Sign Guestbook - Wanted To Buy - Wanted To Sell - Gameroom Chat - Ken's Poll -
I could really use a small donation to keep this site running. If you care to help click the button below to send $5.
Back To Kens Homepage

---